When the in-flight maps showed the EgyptAir jet was over the sea, Noha Saleh knew something was wrong.
Saleh had been in Egypt for her mother's funeral and was taking a 30-minute domestic flight from Alexandria to Cairo to catch a connection back to New York.
"We realized from the changes on the screen that we are not going to Cairo, we are crossing the sea," she told NBC News. "To go to Cairo we don't need to cross the sea."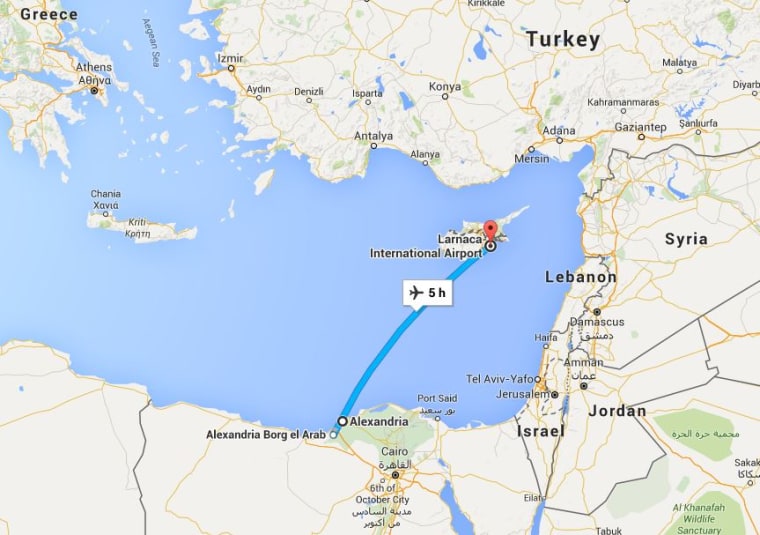 The crew told passengers aboard Flight 181 on Tuesday there was a mechanical problem and the jet needed to go to Cyprus. Saleh said she tried to stay calm — until they started collecting passports.
"It was something, like, unusual to do because you cannot collect passengers' passports in the plane," she said. "The people just wanted to know what is happening and they said, 'OK, we have an emergency.'"
Saleh said the crew remained "very professional, very calm" throughout and upon landing "they explained to us that there is someone on the plane kidnapping us."
That someone was Seif Eldin Mustafa — a man in his mid-50s initially with a hankering to speak to his ex-wife while claiming to have an explosive belt strapped to his body.
"People started to really panic" but the crew worked hard to maintain and keep a distance between the hijacker and passengers. She told NBC News that she couldn't believe it her plane had been hijacked.
"I stayed like, shocked for like, 15 minutes and I keep saying, 'Are you serious, are you saying the truth?'"
Mustafa stayed at the back of the plane — "just standing, watching" to see if the crew was following his directions, Saleh said. There was one female crew member who acted as a go-between in particular.
"He never dealt with us," Saleh said.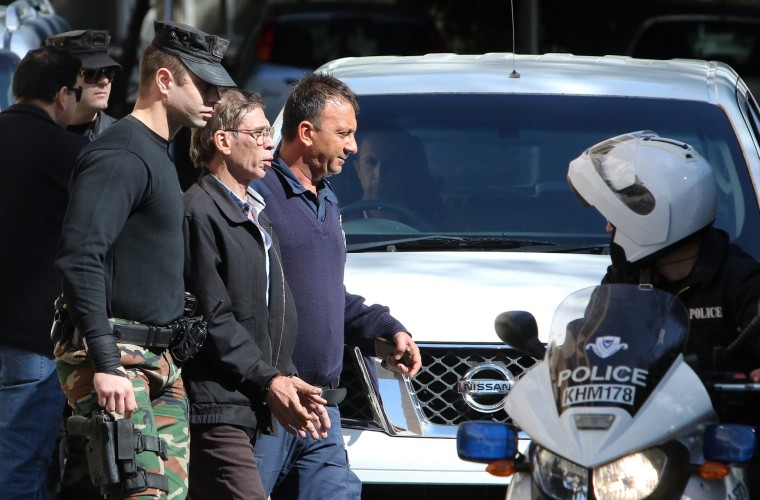 Initially there was talk of Mustafa releasing all the women — then all the Egyptians, keeping foreigners behind. There were eight Americans, four Britons, four Dutch nationals, two Belgians, a French national, an Italian and a Syrian on the passenger list.
Local officials were in contact with Mustafa — trying to get him to release hostages, hearing his requests to speak to his Cypriot ex-wife.
The hijacker agreed to release all but a number of foreigners. One American man was traveling with his Egyptian wife — she didn't want to leave her husband and started to cry, Saleh recalled.
With her dual nationality, Saleh was among those let off the plane down a set of stairs brought up to the jet's door.
Once she got to a safe space she texted her husband to tell him she was OK but had been held hostage.
"He said, 'what you mean?' He cannot believe something is happening like this," Saleh recalled.
She and other passengers were kept for hours in Cyprus — the whole time thinking about the people still being kept as captives on the plane.
"They saved our lives, and they stayed with him for like 5 hours by themselves with the other foreigner people," she said of the crew and final captives.
Related: How Other Historic Hijackings Have Played Out
During those hours Mustafa went from asking for his ex-wife to requesting asylum and even to speak to a European Union official.
"It seems that he was an unstable personality," Cyprus government spokesman Nikos Christodoulides told NBC News.
Eventually, the last captives emerged and Mustafa "didn't have any other option than to come out," Christodoulides added.
Mustafa has not yet been charged but appeared in court on Wednesday and was remanded in custody for eight days.
While Mustafa's explosives belt turned out to be a fake, Saleh said the experience was no less terrifying and that she was grateful to have emerged unscathed.
"We didn't lose any person, all of us alive, all of us good," she said. "I feel like thankful but like, is it real or was it a nightmare? You know, after you're done with something very hard, sometimes you cannot believe it really happened. But, I feel really thankful that I'm still alive."