It was a hijacking image that stunned the world — not for its alarming nature but rather its sheer absurdity and audacity.
British health and safety worker Ben Innes, 26, was one of the last hostages held aboard hijacked EygptAir Flight 181 on Tuesday and initially was "very scared."
But amid the drama Innes saw an opportunity to take "the selfie of a lifetime" alongside a hijacker claiming to have an explosive vest.
"I'm not sure why I did it, I just threw caut­ion to the wind while trying to stay cheerful in the face of adversity," he told Britain's The Sun newspaper. "We were sitting around waiting. I thought, 'Why not? If he blows us all up it won't matter anyway."
Innes said a cabin member translated his desire for a photo to the hijacker — since identified as Seif Eldin Mustafa.
"He just shrugged OK — so I stood beside him and smiled for the camera while a stewardess did the snap," Innes told the newspaper. "It has to be the best selfie ever."
Related: Hostage Reveals Drama of Passenger Plane Hijacking
While his desire to document the drama has been dismissed as dangerous, Innes said the picture gave him an opportunity to get a "closer look" at the hijacker's so-called explosives — which he "reckoned" were "more likely to be fake" after seeing them up close.
The photo of Innes posting next to the hijacker wearing what turned out to not be an explosive vest quickly went viral, sparking a mixture of surprise and shock.
Innes was later seen running off the plane, hands held in the air as he crossed the tarmac.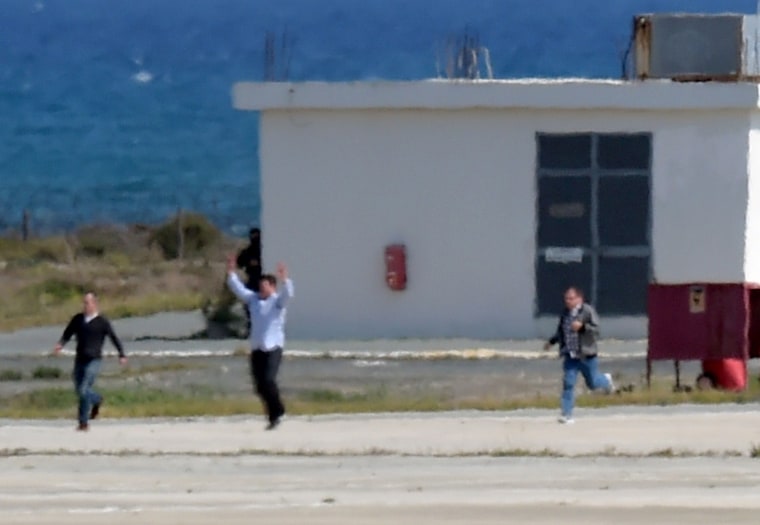 On Wednesday, many newspapers around the world carried the bizarre image of him and the hijacker on their front pages. Some poked fun at the snap, with headlines ranging from "Hijackass" to "Photo Bomb."