CAIRO – In the wake of a police strike and in the absence of government control, Egyptian society has been shaken recently by a spate of vigilante violence – setting off alarm bells for civilians, pundits and analysts who fear for the country's future.  
On Friday, supporters of the Muslim Brotherhood and opposition protesters violently clashed – leaving almost 200 people injured.
Images from the melee shocked even revolutionary-weary Egyptians. One photo that went viral showed a middle-aged man, bloodied and apparently screaming, being dragged by the ankle by a young man.  Another video clip, aired on satellite channels, showed a man set on fire by a Molotov cocktail. 
With Egypt's General Prosecutor recently issuing a statement encouraging citizens to take the law into their own hands, and an extremist Islamic group calling for "popular committees," or vigilante groups, to help enforce law and order, many fear there is more violence to come.
'I thought I would die'
Mostafa al Khatib, a photo journalist for the Brotherhood's Freedom and Justice Party newspaper, was caught up in the clashes on Friday and said he was shocked by the level of violence.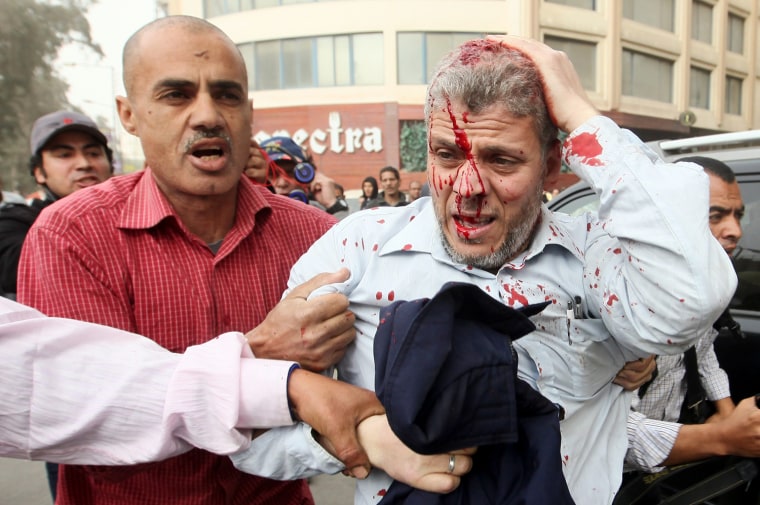 "At some moments, I thought I would die," said Al Khatib, who was hospitalized for three days for head injuries.
As the clashes heated up, Al Khatib said he fled into a mosque for protection, but then was dragged out in front of a crowd where men with knives and rocks beat him after they identified him a Muslim Brotherhood journalist.  He bled from the head, fainted and woke up later in an ambulance.  
"Those are not revolutionary people," Al Khatib said quietly, recalling the events.  
Unfortunately, Al Khatib was not alone.
Mahmoud Abdullah, a 22-year-old student and opposition protester, was on a different side of the clashes, but met a similar fate.   
"I went to protest a woman being slapped [by a Muslim Brotherhood bodyguard] because I think every woman deserves dignity.  This was meant to be a peaceful demonstration," said Abdullah. 
But that's not what he found.
"They were ready for violence.  I thought I would lose my life and die unjustly," he said. "I found the mob attacking us, and throwing bricks at me."
Friends managed to rescue him and drive him to hospital. 
"The state is not there," he complained. He said he fears that Egypt is heading toward civil war.
A crackdown coming?
Egyptian President Mohamed Morsi, a former Brotherhood leader, threatened on Sunday to take unspecified steps to "protect this nation" after the violent demonstrations outside the organization's headquarters. 
"If I am forced to do what is required to protect this nation, then I will do it. And I fear that I might be on the verge of doing it," Morsi said in a statement.   
Opposition leaders fear his vague words could spell the start of a crackdown.  
Egypt's top prosecutor ordered the arrest of at least five leading political activists following the clashes.   
Fears of vigilantism
Many fear a rise in vigilantism now – especially after many in Egypt's police forces went on strike in early March. 
With fewer police on the streets, the country's General Prosecutor urged citizens to take the law into their own hands.  In a statement, an official reminded citizens that a warrant is not required for arrest and that people have the right to arrest wrongdoers and turn them over to police for crimes ranging from vandalism, blocking traffic, to the ambiguous "spreading fear."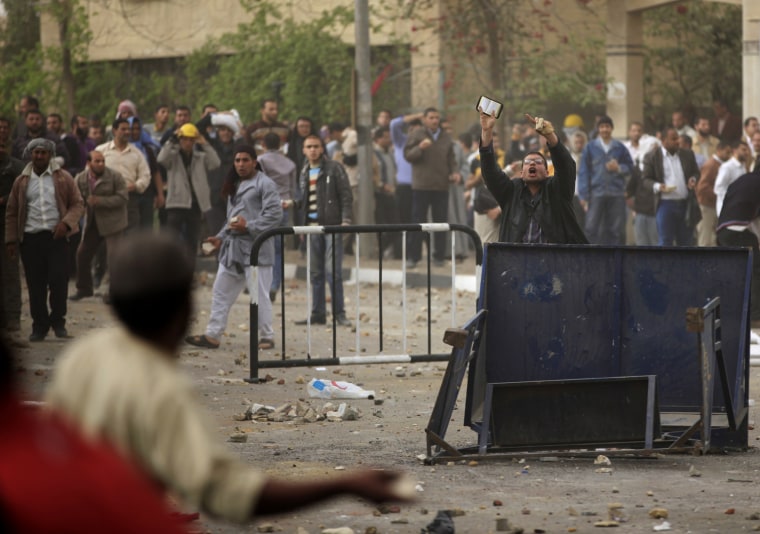 Just a week later, the villagers of a Nile Delta town 55 miles north of Cairo meted out what they saw as justice.  Two men were brutally murdered by vigilantes who suspected them of stealing a "tuk-tuk,"a small motorized taxi, allegedly with the intention to abduct a woman. Video and photos from the scene showed the men beaten and bleeding on the ground, they were then hung by their feet from the rafters of a crowded bus station until they died – all while crowds swarmed to take photos, whistle -- and in some cases -- encourage the killings.   
Hafez Abu Saada, a prominent human rights lawyer and head of the Egyptian Organization for Human Rights, fears that the "law of the jungle" is prevailing in Egypt. 
"This is not the first case [of vigilante killings]," said Abu Saada.  He argued that suspects must have the right to due process of law and is concerned that people will use religion as an excuse to render what they see as justice. 
Abu Saada fears recent calls by some Islamists for "popular committees," or vigilante groups, to help enforce law and order.
The Islamic Group, an extremist Islamic group that carried out terror attacks against tourists in the 90s but has since renounced violence, originally proposed the concept of popular committees for the southern governorate of Assiut after the police strike.  Now they are seeking legislation by Egypt's Shura Council, or upper house of parliament, to institutionalize a civilian police force within the Ministry of Interior itself.   
Assim Abdel Majd, a spokesman for the Islamic Group, insisted that the "popular committees" would not become an Islamist militia, but that they would hand suspects over to the police.  Abdel Majd defended the actions of the Nile Delta vigilantes. 
"This is a problem of police being absent and the judicial system freeing people," he said. "Those people [in the Nile Delta] took the law into their own hands but the 'popular committees' would hand suspects over to the proper authorities." 
RELATED: 
Morsi issues ominous warning to Egypt opposition
Photo blog: Clashes turn violent outside Muslim Brotherhood offices, dozens injured