CAIRO – A petition drive aiming to convince the general behind the coup that unseated Egypt's democratically elected president to stand in elections has collected millions of signatures, according to backers. 
Army chief Gen. Abdel-Fattah el-Sissi overthrew Mohammed Morsi in July following mass protests against the Islamist's rule that were fueled by the "Tamarod" or "Rebel" movement.
Morsi was removed from office by the military and arrested after Tamarod followers gathered millions of names on a petition expressing "no confidence" in his administration.
Sissi's supporters are now taking up the mantle and hope their new campaign will convince him to run for president.
The "Kaml Gmelak" or "Continue Supporting" group was founded on Oct. 20.
Although official numbers haven't been released, members of Kaml Gmelak claim at least 7 million signatures backing Sissi have been obtained across Egypt, but independently verifying that figure is impossible. Their end goal is to accrue 25 million signatures by January 18, the end of their first 90 days. Egypt's electorate numbers about 50 million.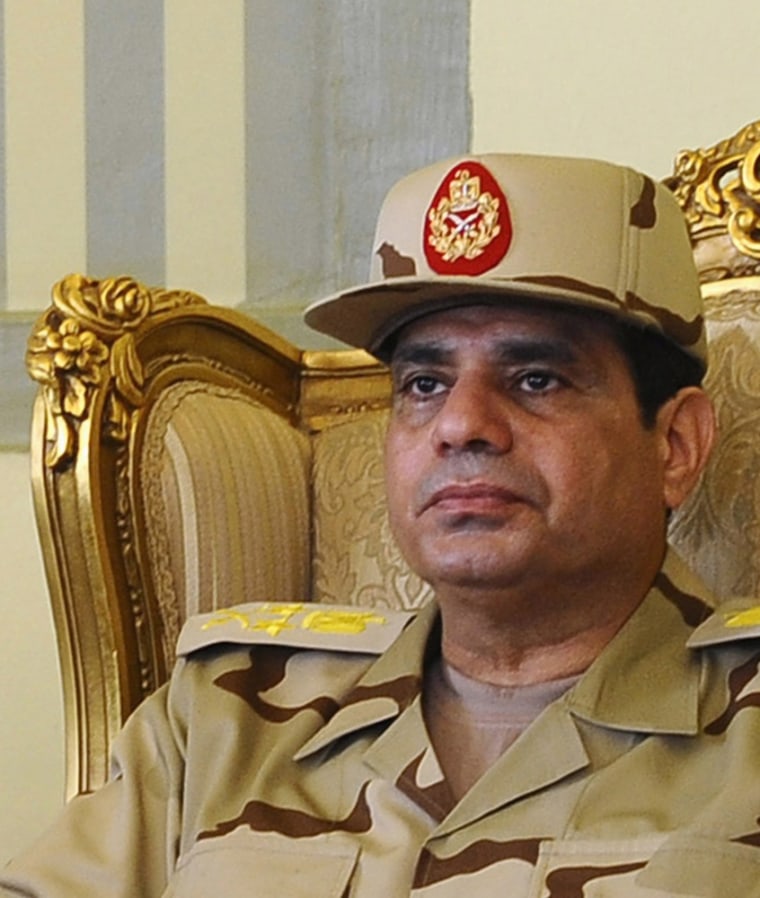 Gen. Ahmed abu el-Azayem, the 50-year-old vice-chairman in charge of international outreach for Kaml Gmelak, who previously volunteered for Tamarod, is now throwing his energy behind convincing Sissi to run for president. A nationalist in the truest sense, his father, who was also a member of the security apparatus, participated in Gen. Gamal Abdel Nasser's coup d'etat in 1952, and before that members of his family helped with a petition drive to get revolutionary figure Saad Zaghoul back into the country in the late 1800s.
"If you go throughout time, people are looking for a military leader," he said, pointing George Washington and Charles de Gaulle as models.
There is one key difference between Tamarod and Kaml Gmelak, according to the latter group's chairman Moussa Moustafa Moussa.
"[Tamarod] was not an organization but a concept," the 60-year-old businessman told NBC News. "This is an organization."
Founded and run by Moussa – who is also the head of the El Ghad political party – Kmal Gmelak has whipped itself into a political force in a matter of weeks.
Milling the halls at its headquarters are leaders from 22 different political parties — including the Free Egyptian Party, run by Africa's 9th richest man, Naguid Sawiris, who also happens to be a business associate of Moussa — alongside volunteers from all 27 Egyptian governorates.
At their beautiful second-floor office just off of Talaat Harb Square in downtown Cairo, members debate everything from locations and options for the rally they're planning for Nov. 21, to why Moussa hasn't been made an admin on the group's Facebook page, which was hacked on Sunday.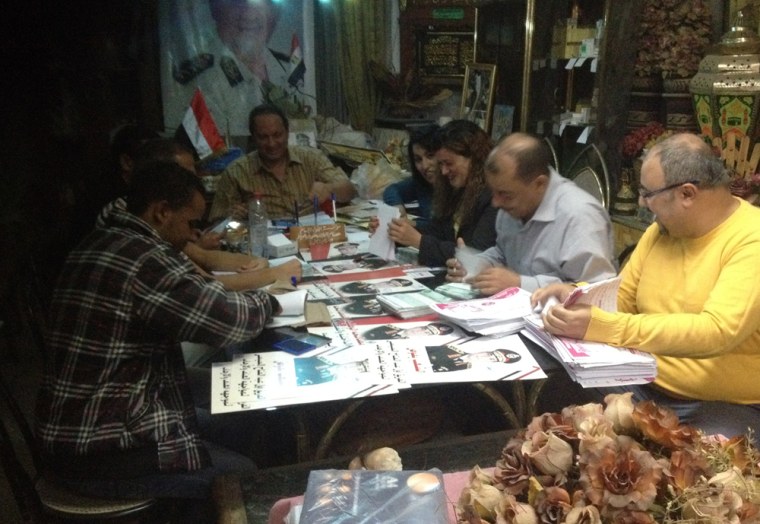 On the ground level, however, all this political finagling means nothing.
"We are just looking for a leader," says Mohammed Abdullah, 38, who was Tamarod's director in the Heliopolis area of Cairo and is now doing in the same role for Kaml Gmelak.
Whereas Morsi only got 24.78 percent of the vote in the initial 13-candidate round of voting in 2012's election, Abdullah hopes that Sissi will be able to unite the country. "We are looking for 60 percent," he added.
Foreign Minister Nabil Fahmy announced last Friday that Egypt will hold presidential elections in summer 2014 – but no exact date was given.  
However, colleague Osama Dardery was quick to point out that Kmal Gmelak didn't want to give the impression that they're welcoming a strongman like Morsi's predecessor Hosni Mubarak, who ruled Egypt for 30 years under emergency law.
"We are not going to create another pharaoh," said Dardery, a 44-year-old who is serving as the group's district director in another part of Cairo. "Now we are pushing for Sissi to go through the presidential election."
Moussa credits Sissi for showing "favor" to the people by deposing Morsi during a summer of turmoil which included the massacre of hundreds of Muslim Brotherhood supporters during protests. 
"Now it's time we render back this favor," Moussa added.
Related