Sleeping on the floor of a mosquito-infested Cairo prison with limited access to lawyers, three journalists provide a stark reminder of how distant today's Egypt feels from the euphoria of the Arab Spring three years ago.
Fireworks filled the sky over Cairo's Tahrir Square the night of Feb. 11, 2011, when 18 days of protest forced Hosni Mubarak to resign his three-decade presidency.
Three years and nine days later, Mohamed Fahmy, Peter Greste and Baher Mohamed, all journalists from the Qatar-based network Al-Jazeera, are due to stand trial on what are widely regarded as trumped-up terror charges brought by Egypt's military government.
"Both men spend 24 hours a day in their mosquito-infested cells, sleeping on the floor with no books or writing materials to break the soul-destroying tedium."
Australian Greste, Canadian-Egyptian Fahmy and Egyptian Mohamed are part of a group of 20 accused of associating with the Muslim Brotherhood, whose political arm was Egypt's former ruling party.
The group was declared a terrorist organization after the military ousted Islamist President Mohamed Morsi in July amid mass demonstrations.
Last week, Al Jazeera said that it was served with a list of 20 people being pursued by the Egyptian government, but that only nine of those named were on its staff.
The new regime defends the crackdown by saying it is fighting an upsurge in deadly Islamic militant violence. Its public prosecutor told Reuters that the group had published "lies" that harmed the national interest and supplied money and equipment to the Muslim Brotherhood.
In addition, another journalist from the network, Abdullah Al Shami, has been detained since August last year on unknown charges, according to Reuters.
After 43 days in captivity without being charged, the three men learned on Feb.10 that their trial would begin on Feb. 20. They face up to 15 years in prison if convicted.
"Every day I wake up and think how long that is to be in prison," said award-winning British journalist Sue Turton, a member of the Al-Jazeera team who was charged in absentia because she was out of the country when her colleagues were detained on Dec. 29.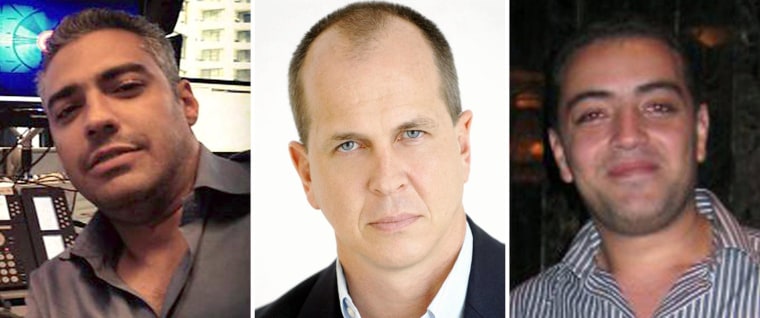 "You think to yourself, 'How many nice things have you done since Dec. 29? How many times have you slept in a good bed? How many meals have you had?'"
The journalists' detention comes against the backdrop of what activists say is a wider crackdown by the interim military government. Human rights groups have denounced alleged new cases of torture and other methods of silencing of dissenters.
Protests by opponents of the military, including Muslim Brotherhood supporters, have frequently led to clashes with security forces in which hundreds have died.
U.S. Sen. John McCain (R-AZ) condemned the arrests last month.
"For the Egyptian government to keep them in prison, I think, is another indicator that this military government, and that's really what it is, is not keeping with the standards of international behavior that we would expect," he said.
More information came to light about the squalid conditions faced by the three journalists when Greste smuggled a letter out of his cell three weeks ago.
He was being kept south of Cairo in Torah Prison, "where the authorities routinely violate legally enshrined prisoners' rights." But because Fahmy and Mohamed were accused of being Muslim Brotherhood members, rather than merely working with the party, they were being kept in the far harsher "Scorpion's Prison," a notorious and brutal institution reserved for convicted terrorists.
"Both men spend 24 hours a day in their mosquito-infested cells, sleeping on the floor with no books or writing materials to break the soul-destroying tedium," he wrote of Fahmy and Mohamed.
All three were being kept in solitary confinement but have now been put together in the same cell, Turton said.
"Peter is a seasoned reporter and I suspect he is a pretty good person to have to support the other two in that situation," she said.
Turton, who has not been able to work in Africa or the United Arab Emirates for fear of being extradited to Egypt for the trial, says her main concern is the welfare of her colleagues. And from outside the country she has been instrumental in drumming up support for the #FreeAJstaff campaign, which has been picked up with gusto by media organizations around the world.
Morsi was Egypt's first freely-elected president after Mubarak's ouster, but his rule lasted only from June 2012 to July 2013. He was deposed by Egyptian Army Field Marshall Abdel Fattah el-Sisi after mass public protests.
El-Sisi is popular among sections of the Egyptian public and is regarded as the favorite to win the presidential elections expected to be held in April.
But first the trial. Turton said she hopes the judicial system will prove fair and independent in contrast to the military state.
"All eyes will be on them," she said. "I hope that the judicial system sees sense and sees that we are just journalists doing our job."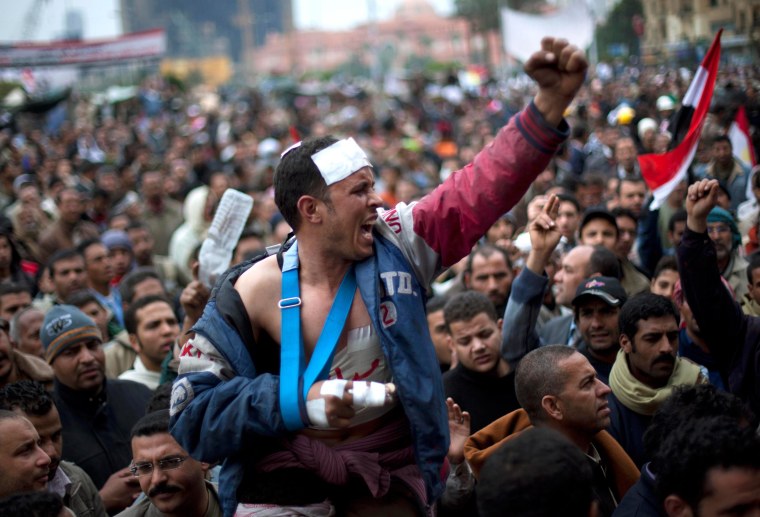 The Associated Press and Reuters contributed to this report.