Egypt's deposed autocrat Hosni Mubarak was freed from prison and placed under house arrest Thursday, deepening the country's deadly divisions following the removal last month of Islamist President Mohammed Morsi.
The military man -- who ruled Egypt for 30 years with an iron fist until he was overthrown in the 2011 Arab Spring uprising -- was ordered released by a Cairo court on Wednesday after more than two years in detention.
Mubarak's lawyer, who was aboard a helicopter with him, confirmed that he was flown from Tora prison and taken to Maadi Military Hospital because of the state of his health. He left the prison at about 4 p.m. local time (10 a.m. ET).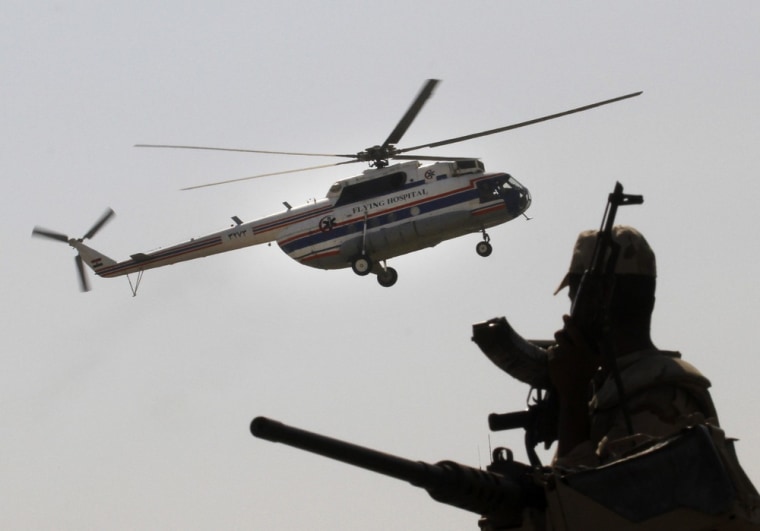 Interim Prime Minister Hazem el-Beblawi ordered that Mubarak be formally kept under house arrest to comply with the country's month-long state of emergency.
The decision appeared designed to ease some of the criticism over the court ruling and to ensure that Mubarak appears in court next week for a separate trial, Reuters reported.
His wife, Suzanne, has been living in Cairo and keeping a low profile, occasionally visiting Mubarak and their two sons in prison.
The court ruling came after Mubarak was cleared of one of his corruption cases.
However, he is currently awaiting a retrial over the death of protesters seeking his overthrow in 2011, which could put him back behind bars. He also faces investigations into at least two other corruption cases.
Egypt's youth campaign group, Tamarod, said Mubarak's release was a threat to national security. "We will not remain silent about freedom for any killer of the Egyptian people," it said in a statement issued before his release.
Mubarak is the second deposed ruler of Egypt to be behind bars, along with the Brotherhood's Morsi, who was democratically elected in 2012 following the collapse of Mubarak's regime, only to be ousted by the military on July 3.
The 85-year-old Mubarak may have no political future, but his release could rile already strained emotions and raise questions about whether the popular uprising that ended his 30-year rule has given way to a new form of jackboot government.
Since his ouster, Morsi has been held incommunicado at an undisclosed location. Several top leaders and other figures of the Muslim Brotherhood, the Islamist group from which Morsi hails, have been arrested and charged.
The clampdown appears to have weakened the Arab world's oldest and arguably most influential Islamist group.
Brotherhood supporters have called on Egyptians to hold "Friday of Martyrs" marches against the military takeover.
A grouping calling itself The National Coalition to Support Legitimacy, which has been demanding Morsi's reinstatement, told The Associated Press in a statement: "We will remain steadfast on the road to defeating the military coup."
NBC News' Ian Johnston, Reuters and The Associated Press contributed to this report.
Related: