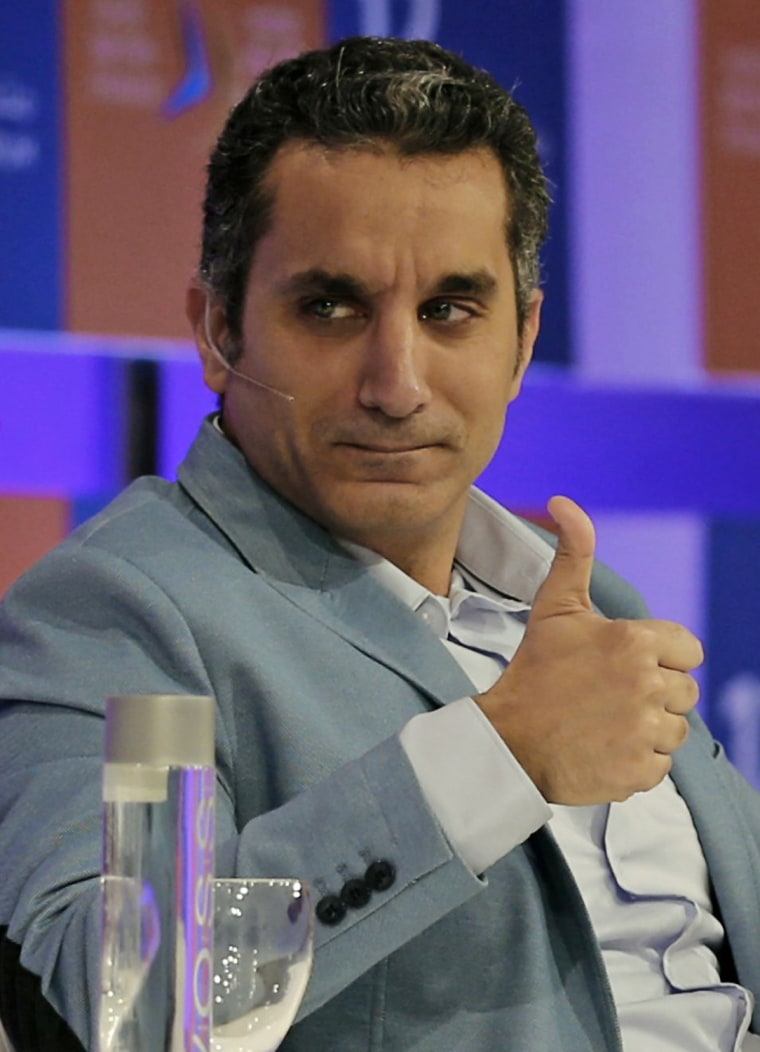 CAIRO - A comedian known as Egypt's Jon Stewart is fighting a legal battle with the network that canceled his show a week after he made fun of the country's new military leaders, prompting concerns for freedom of speech in the unsettled country.
Bassem Youssef, who became famous when he poked fun at ousted Islamist President Mohammed Morsi, had just started a new season of his satirical show when the Egyptian broadcaster, CBC, abruptly pulled transmission of the second episode. 
Just before the program was due to start, a statement was read out in which CBC blamed Youssef and the show's producer for breach of contract, saying they had not abided by its editorial policies. (Watch the statement in Arabic). 
There had been much anticipation surrounding the return of Youssef's hit program "Al-Bernameg" or "The Program." 
During its summer break, the military ousted democratically elected-Morsi amid mass protests. While Morsi was in office, Youssef frequently poked fun at the president and his supporters in the Muslim Brotherhood, to the extent that some tried to have him prosecuted.
So how would Youssef's returning show treat the popular army chief, Gen. Abdel-Fattah el-Sissi?  The answer was soon clear. 
Youssef's first episode made fun of so-called Sissi-mania and the loyal supporters who have lauded thanks on the Egyptian army that removed the Muslim Brotherhood from power. During one segment a candy seller appeared on stage with cakes and candy emblazoned with the general's face.
El-Sissi is being urged to run for president and his face now adorns posters and souvenirs in Egypt.
The show's season premiere received mixed reactions from viewers. Housewife, Hala Magid, 50, said she likes the show but that Youssef had gone too far this time.
"He should speak about the government's mistakes, but not like this," she said. "Because we respect the army and Sissi himself, because he saved us from the Brotherhood."
Her comments reveal the deep divisions in Egypt between those grateful Morsi was pushed from power and those who elected him. Muslim Brotherhood supporters are frequently the target of crackdowns by the security forces. On Aug. 14, the day authorities stormed the Rabaa al-Adawiya and Nahda squares in Cairo where Morsi supporters had been gathering, between 683 and 1,000 people were killed across the country, according to authorities, the New York Times reported. Since then, an additional 349 protesters have been killed according to medical authorities and 2,000 arrested.   
The cancelation of Youssef's show has been met with dismay by fans and concern that the country's military rulers cannot be trusted to return Egypt to democracy.
Amr Bayoumi, a  movie director, blamed public pressure on CBC's decision to cancel the satirical show.
"How can I interpret freedom of speech when a comedy show cannot be tolerated?" he said. "It can be the only dissenting voice in this vast orchestra for Sissi."
Mohamed Bashir, a supporter of the Muslim Brotherhood said: "Morsi tolerated one year of criticism by Bassem Youssef.  Sissi couldn't tolerate one day."
The production company behind Al-Bernameg is now taking legal action against CBC.
"The channel's decision to stop Al-Bernameg has also conveyed to the world an extremely negative image with regards to democracy and freedom of speech in Egypt," the company said in a statement.
CBC in turn was reported to be starting legal proceedings against the program makers. Representatives could not be reached for comment.
So far there has been no public reaction from the star himself.
Youssef rose to fame after Egypt's 2011 revolution which ended the 30-year rule of Hosni Mubarak. A surgeon by day, Youssef began posting amateur videos on YouTube mocking public figures. He was soon given his own television show. He has been a guest on Jon Stewart's "Daily Show," and the American comedian has also appeared on his show as a guest. 
Related