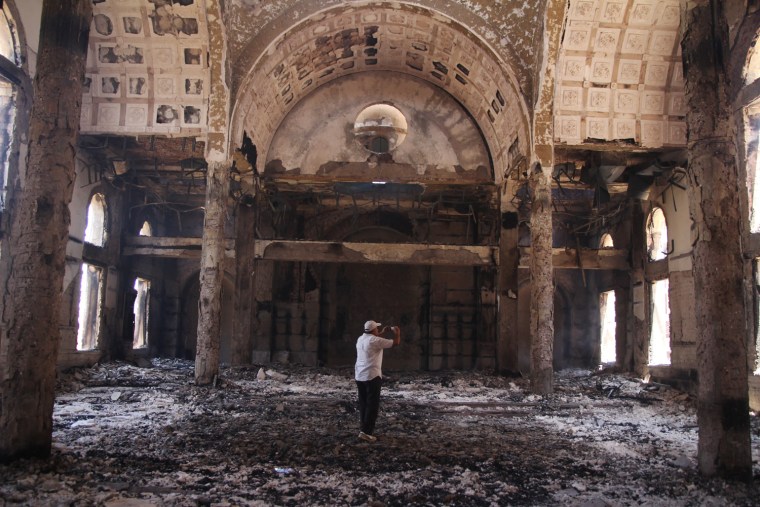 The political wing of Egypt's Muslim Brotherhood denied that their members were attacking churches after scores of the buildings were reportedly burned down in the violence sweeping the country. 
Dr Morad Ali, a spokesman for the Freedom and Justice Party, said on Friday that internet pages featuring the party's logo that justified the assaults were fakes designed to incite sectarian violence.
"(The party) stand firmly against any attack -- even verbal -- against churches," he said in a statement. "Our revolution is peaceful."
Coptic Christians make up about 10 percent of the 84 million people living in Egypt. While they have suffered discrimination for decades, communal tensions and attacks rose sharply under President Mohammed Morsi and have continued after he was ousted by the military last month.
The statement was issued as dozens were reported killed in clashes that broke out during mass demonstrations by Morsi supporters.  Morsi's Islamist Muslim Brotherhood movement had called for a "Day of Rage" in the wake of a military crackdown that killed more than 600 people.  
Ali's claims were disputed by Amira Mikhail, a research intern at Washington's Rafik Hariri Center for the Middle East, who said she had collated pictures and reports from social media about attacks on Christian centers.
She said: "There has certainly been a spike in attacks on churches…. Everyone seems to blame everyone else for these attacks.
"I don't think the whole of Egypt will necessarily become like Syria or the Lebanon…But I do think there is the potential for the violence to get worse, especially for these churches."
In Cairo, some Islamists claimed that the Coptic pope, Tawadros II, had endorsed the crackdown by the Egyptian military and they portrayed attacks on churches around the country as a counterattack, the New York Times reported.  
"When Pope Tawadros comes out after a massacre to thank the military and the police, then don't accuse me of sectarianism," accountant Mamdouh Hamdi, 35, told the paper. 
Meanwhile, a founding member of a Christian Coptic rights group, the Masperso youth union, accused the Brotherhood of attacking his community on Wednesday. 
"We recorded around 74 attacks on churches and Christians. Several churches were burned to the ground," Mina Thabat told Reuters on Thursday, adding that the government had failed to respond. 
"I don't trust them or the Muslim Brotherhood. As Coptics, we pay the price of every conflict in Egypt." 
Reuters contributed to this report.
Related: