Egypt's newly sworn-in president vowed Sunday that there would be no reconciliation with anyone who had "committed crimes" or "adopted violence" against Egyptians, a thinly veiled reference to the Muslim Brotherhood and other Islamists.
Abdel-Fattah el-Sissi was addressing a gathering at a Cairo presidential palace hours after he was sworn in as Egypt's president before the Supreme Constitutional Court.
The 59-year-old career soldier did not mention the Muslim Brotherhood by name or supporters of the Islamist Mohammed Morsi, the president he ousted in July after just a year in office.
Since Morsi's ouster, authorities have staged a massive crackdown against the Brotherhood and other Islamists, killing hundreds and jailing close to 20,000 others. The government has banned the Brotherhood and labeled it a terrorist organization. Islamic militants have in the meantime stepped up attacks against troops and police in the strategic Sinai Peninsula after Morsi's ouster and later took their campaign to the mainland.
"There will be reconciliation between the sons of our nation except those who had committed crimes against them or adopted violence," el-Sissi said. "There will be no acquiescence or laxity shown to those who resorted to violence."
Read: Will New President El-Sissi Turn Back Clock on Egypt's Democracy?
El-Sissi also vowed to fight corruption at all levels and appeared to make an overture to the pro-democracy and secular youths, many of whom boycotted last month's presidential election. They accuse the new president of reviving Mubarak's police state, pointing to a law passed last year that restricts protests as well as the jailing of a number of well-known activists.
El-Sissi spoke before more than 1,000 guests gathered at Cairo's Quba palace. Those in attendance included politicians, clerics and public figures, including celebrities.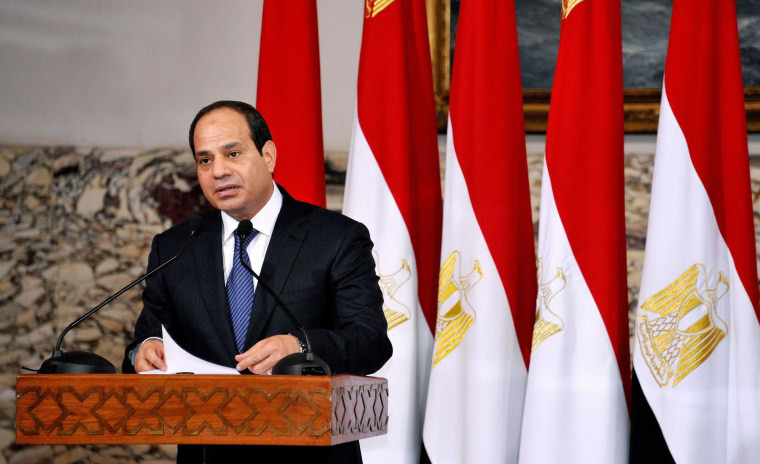 — The Associated Press