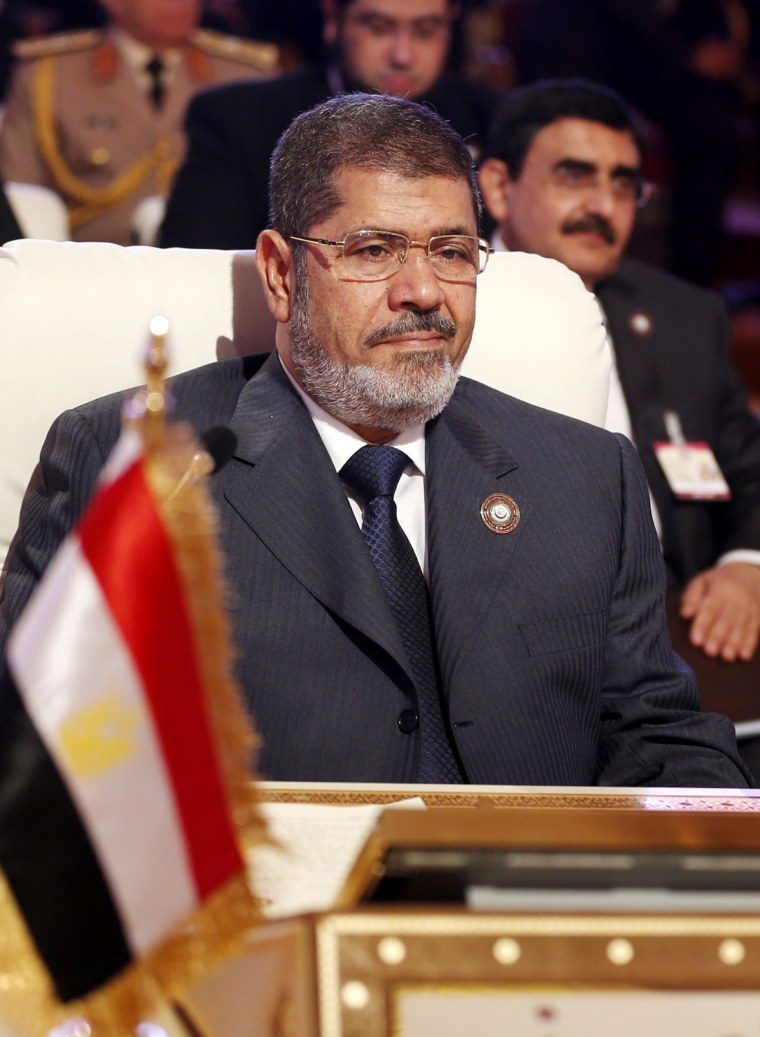 Deposed Egyptian President Mohammed Morsi will stand trial on charges of inciting and committing violence next month, a statement from Cairo Criminal court said Wednesday.  
The Muslim Brotherhood leader is accused of encouraging his supporters and assistants to commit the crimes of intentionally killing, using violence, terrorizing, using arms and knives, detaining and torturing peaceful protesters.
His trial will begin on November 4, according to a statement seen by NBC News. 
The charges relate to violence outside the presidential palace last December, after Morsi had ignited protesters' rage by expanding his powers. 
Along with other members of the Muslim Brotherhood, which was banned by an Egyptian Court last month, he is also accused of murder and conspiring with the Palestinian group Hamas to escape from jail during the country's 2011 uprising, although no formal charges have been brought in that case. 
The Islamist leader was overthrown by the army on July 3 following mass protests against his rule and security forces have also killed hundreds of his supporters during protests since he was ousted. 
About 100 members of the security forces have also been killed since Aug. 14, when the police used force to break up pro-Morsi protest camps in Cairo. 
The sporadic violence has continued since then and just this week five soldiers were gunned down at a checkpoint in Ismalia, a city near The Suez Canal and a bomb killed two near a state security building in South Sinai and two people were wounded in the country's capital Cairo after assailants launched a rocket-propelled grenade at a state-owned satellite station.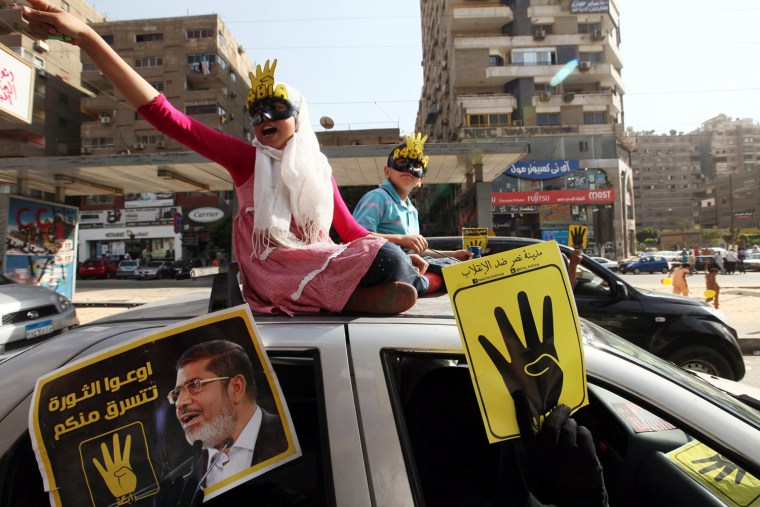 Further confrontations are feared later this week when an alliance including the Muslim Brotherhood have called on people to gather in Cairo's Tahrir Square on Friday.
The square has been a focal point for many of the country's protests since January 2011, when mass protesters gathered there to demand the overthrow of the country's longtime leader Hosni Mubarak who was freed from prison and placed under house arrest in August.
Mubarak, a military man -- who ruled Egypt for 30 years with an iron fist until he was overthrown in the 2011 Arab Spring uprising -- is also currently awaiting a retrial over the death of protesters seeking his overthrow in 2011, which could put him back behind bars.
He also faces investigations into at least two other corruption cases.
Related: