An Egyptian court on Saturday convicted eight men for "inciting debauchery" following their appearance in an alleged same-sex wedding party on a Nile boat, sentencing each of them to three years in prison.
The Internet video shows two men exchanging rings and embracing among cheering friends. The eight were detained in September when a statement from the office of Egypt's chief prosecutor said the video clip was "shameful to God" and "offensive to public morals."
Egypt is a conservative majority Muslim country with a sizable minority of Christians. Homosexuality is a social taboo for both communities and only in recent years have fiction and movies included gay characters. Consensual same-sex relations are not explicitly prohibited, but other laws have been used to imprison gay men in recent years, including "debauchery" or "shameless public acts." Same-sex marriage is unheard of in Egypt.
The verdict is the latest in a crackdown by authorities against gays and atheists. The campaign also targets liberal and pro-democracy activists and violators of a draconian law on street protests. New York-based Human Rights Watch condemned Saturday's convictions as part of a widening campaign of intolerance in Egyptian government and society.
"Egypt's government, evidently not satisfied jailing opposition members, students, and human rights activists, has found the time to prosecute (gays)," said Graeme Reid, HRW's lesbian, gay, bisexual, and transgender rights director, in a statement. Reid called the sentencing "the latest signal that the new government will prosecute anyone to try to bolster its support."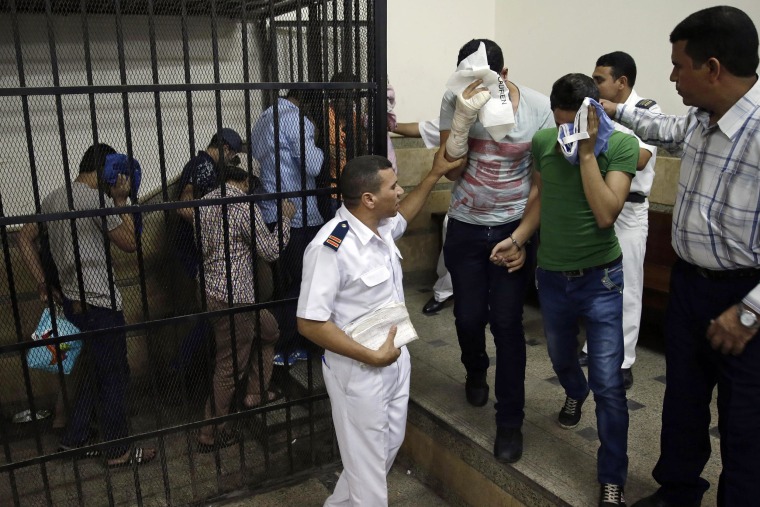 — The Associated Press