TEL AVIV, Israel — One of two Jewish settlers shot dead as the couple drove with their children in the West Bank last week was a U.S. citizen, according to the State Department.
"His name was Eitam Simon Henkin ... and we obviously express our condolences to his family," State Department deputy spokesman Mark Toner told journalists on Monday. Henkin and his wife Naama Henkin — who were residents of the West Bank settlement of Neria — were killed on Thursday as they drove with their four children — including a four-month-old baby — in the backseat.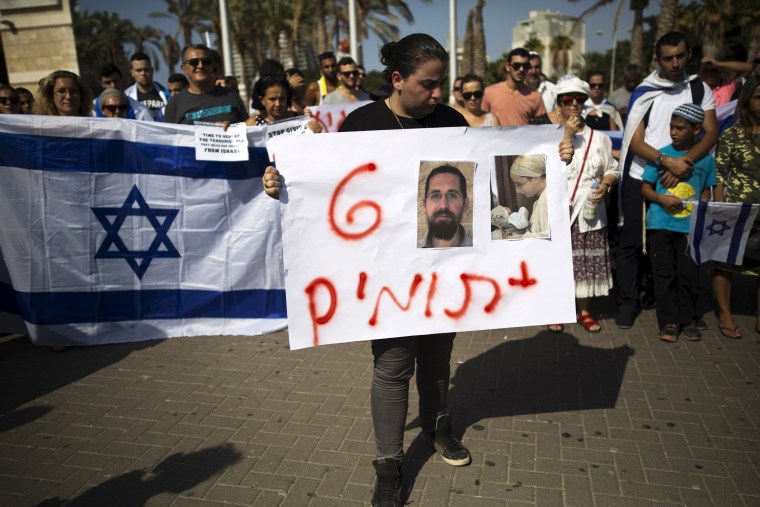 Israel sent hundreds of troops into the West Bank in pursuit of the Henkins' killers, and on Monday security officials said they had detained five members of a Hamas cell in connection with the shooting.
Also on Monday, the Israeli military also demolished the east Jerusalem homes of alleged Palestinian militants who were accused of attacks on Israelis about a year ago. This followed a late-night Cabinet meeting during which Prime Minister Benjamin Netanyahu promised "a strong hand against terrorism and against inciters."
Related: Two Israelis Killed, Teen Stabbed in Attacks in Jerusalem
"The police are going deeply into the Arab neighborhoods, which has not been done in the past," Netanyahu said in a statement. "We will demolish terrorists' homes. We are allowing our forces to take strong action against those who throw rocks and firebombs."
The demolitions and tightened security measures come amid weeks of heightened Palestinian unrest. Four Israelis were killed in shooting and stabbing attacks during the holiday weekend, while four Palestinians have been killed during violent protests.
On Friday, a Palestinian stabbed an Israeli to death, seriously wounded his wife and lightly injuring their two-year-old toddler in Jerusalem's Old City. The attacker then stabbed and killed a fourth Israeli man to death and opened fire at tourists before being shot and killed by police.
Israeli security forces also killed a Palestinian assailant over the weekend, and shot dead two teenagers — including a 13-year-old boy — who were throwing stones during clashes with Israeli soldiers in the West Bank.
The violence threatens a new Israeli-Palestinian escalation at a time when a political solution to the conflict is increasingly distant and Palestinian frustrations are mounting after years of diplomatic paralysis.