A cargo ship missing since Thursday with 33 crew members on board was believed to have sunk 15,000 feet in the teeth of Hurricane Joaquin, which began strengthening and moving closer to its path almost as soon as it set to sea.
The search was continuing, Coast Guard Capt. Mike Fedor said. One "unidentifiable" body, in a survival suit, was found Sunday in a 225-square-mile debris field of wood and cargo, he said.
The Coast Guard planned to focus on finding "people in the water," Fedor said. "We are not looking for the vessel any longer."
The 790-foot ship, the El Faro, was likely swallowed by the Category 4 hurricane two days after it left Jacksonville, Florida for San Juan, Puerto Rico. When it set off on Tuesday, Sept. 29, Joaquin was just a tropical storm with wave swells of 7.5 feet and sustained winds of 65 mph.
Four hours earlier, the National Hurricane Center had issued an advisory warning that the storm was moving toward the Bahamas and could reach hurricane status by Sept. 30.
An hour and a half after the ship left port, a new forecast put Joaquin even closer to the Bahamas and, fatefully, closer to the El Faro's route. By the time the ship, built in 1975, passed the Bahamas the afternoon of Sept. 30, winds were at 85 mph.
The captain was keeping a close eye on conditions and was not alarmed.
"On Wednesday he sent a message to the home office with the status of the developing tropical storm he said he had very good weather ... and that his crew was prepared," said Phil Greene, president of TOTE Services, the parent company of the ship's owner.
As night fell, Joaquin grew. Tropical storm winds had expanded some 140 miles from the center and hurricane force winds were sweeping out 35 miles, packing the punch of the Category 4 hurricane.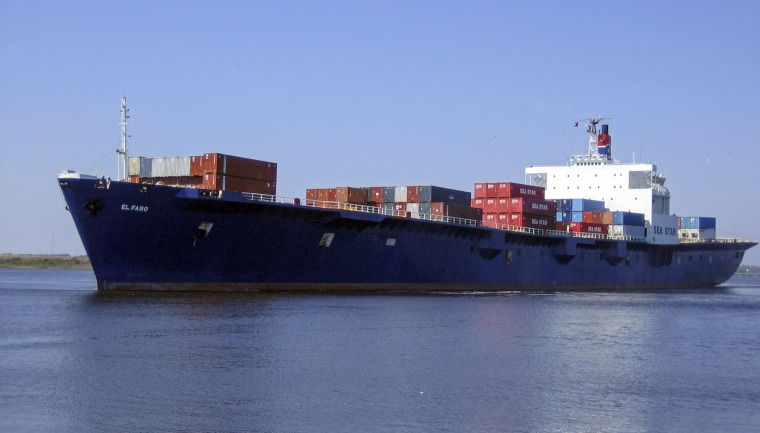 The storm itself was moving slowly at just 6 mph. That meant the same area of water was being hit over and over by the winds — the perfect conditions for building monster waves.
As Joaquin slowed and strengthened, the El Faro was in trouble. The crew reported on Oct. 1 that the ship — which had two auxiliary power generators — had lost power, was taking on water and was listing at 15 degrees.
That was the last contact made with the ship. At the time, the center of Joaquin was about 175 miles out and maximum sustained winds had hit 120 mph. Overnight, they were howling at 130 mph and moving ever nearer to the El Faro's last known position.
"If the vessel did sink on Thursday, and that crew was able to abandon ship they would have been abandoning ship in a Category 4 hurricane," Fedor said. "Those are challenging conditions to survive."
He pointed out, however, that the crew of the El Faro were trained mariners, saying, "We're not going to discount somebody's will to survive."
"As the search for the El Faro mariners continues, our thoughts and prayers remain with them and their families," said Michael Sacco, the president of the Seafarers International Union, which represents American merchant mariners. "In this age when we are all accustomed to instant information and quick answers, it has been an agonizing wait these last few days."
Tim Nolan, president of TOTE Maritime, which owns the ship, said the "the entire TOTE Maritime Puerto Rico family is distressed that it now appears the El Faro sank at or near its last known position."
"We continue to hold out hope for survivors," he said. There were 28 Americans on board. At least five have been identified.

South Florida men Jeremy Riehm, 46, and Steven Shultz, 51, were named by their families as among the missing, according to NBC station WBBH of Fort Myers, Florida. A third American was identified as Keith Griffin.
Shultz's mother told WBBH that she believes her son, a Merchant Marine for 30 years, is alive along with the rest of the crew, but is worried that supplies are running out.
Other missing American crew members include 51-year-old Mariette Wright, engineer Mike Holland and Second Mate Danielle Randolph.