CAIRO - Egyptians began voting on Monday in a presidential election expected to sweep former army chief Abdel Fatah el-Sisi into office, reviving rule by strongman three years after Hosni Mubarak's downfall.
Voters cast ballots at heavily guarded polling stations from 9.00 a.m. (2.00 a.m. ET).
El-Sisi, who deposed the Muslim Brotherhood's Mohamed Morsi last July, faces only one challenger in the two-day vote: the leftist politician Hamdeen Sabahi.
"We see Sisi as a real man. Egypt likes a strong man," said Saber Habib, clenching his fist to ram home his point as he waited to vote in the city of Suez, east of Cairo.
"We want the country to move forward and for the people to have bread," said the 64-year-old contractor.
Widely regarded as Egypt's de facto leader since he toppled Morsi following mass protests, el-Sisi faces manifold challenges including an economy in crisis and an Islamist insurrection that has spiraled since Morsi's downfall.
As voting began, a homemade bomb exploded outside a polling station in the city of El-Mahalla El-Kubra, north of Cairo, state TV reported. No casualties were reported.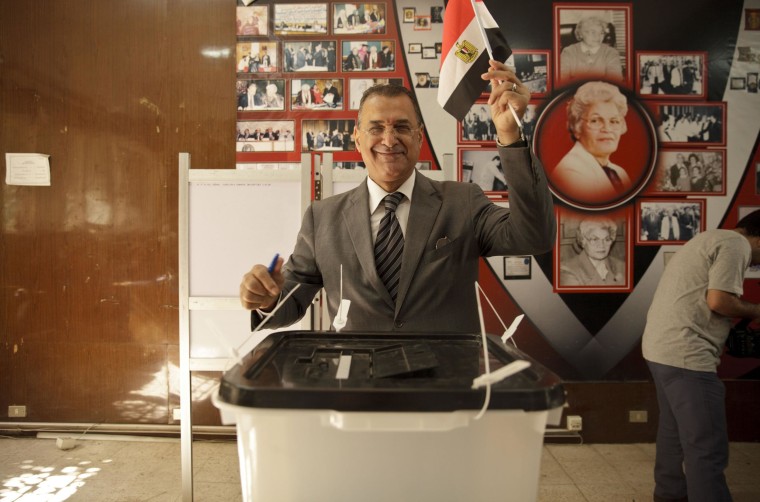 Although the result appears a foregone conclusion, a big turnout would be seen as a strong mandate for dl-Sisi.
"We need someone who will from day one put the country on the right track," said Ahmed El-Demerdesh, a mechanical engineer, as he waited to vote in Cairo. "We can't take any more experiments."
As he voted in Cairo, el-Sisi waved to supporters, who shouted "President, President!"
Supporters regard el-Sisi, who resigned from the military earlier this year, as a decisive figure who can stabilize Egypt, a strategic U.S. ally in the heart of the Arab world.
His opponents, mostly in the Islamist opposition, say he is the mastermind of a coup that robbed Egypt's first freely elected leader of power.
The Brotherhood has called for a boycott of the vote it has described as a farce.
Security forces have largely driven the Brotherhood underground after hundreds were killed and thousands arrested. More than a thousand Brotherhood supporters have been sentenced to death on charges including inciting violence after the army overthrew Morsi.
-Reuters