Elie Wiesel, the prolific Nobel Peace Prize laureate whose memoir about surviving Nazi concentration camps was one of the most poignant accounts of the Holocaust, has died. He was 87.
Wiesel's son, Elisha Wiesel, told NBC News on Saturday that the author had died, and said the family is observing Shabbat and has requested privacy at the moment.
Wiesel was born in 1928 in Romania. At the age of 15 he was deported to Auschwitz with his family, where his mother and sister died. Wiesel and his father were later taken to Buchenwald. His sick and malnourished father died there following a beating from a German soldier. Wiesel chronicled the experience in his acclaimed 1955 autobiography, "Night."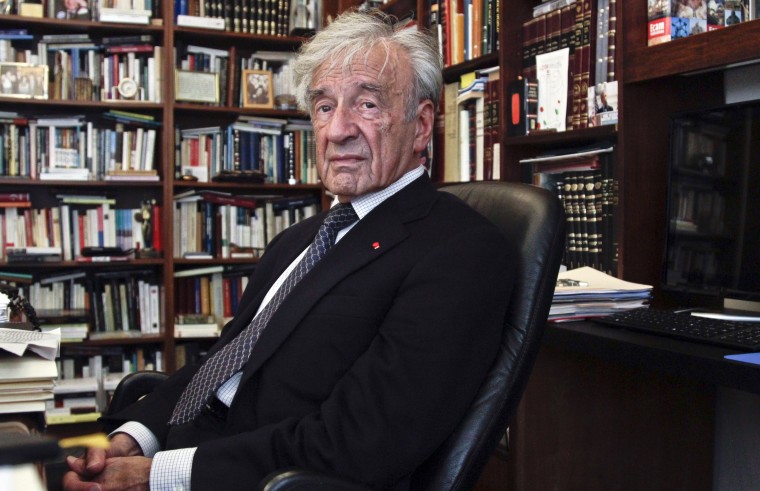 The atrocities he witnessed fueled Wiesel to combat inhumanity around the world, including in the former Yugoslavia and in Darfur — efforts that in 1986, earned him a Nobel Peace Prize.
"We must speak, we must take sides, for neutrality helps the oppressor — never the victim," he said upon receiving the prize.
The prize's citation referred to him as "a messenger to mankind."
"My father raised his voice to presidents and prime ministers when he felt issues on the world stage demanded action," Elisha Wiesel said in a statement released later Saturday. "But those who knew him in private life had the pleasure of experiencing a gentle and devout man who was always interested in others, and whose quiet voice moved them to better themselves."
"I will hear that voice for the rest of my life, and hope and pray that I will continue to earn the unconditional love and trust he always showed me," Elisha Wiesel said.
Tributes for Wiesel immediately started pouring in Saturday, with Israeli Prime Minister Benjamin Netanyahu calling him a "beacon of light to the humanity of people who believed in the good of everyone."
President Barack Obama said, "Elie Wiesel was one of the great moral voices of our time, and in many ways, the conscience of the world."
The World Jewish Congress President Ronald Lauder said in a statement that Wiesel "was more than a revered writer. He was also a teacher for many of us. He taught us about the horrors of Auschwitz. He taught us about Judaism, about Israel, and about not being silent in the face of injustice."
Jerusalem Mayor Nir Barkat, who a few months ago gave Wiesel the medal of Honorary Citizen of Jerusalem, said of the author: "Instead of giving in to despair, the face of evil and cruelty that at the time was the darkest of humanity, he carried all the way through the message of tolerance and peace for all peoples of the world."
Following the war, Wiesel was sent to a French orphanage, where he was reunited with his older sisters, Beatrice and Hilda. He first took up writing in his 20s, when he became a journalist for French and Israeli publications.
Despite later becoming a ubiquitous, first-hand account of surviving the Holocaust, "Night" sold under 2,000 copies in the United States in the first 18 months after it was published.
It has now sold more than 6 million copies, according to Israeli newspaper Haaretz, which first reported Wiesel's death.
Wiesel originally wrote "Night" in French and had it translated into English. The book was standard reading material in schools around the world and enjoyed renewed popularity when Oprah Winfrey chose a new translation of "Night" by Wiesel's wife, Austrian Holocaust survivor Marion Rose, for her book club in 2006.
Wiesel and Marion married in Jerusalem in 1969. She also translated his future books, including "Dawn" and "Day," which completed his trilogy series on the Holocaust. In all, he wrote more than 50 works of fiction and nonfiction.
Wiesel met his wife in New York, where he had moved to in 1955. Over the years, he became a vocal activist, earning him the U.S. Presidential Medal of Freedom in addition to the Nobel Peace Prize for speaking out against discrimination and racism.
Marion Wiesel said in a statement Saturday: "My husband was a fighter. He fought for the memory of the six million Jews who perished in the Holocaust, and he fought for Israel. He waged countless battles for innocent victims regardless of ethnicity or creed."
"But what was most meaningful to him was teaching the innumerable students who attended his university classes," she said. "We are deeply moved by the outpouring of love and support we have already seen in the wake of his passing."
Wiesel became an outspoken advocate of education on the Holocaust when President Jimmy Carter appointed him chairman of the Presidential Commission on the Holocaust in 1978. In that role, he helped create the U.S. Holocaust Memorial Museum in Washington, D.C.
A quote from Wiesel — "for the dead and the living, we must bear witness" — is displayed at the museum's entrance.
Wiesel didn't shy away from his past. In 2006, he went to Auschwitz with Winfrey, and in 2009, Wiesel went with President Barack Obama and German Chancellor Angela Merkel to a trip to the Buchenwald concentration camp.
"He taught us about the horrors of Auschwitz ... and about not being silent in the face of injustice."
His faith never wavered. At the Holocaust Days of Remembrance Ceremony in April 2009, standing alongside Obama in the Capitol Rotunda, Wiesel said, "I belong to a traumatized generation that felt abandoned by God and betrayed by mankind. And yet, I believe that one must not estrange from God or mankind."
Later in life, he made news for another reason: He was one of the victims of Bernie Madoff's Ponzi scheme. His foundation, the Elie Wiesel Foundation for Humanity, lost more than $15 million it had invested with Madoff, and he and his wife lost savings.
When asked to describe Madoff, Wiesel told The New York Times, "Psychopath — it's too nice a word for him."
Obama said that he first came to know Wiesel through his account of the Holocaust, but "I was also honored and deeply humbled to call him a dear friend." The president recalled visiting Buchenwald with Wiesel, where the author was held as a teenager.
"At the end of our visit to Buchenwald, Elie said that after all that he and the other survivors had endured, 'we had the right to give up on humanity,'" Obama said. "But he said, 'we rejected that possibility ... we said, no, we must continue believing in a future.'"
"Tonight, we give thanks that Elie never gave up on humanity and on the progress that is possible when we treat one another with dignity and respect," Obama said.
Correction: An earlier version of this article incorrectly stated that Elie Wiesel's father died at Auschwitz. He died at Buchenwald.