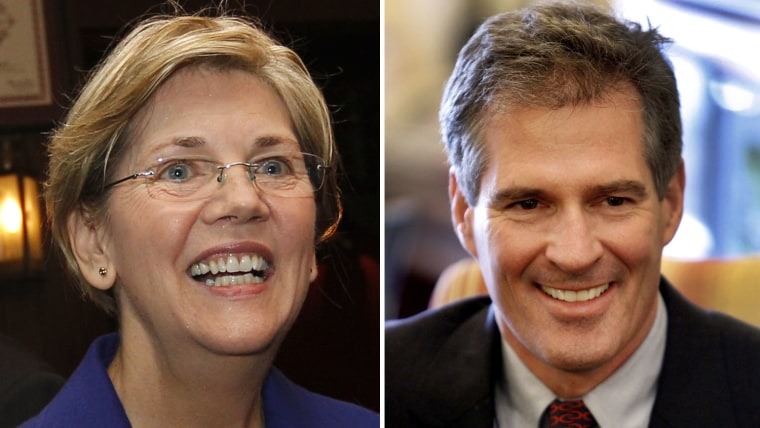 Massachusetts Democratic Senate candidate Elizabeth Warren and incumbent Mass. GOP Sen. Scott Brown both joined Morning Joe today at Fenway Park (though at different times) to discuss what has become a fairly tight race in the Bay State. And one of the most watched Senate races in the country right now.
New polls from the University of New Hampshire/Boston Globe and WNE show Brown in the lead -- with 37 percent and 49 percent, respectively -- and a new PPP poll shows Warren enjoying a slight lead at 46 percent to Brown's 41 percent. Similarly, a new Rasmussen poll shows Warren leading Brown by one percentage point. But then again, we've still got several months for things to run back and forth.
Warren served asinterim director of the Consumer Financial Protection Bureau, and in the first quarter of 2012 raised a whopping $6.9 million for her campaign. She told Joe and Mika that she enjoys campaigning because "you get to talk about things you think are really important with people," and the most common thing she's heard from voters on the trail is concern over paying for college.
Warren also said her primary goal has been "...to try to give working class families, middle class families a real shot."
When asked about what separates her ideologically from Sen. Brown she pointed to Brown being named by Forbes magazine as one of "Wall Street's favorite senators." Warren also said Brown "...voted to keep the big oil subsidies at the same time that he was voting against…We had a quarter of a million people unemployed here in Massachusetts last fall. He voted against three jobs bills in a row. He voted against extensions of unemployment."
Brown, who joined Morning Joe later in the show, told the panel he's not putting much stock in the polls now.
"If I believed in polls, I never would have gotten out of bed when I was down 41 points when I first ran," he said. "The poll that matters is on election night, when the votes are tallied."
Sen. Brown also pushed back on Warren's criticisms and touted his record of "working across party lines" in Washington, and his work on the Dodd-Frank bill. And when asked by presidential historian Doris Kearns Goodwin if he saw himself as a moderate Republican, he said "absolutely."
"We need problem solvers; we don't need rock throwers. And that's what I am is a problem solver," he said.
Brown also brought up the Consumer Financial Protection Bureau when discussing Warren.
"I heard what Professor Warren said that I watered it down," he said. "With all due respect, it never would have passed. Number two, there never would have been a Consumer Protection Bureau that she would have been able to participate in."