BAD NAUHEIM, Germany — The "King" is alive —and is wandering the streets of a quaint Germany spa city.
Elvis lookalikes can be spotted buying ice-cream in Bad Nauheim, where the rock-and-roll legend spent his military years.
"I am here to party for the next three days," said 36-year old Philipp Lieder, who dresses up as Elvis — even at work — and is a regular visitor.
Since 2002, the small city north of Frankfurt has been celebrating Elvis, his music and his time in Germany with the annual European Elvis Festival.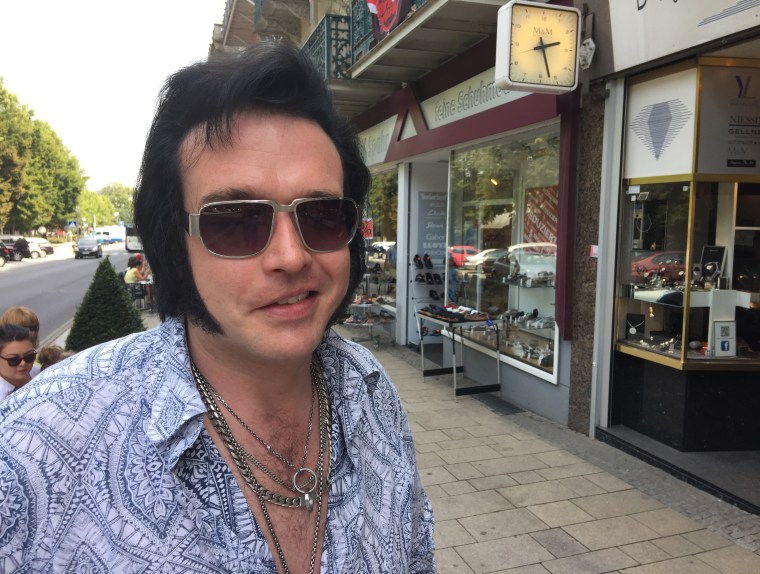 One tour guide described the city as "Elvis Reloaded" this year ahead of the 38th anniversary of the star's death on Sunday.
Residents and visitors are all shook up with rock and roll contests, a Cadillac old-timer tour, a "Peggy Sue" fashion show and the much-anticipated concerts of American musicians who once performed alongside Elvis.
"It is always good to be here," guitarist James Burton, who played in the TCB band with Elvis from 1969 until 1977, told reporters Thursday. Burton was joined by pianist Glen D. Hardin and The Imperials singer Terry Blackwood, who both worked with the star during his career.
When Elvis lived in Germany between 1958 and 1960, he brought "tolerance, fairness and happiness to Bad Nauheim," said Beatrix van Ooyen, an interior designer who moved to the small city of 30,000 some 25 years ago.
She quickly developed a "burning love" for Elvis and his connection to this rural region. Van Ooyen now heads the "Elvis in Bad Nauheim" initiative, which aims to set up a permanent Elvis museum and has launched a crowdfunding campaign for a bronze statue of the American superstar, which the city wants to place in its spa gardens.
At the height of the worldwide Elvis mania, the "King" was deployed on an 18-month stint to Ray Barracks in Friedberg, Germany with the U.S. Army's Third Armored Division. Sergeant Elvis Aaron Presley decided to set up camp in nearby Bad Nauheim, where he rented an entire floor of the Grunewald hotel for himself and his entourage.
In commemoration of the famous visitor, the square outside the historic hotel was named Elvis-Presley-Platz, where a marble memorial was set up. Die-hard Elvis fans have turned the site into a place of pilgrimage.
"Elvis is unforgotten, he is always in my heart" said 65-year old Gabriele Trinker, who is visiting Bad Nauheim for the 5th time from Zurich, Switzerland.
Dressed in a jacket with Elvis' picture sown on the back, Trinker stopped at the Elvis memorial to pay her respects. But for her, the entertainer's former residence next to the city's central park has become something of a heartbreak hotel.
"The-so called Elvis room, number ten, is closed to visitors. I have never been able to see it in all these years," she told NBC News.
Elvis left many other traces in the city. The Stark bakery on the city's main street became famous for a chocolate cake produced for Presley's 24th birthday. Tour guides take visitors to a nearby restaurant where Elvis' army battalion held its Christmas party in 1959. The "King" is believed to have appeared with Priscilla in public for the first time at the city's Sportheim restaurant.
The "Burgpforte" — a historic stone gate — has become a magnet for fans over the years, after the young soldier posed in uniform in front of the arch for the cover of his song "A Big Hunk of Love."
"Elvis was a very kind and almost soft person," Angelika Springauf, who met Elvis in 1959, told NBC News. Then 14-years old, Springauf had regularly stood outside Elvis' second home on Goethe Street waiting for an autograph and a rare photo with the legend.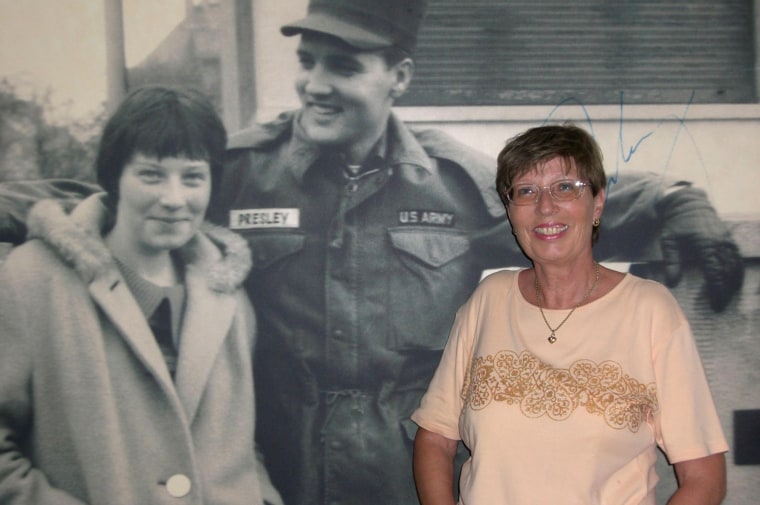 This weekend, outdoor cafes in Bad Nauheim will be playing Elvis songs and many local stores have decorated their shop windows with Elvis paraphernalia. A plush new café called Now or Never will open for the occasion.
For local fans, it has become difficult to elude the Elvis fascination.
Gerda Ziadak, 70, flunked a school year at the age of 14 just to be close to her idol and to snatch "this one kiss on the cheek from him" — which she eventually got.
"Because I stood outside Elvis house day in and day out, I neglected school," the lifelong fan said. "But I have no regrets at all."