PARIS — The remarkable ascendancy of Emmanuel Macron — who has never held public office — has thrown a spotlight on centrist politics at a time of extreme polarization as well as the former teacher 24 years his senior who will be France's new first lady.
The independent candidate comfortably won Sunday's presidential election.
Macron caused a political earthquake by emerging as the top challenger to far-right populist Marine Le Pen, breaking the post-World War II stranglehold of the mainstream parties with his new "En Marche!" movement.
It was the first time since Charles de Gaulle established the fifth French republic in 1958 that nobody from the dominant center-right and center-left parties has competed in the second round of an election.
The 39-year-old centrist is the country's youngest leader since Napoleon Bonaparte.
But Macron is not an outsider along the lines of President Donald Trump.
The son of two doctors, he attended the prestigious Institut d'Etudes Politiques in Paris and the famous Ecole Nationale d'Administration (ENA), a training ground that has produced generations of French elites.
Before becoming an economic adviser to the Socialist Party of President Francois Hollande, he made millions at investment bank Rothschild.
While a political novice, he has a big job ahead of him.
Related: 11M Voters Backed 'Fascist' Le Pen on Record Night for Far-Right
His rise has huge implications for Europe. An ardent pro-European, his rule could boost a wearied European Union and alter the outcome of Brexit negotiations with Britain. Defeated rival Le Pen wanted to see France leave the EU — a so-called Frexit — a move that would have brought Paris closer into line with London.
His spokeswoman, former TV reporter Laurence Haim, hinted before the vote that Russia, which has been accused of trying to disrupt European elections in favor of far-right parties, may have been behind hacking attacks on his campaign.
Top U.S. intelligence officials have concluded that Russia waged cyberattacks on America during the 2016 presidential election, and had a "clear preference for ... Trump."
"We have been hacked," she told NBC News. "One month ago we had 4,000 attacks in one day … we think that it came from Ukraine. Macron spoke about that and he didn't finger Russia specifically, but he asked Russia to be vigilant about democracy and … I'm not going to say anything more than that on this extremely sensitive topic."
Asked if she believes Russia is trying to influence the campaign In favor of Le Pen, she replied: "You should ask the question to [Russian President] Vladimir Putin. Does he prefer Marine Le Pen or Emmanuel Macron for Europe?"
"It became passionate and at the age of 17, Emmanuel told me: 'Whatever you do, I will marry you!'"
On the campaign trail, Macron managed to turn his centrism to an advantage despite the rise of political extremism.
"In French politics, if you were neither right nor left you were nowhere. He has turned this into a strength," said Pascal Lamy, the former head of the World Trade Organisation who has known Macron for over a decade.
And although inexperienced in elections, Macron has top-level government experience from his time at the presidential Elysee, and has had the confidence to speak his mind. When socialist Hollande tried to introduce a 75 percent tax on incomes over $1 million, Macron reportedly joked: "It's Cuba without the sun."
Peter Ricketts, former British ambassador to France, said Macron has "quick intelligence, mastery of detail and great self-confidence" as well as "great charm."
In an article in the Financial Times, Ricketts said Macron had shown "considerable courage" by taking the risk of resigning from government to set up his own movement from scratch "and then to bid for the highest office in the land… and all that without ever having been elected, even to a parish council."
Not 'a classic family'
Macron is used to taking risks, if his personal life is any guide. He met his wife, Brigitte Trogneux, now 64, when he was a 16-year-old at a Jesuit high school in the northern French city of Amiens. She was his drama teacher, and married with three children.
He declared he would marry her. A decade later, after her divorce, they wed and now live with her adult children.
"We don't have a classic family, that's an undeniable reality," he told reporters on the campaign trail.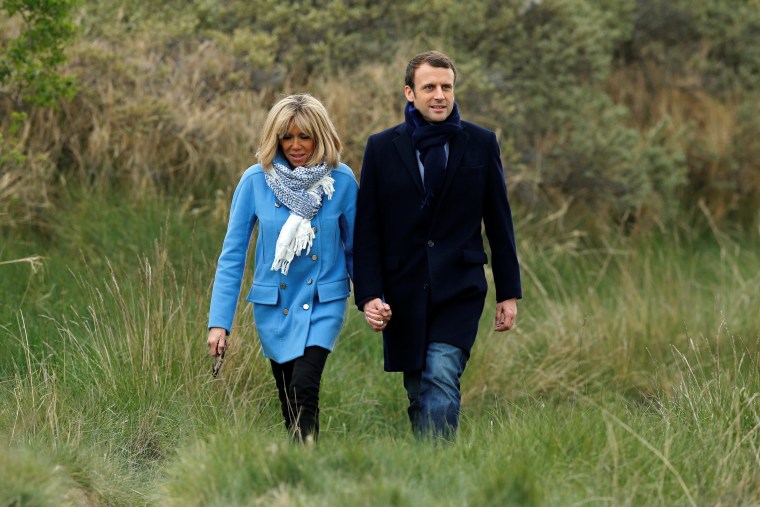 But it is not a relationship that harmed his electoral chances — indeed, it is not even a scandal by the standards of French politics. Hollande was caught visiting a mistress on the back of a motor scooter, while the presidential ambitions of International Monetary Fund chief Dominique Strauss Kahn were thwarted by news of his swinger sex parties with prostitutes.
Macron and Trogneux are very matter-of-fact about their ages — and an almost identical gap exists between Trump and his wife Melania — and have brushed aside suggestions that their initial liaison was inappropriate, or even illegal.
In a recent interview with Paris Match, she described her younger husband breathlessly as "a knight, a character from another planet who mixes a rare intelligence with an exceptional humanity."
Their affair began when he stayed behind after hours to work with her on a rewrite of "The Art of the Comedy" by Eduardo de Filippo.
"The writing brought us together every Friday and triggered an incredible closeness" that continued even when he left for the super-elite Lycée Henri-IV high school in Paris, she told the magazine.
"On the contrary, it became passionate and at the age of 17, Emmanuel told me: 'Whatever you do, I will marry you!' Love took everything in its path and led me to divorce," she said, adding that it was "impossible to resist him."
A new book by journalist Anne Fulda, "Emmanuel Macron: A Perfect Young Man," says Macron's parents were initially dismayed by the relationship but in interviews with the author they emphasized that they did not lodge a complaint against her.
Trogneux remains coy about the exact timings of their affair. "Nobody will ever know at what moment our story became a love story," Fulda quotes her as saying. "That belongs to us."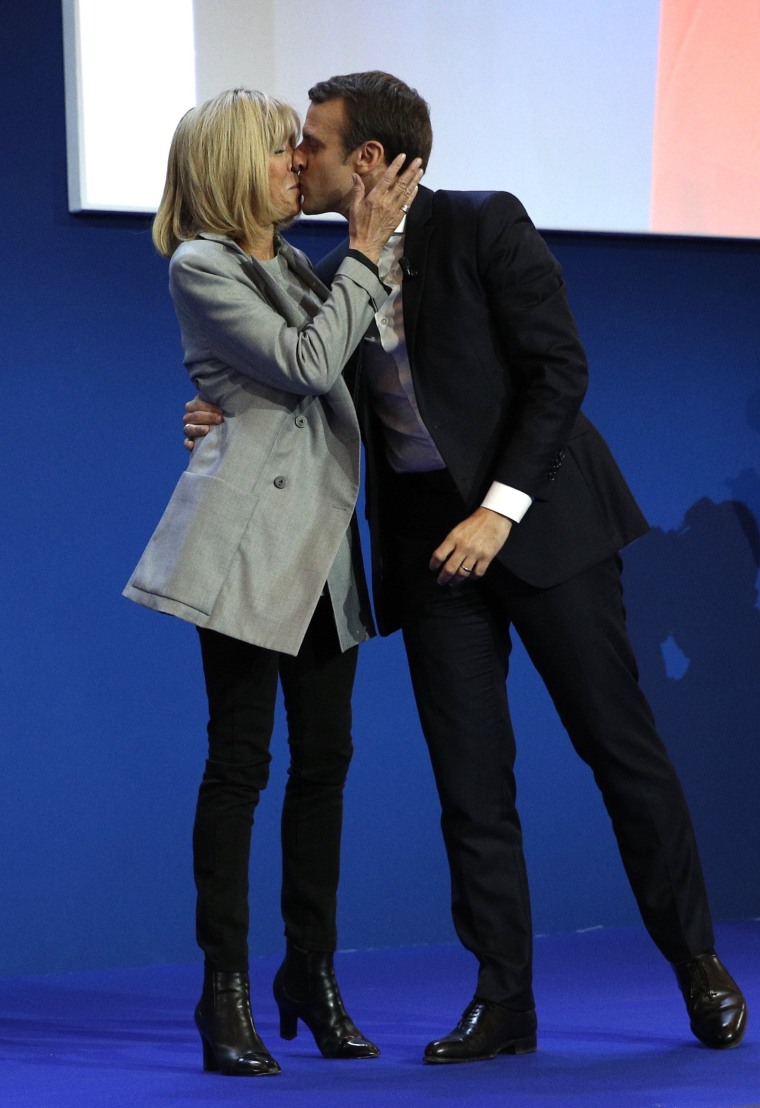 Macron has twice publicly dismissed suggestions that his relationship is a cover for homosexuality, including an allegation he is in a relationship with Radio France chief executive Mathieu Gallet.
"For those who want to spread the rumor that I'm deceitful, that I have hidden lives … not only is it unpleasant for Brigitte, but I promise that as from morning to night she shares my whole life with me," he told reporters in January.
And Trogneux proved to to be a campaign asset for Macron. She appeared on stage with him hand-in-hand at a rally after the first round of voting — an American-style move that is unusual in French politics; none of the other candidates' spouses did the same.
Le Parisienne described her as the "strong link" in his campaign.