GRAFENWOEHR, Germany -- Ulrich Maushacke stares through binoculars in search of any sign of movement as the morning fog blankets the artillery impact zone of the U.S. Army's largest live-fire range in Europe.
The ranger's quarry? Any sign of the 8,000 red deer that live on the military training site.
"Grafenwoehr is home to one of the largest red deer populations in all of Germany," said Maushacke, who is the German government's chief forest warden at the American installation.
Officials stress that the 57,000-acre training zone is not a national park or an official nature reserve, and say that military training gets priority at all times. Still, the lack of public access and its diverse landscape means that it has become an ideal habitat for wildlife, they say.
The Grafenwoehr installation is now home to more than 3,000 plant and animal species, 800 of which are threatened, endangered or legally protected. These include the rare kingfisher, sea eagles, wildcats, a large beaver population, green woodpeckers and even lynx.
At international conferences, Grafenwoehr officials often highlight a photo that shows a male deer standing in the impact zone with smoke from an explosion rising in the background.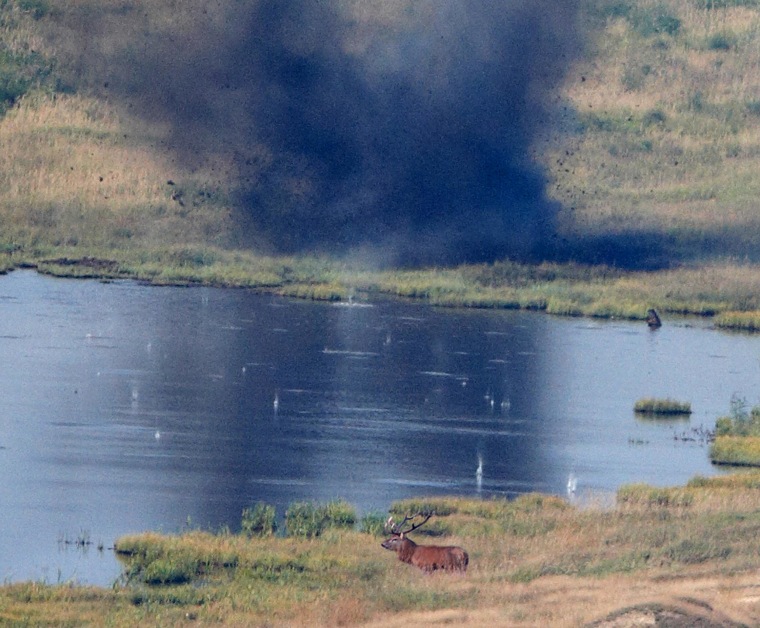 And only a few hours after Maushacke's surveillance tour, heavy artillery exploded in the lowlands where the German ranger had earlier spotted a group of nearly a dozen deer.
"On a busy day, we have about 1,200 soldiers training on the ranges and that can be anything from tank or helicopter training to NATO aircraft as well," Lt. Col. Andrew Green, the chief of range operations at Grafenwoehr, told NBC News.
"If we have airplanes dropping bombs or artillery shooting explosives, we have an impact area that is designed for that and obviously, there is damage. There is also some damage from maneuvering tanks or wheel vehicles, and sometimes infantry digging fighting positions, but that gets replaced."
Living on a live-fire range may not be all good for animals.
"The animals are adapting to life at military training sites," said Magnus Wessel from Friends of the Earth/BUND, an environmental NGO in Berlin. "But, ammunition and grenades are usually not removed from impact areas, which has a negative effect on the environment and can be hazardous to animal life."
"Most people think you can either have training or you can have protection of the environment, one or the other, but here we've shown that one actually enhances the other, it's a symbiotic relationship."
"We have seen former training areas of the Soviet forces in eastern Germany where un-detonated ammunition is buried up to 20 feet deep and there have been reports of wild boar, for example, that got killed when digging for food," Wessel said.
Still, biodiversity overall can benefit from the landscapes created by military training, officials say. Tank tracks or grenade craters from war games, for example, have become new breeding grounds and habitats for some endangered species.
"The yellow-bellied toad needs short-dated water pools and at Grafenwoehr the species has found an optimum living environment," said Dr. Peter Fleischmann, referring to bodies of water that appear and disappear. "Hazardous impacts from the civilian world, such as heavy agriculture with the use of fertilizers and herbicides, or light contamination from settlements, cannot be found here," added the biologist who has been under contract with the U.S. Army's Joint Multinational Training Command since 2006. "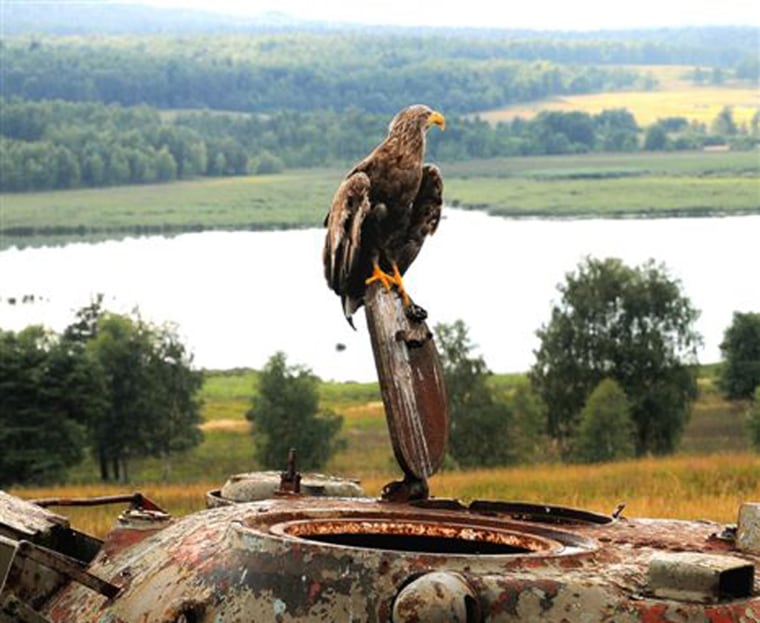 At the same time, animals can also be helpful for the Army.
"The military needs open terrain for its training," ranger Maushacke said. "And the deer have created wide open plains, as they consume 75 tons of grass and plants per day."
Until the mid-1990s, military training with tanks and other heavy armored vehicles caused a significant amount of erosion to the natural environment. Since then, a complex environmental management system has been introduced and the Grafenwoehr site has increasingly developed into "a living environment for donor populations of species, which are fighting for survival in civil cultivated landscapes," Maushacke added.
The site is managed under the Army's Sustainable Range Program. Military leaders say that part of their operational mission is "to build, not just to destroy" and stress that today's focus lies on sustainability for both sides.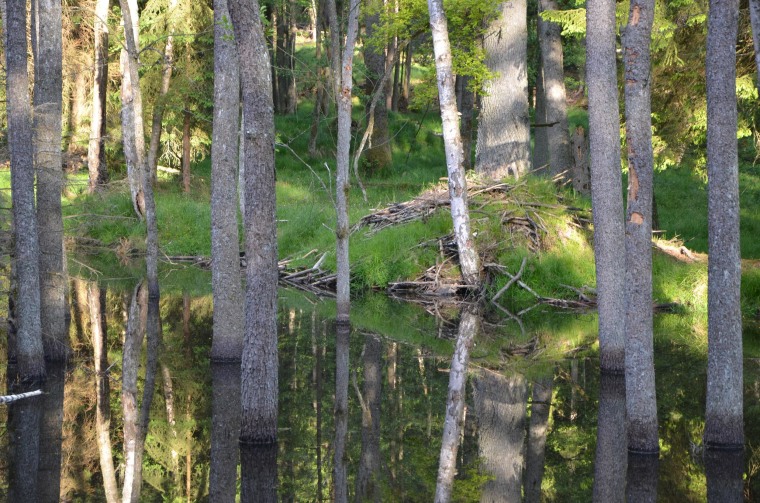 "Most people think you can either have training or you can have protection of the environment, one or the other, but here we've shown that one actually enhances the other, it's a symbiotic relationship," JMTC commander Brig. Gen. Walter Piatt said.
And what do the animals make of the war games around them? "Many animals have acclimated to the erratic, punctuated aggressiveness that comes with live-fire training," said Colleen Bermanis, program coordinator of integrated training area management at Grafenwoehr.