LONDON — It has come home, at last.
But with England finally able to rejoice at winning a major soccer tournament, it is not the country's renowned male stars who have adorned newspaper front pages, been greeted by mass crowds in the capital or led the nation in delirious song.
Fans, players and coaches now hope victory for the women's soccer team — and the unified moment it stirred — will prove to be not just the end of decades of pain in its national sport but a watershed moment for the women's game in the country and beyond.
A record crowd of 87,000 fans and at least another 17.4 million at home watched England's 2-1 victory over Germany in the European Championship final Sunday.
Those who packed into London's Wembley Stadium greeted the final whistle with a rendition of "Three Lions," a much-loved pop song whose yearning chorus, "Football's coming home," has become a cornerstone of a national sporting culture that has until now been seen as almost entirely male.
Long ignored and underfunded compared to the all-conquering men's game, with its multibillion-dollar TV deals and teams owned by oligarchs and sovereign wealth funds, women's soccer is now getting attention like never before.
Rachel Yankey, who was the first professional female footballer in Britain and became one of the most successful players of her era, told NBC News that England's win was a key moment.
"We need to normalize the game and value our female stars as much as we do our male stars — not just looking at it as 'Oh, it's only women's football.' It's football that's played by women," she said.
"At this tournament that's what I think has happened, more than any other," she said.
Yankey, who played for England 129 times, shaved her head and called herself "Ray" at age 8 in order to play on a boys team.
Now, only a third of girls ages 5 to 18 play soccer every week, and just 63% of schools in England offer girls the chance to play soccer during gym lessons, according to the Football Association, the game's governing body.
"There's still a lot to do, but the visibility of yesterday is the most important thing," Yankey said.
England's win will have a positive effect on boys too, she added: "It educates our young boys too that girls can have the same dreams as boys and do the same jobs. It gives our kids the power to believe in what they want to be."
Many fans remarked on social media that the powerful image of striker Chloe Kelly whirling her jersey over her head after scoring the winning goal Sunday was an empowering moment reminiscent of Brandi Chastain's celebration after winning the World Cup for the United States in 1999.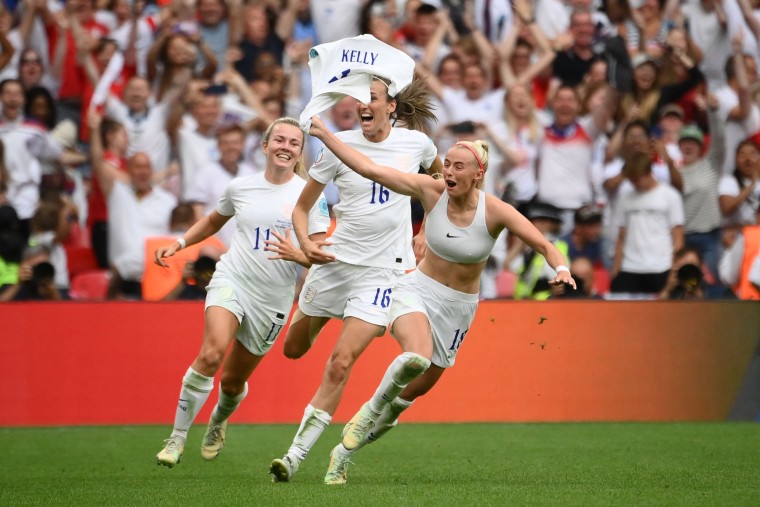 The iconic image of Chastain on her knees in triumphant relief has come to symbolize the surge in popularity for the women's game in America since then.
Chastain herself acknowledged the echoes.
Women's soccer was popular in England early in the 20th century, with 53,000 people attending one game in Liverpool at Christmas in 1920.
But just a year later, the Football Association deemed the game "unsuitable for females" and essentially banned women from playing in any elite league. The ban stayed in place for 50 years, and it wasn't until 2018 that the Women's Super League went fully professional.
The WSL now attracts some of the game's best players and coaches, and it is often broadcast on major TV channels. But in terms of viewers and sponsorships, it still plays second fiddle to the men's Premier League — and the situation is perhaps even more stark at the grassroots.
Mike Barclay, a father of two girls from Leicestershire in the English midlands, spoke of the importance of showing them female role models.
"My girls watch men's football avidly, but representation is so important. Seeing the Lionesses succeed, on national TV, with a huge crowd roaring them on — it's really a huge inspiration," he said.
"It creates a parity with the men's game in their minds, which I've never seen before," he said.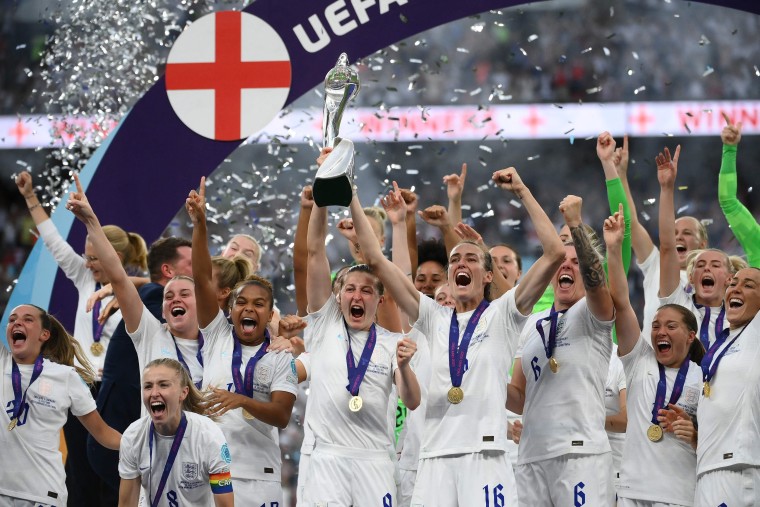 Yvonne Harrison, CEO of Women in Football, an organization that aims to improve female representation in the sport, said, "Women were banned from playing football for 50 years, so there's a lot of catching up to do."
"There is huge disparity," she added. "I think the highest salary [in women's soccer] is 250,000 pounds ($306,000) a year, when some men are earning that in a week."
Harrison said there was a need for not just more girls and women playing football, but more female match officials, coaches and medical staff — across both men's and women's soccer.
"It's really important girls can see people like them in leadership roles," she said.