An entire 21-ton airdrop of food aid intended for starving Syrians was damaged, lost or fell into an area covered by land mines, a U.N. body admitted Thursday.
The delivery, which was dropped from 23,000 feet over the besieged city of Deir el-Zour, would have been enough to feed 2,500 people for a month.
Instead, 10 of the 21 pallets of vegetable oil, lentils, rice and salt "drifted away and are so far unaccounted for," by the U.N. World Food Programme spokeswoman Abeer Etefa told NBC News.
Four other pallets landed in or around the drop zone but were badly damaged because their parachutes did not open. The other seven pallets are believed to have landed in an uncontrolled area that contains land mines.
"This plane had to fly at a high altitude to avoid rockets, missiles and gunfire," the spokeswoman added. "We are disappointed that people who were anxiously waiting to receive this food did not receive it."
Diplomats hope that a planned cessation of hostilities scheduled to kick in Saturday will allow aid groups to deliver aid to the country's civilian population that has endured a five-year civil war that has claimed at least 250,000 lives.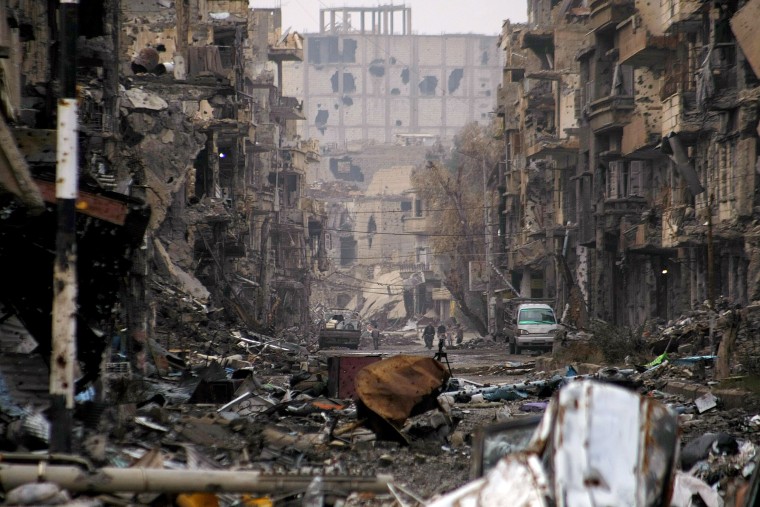 Deir el-Zour is a city of some 200,000 in the country's east that is besieged by ISIS, one of the extremist groups fighting in the complex conflict. The WFP said it has not been able to reach Deir el-Zour's civilians since March 2014.
The 21 tons of food would have filled a medium-sized aid truck. The WFP has successfully road-delivered about 100 truckloads to six other Syrian towns in the past week, but Wednesday's drop was its first high-altitude air delivery over Syria.
The aid plane was manned by a "highly experienced crew" and such operations are "not without risk," Etefa added. "Airdrops are always a last option … [but] this is a desperate measure in desperate times."
Etefa said the team would try again "when possible."
In September 2014, Iraqi pilots mistakenly delivered food, water and ammunition to ISIS fighters in Iraq's Anbar province.