ISTANBUL — Turkish leader Recep Tayyip Erdogan declared himself the winner of his country's presidential election on Sunday, saying that high voter turnout showed "Turkey has given a good democracy lesson to the world."
Erdogan claimed victory during a news conference before official results had been tallied.
The main opposition party, the secular center-left CHP, did not immediately concede defeat, Reuters reported, though it later said it would continue its democratic struggle "whatever the result."
The elections posed the greatest electoral challenge Erdogan faced since coming to power 16 years ago.
It's unlikely Erdogan expected a tight race when he called a snap election in April, hoping to consolidate his rule. But polls suggest outright victory could turn out to be harder than the firebrand president initially wagered.
For the first time, Turkey's disparate opposition — made up of secularists, nationalists, Islamists and Kurds — showed a more united front, with some parties joining forces. Meanwhile the economy, to which Erdogan could once point as a shining example of his success, is looking increasingly shaky.
While some polls suggested that Erdogan was still the most likely to win, he might not manage to muster the more than 50 percent of votes needed to avoid a second round on July 8, while his Justice and Development party, or AKP, could lose its majority in parliament. That could potentially lead to a situation where Erdogan is president but the opposition controls parliament.
The final week of campaigning saw Erdogan even float the possibility of a coalition government, while hundreds of thousands of newly energized supporters showed up to his main rival's rallies.
'A NEW ERA'
The stakes are especially high for this vital NATO ally: A new presidential system will come into effect after the election which will grant the president vast new powers.
The changes abolish the role of prime minister and allow the president to absolve parliament, declare a state of emergency and increase the amount of appointed judges.
Critics say the new system will undermine checks and balances on governance in this country of 81 million.
Soner Cagaptay, director of the Turkish Research Program at The Washington Institute, contends the changes would effectively end the separation of powers.
"If Erdogan wins, Turkey enters a new era," he said, "in which Erdogan will become the most powerful Turkish leader ever elected."
Erdogan counters that the changes are necessary to ensure stability in a country that faces an array of security threats and has a history of political instability, including several coups since the 1960s.
Erdogan himself survived an attempted coup in 2016, which led to a sweeping crackdown in response.
Over 160,000 people were detained, according to the U.N. Human Rights Office. Erdogan's critics argue he has used the attempted putsch to quash dissent, jailing journalists, opposition politicians and judges.
The state of emergency he declared in the aftermath is still in place today.
UNCERTAIN FUTURE
While the election could complete — or upend — the transformation of Turkey's domestic political landscape, it could also have significant ramifications for Turkey's international relations.
If Erdogan is re-elected, Cagaptay predicts continued worsening relations with Washington, arguing the Turkish leader does not see shared interests with the U.S. and will move closer to Moscow.
In April, Secretary of State Mike Pompeo raised serious concerns over Turkey's purchase of a Russian missile defense system that would be incompatible with the interests of NATO countries in Europe.
Another point of contention is the detention of North Carolina pastor Andrew Brunson, who has been behind bars since December 2016 on terrorism charges. His next hearing is on July 18 — 10 days after the possible second round of the presidential election.
Erdogan suggested exchanging Brunson for Turkish cleric Fethullah Gulen, living in self-imposed exile in Pennsylvania, who is accused of masterminding the coup attempt. Gulen denies the charge.
Cagaptay believes that if he wins Erdogan will strengthen his push to make Turkey politically Islamist, alienating secularists and increasing instability as the two sides clash over the direction of the country.
"An Erdogan victory actually threatens to throw Turkey into a deep, long-term political crisis," he said.
UNEXPECTED OPPOSITION
That victory isn't as clear as many first expected.
Erdogan called the snap election, bringing forward a vote that was originally due to be held in November 2019, ahead of a potential financial crisis.
Rapid economic growth has slowed and Turkey's currency plummeted 25 percent this year. It hit a record low after Erdogan said he would increase his control of financial policy following the election while on a visit to London in May.
"The polls suggest that for the electorate, the economic issues are overtaking security issues," said Serhat Guvenc, professor at Kadir Has University, to the Associated Press.
That presented an opportunity Erdogan's rivals have seized upon with unexpectedly engaging campaigns.
The country's opposition found momentum early on, when four parties announced a surprise alliance for the parliamentary elections.
The alliance includes Meral Aksener's Good Party, consisting of nationalists and center-right figures. But the main opposition is the CHP, whose candidate Muharrem Ince — a 54-year-old former physics teacher — has tried to appeal to conservative Turks with his oratory skills and by showcasing his practicing Muslim family.
Ince has courted the crucial Kurdish vote by visiting Selahattin Demirtas, the imprisoned candidate of the pro-Kurdish HDP.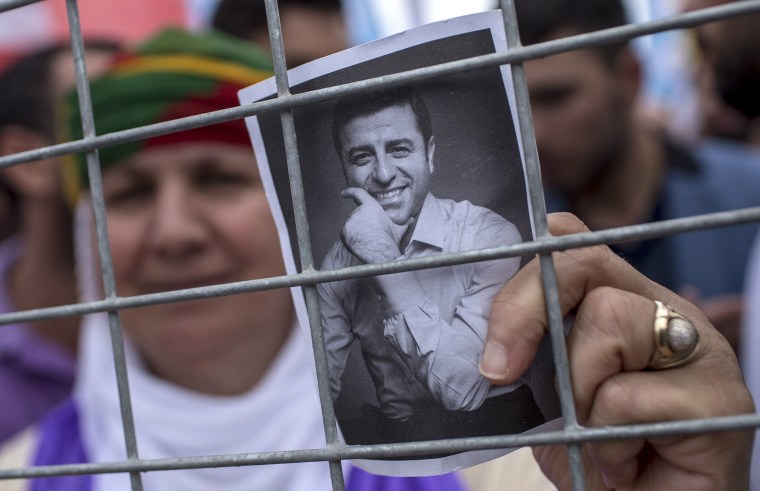 While not in the alliance, HDP's support could prove crucial for the opposition candidate in a prospective second round and in denying Erdogan's party a majority in parliament.
Erdogan accuses the HDP of connections to the militant group the Kurdistan Workers Party (PKK), which is classified as a terrorist organization by Turkey and the U.S.
Violence has also marred the campaign and with the majority of media outlets under the control of Erdogan and his allies, opposition candidates are struggling to get their voices heard.
FINAL STRETCH
Candidates made their final push on Saturday.
Ince's final rally drew at least a million supporters to Istanbul's Maltepe district, police said. "There are 5 million people in Maltepe right now but none of the TV channels can show it," Ince said, highlighting the opposition's claims of media bias.
That figure could not be independently verified, though images circulating on social media showed vast crowds of people assembled to hear Ince speak.
Braving a summer thunderstorm, Ince's supporters, in festive mood, sang anthems and waved red and white Turkish flags as their candidate promise to reverse Turkey's turn towards authoritarian rule under Erdogan.
On the other side of the Bosphorus, the waterway bisecting Istanbul and separating Europe from Asia, thousands filled a road in suburban Istanbul to hear Erdogan talk up his infrastructure projects. The strongman president ask the crowd if they had built a bridge, an airport and improved the country. "Yes we did!" they shouted back.
"He's the only leader standing for the whole Muslim community and all of Turkey," said Yakup Kalkan, 22, a textile manager attending the rally. "Yes, the economy is bad, but because of foreign games, especially [from] America."
Erdogan has remained the front-runner throughout, but after allegations of vote-rigging in last year's referendum on presidential powers, questions linger among the opposition over what will happen if the vote is as tight as it's now predicted to be.
The two main opposition leader cast their votes on Sunday and vowed vigilance amid fears of possible fraud.
Aksener told reporters in Istanbul: "I hope these elections are beneficial and truly reflect the free will of the voters."
About three weeks after calling the election, Erdogan told parliament: "If one day our nation says 'enough,' then we will step aside."
Turkey may get to see if he keeps that promise a lot sooner than anyone expected.
%T:QjBQ*M3)g