All 27 European Union foreign ministers descended on Kyiv on Monday in a historic show of support after the passage of a U.S. funding bill that included no new aid for Ukraine and left future support for the war with Russia in the balance.
The E.U.'s top diplomat, Josep Borrell, sought to emphasize the importance of the first meeting of foreign ministers held outside the bloc.
"This joint meeting of European Union foreign ministers with Ukraine in Kyiv should be understood as a clear commitment of the European Union to Ukraine and its continuous support in all dimensions — support for the military, support for a just peace, accountability and working for the membership path," he told reporters after the meeting.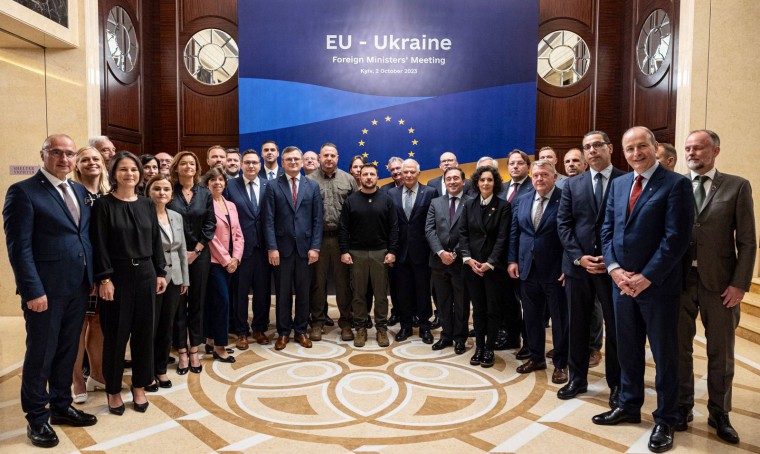 The visit comes at an especially difficult time for Kyiv and its effort to oust Russian forces 19 months after the invasion, ahead of winter. Its touted offensive has languished despite billions of dollars' worth of military aid from its Western partners, mostly from Washington. 
"By coming to Kyiv, the European Union foreign ministers sent a strong message of solidarity and support to Ukraine in the face of this unjust and illegitimate war," Borrell said.
"It's also sending a strong signal to Russia — we are not intimidated by your missiles or drones," he added. "Our resolve to support the fight for freedom and independence of Ukraine is firm and will continue."
Russia countered with the opposite message regarding the developments in Washington.
"This is the beginning of the big end for Ukraine," Viktor Bondarev, the head of Russia's Federation Council Committee on Defense and Security, said in a post on the Telegram messaging app. 
Since the beginning of its invasion, the Kremlin has made no secret of its long-term game to tire out Kyiv and its backers. Its propaganda machine has been pushing the narrative that Ukraine's Western supporters will abandon it sooner or later. 
"It is easier to abandon Ukraine," Bondarev added, "than to lose together with Ukraine."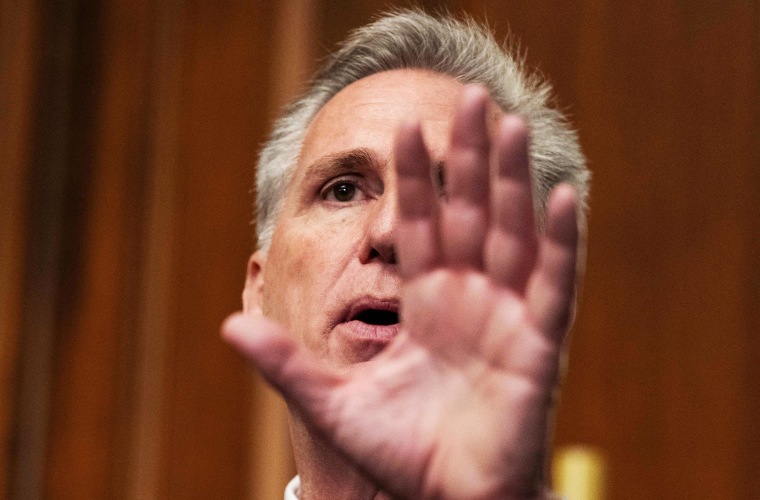 In Washington, Republican divisions over aid to Ukraine became a key sticking point in negotiations ahead of the vote, despite the broad bipartisan majorities in the House and the Senate to continue the aid. In the House, Speaker Kevin McCarthy, R-Calif., faced pressure from hard-liners like Rep. Marjorie Taylor Greene, R-Ga., who said just over a week before Saturday's vote that she was opposed to funding what she called "blood money for the Ukraine war." 
On Monday, press secretary Karine Jean-Pierre said the White House had been in touch with allies and partners about Ukraine and emphasized that bipartisan support would continue.
State Department spokesman Matt Miller reiterated the Biden administration's interest in funding Ukraine.
"If we allow authoritarians like President Putin to do whatever they want to other sovereign countries, then the whole U.N. Charter will be shredded. And we are going to live in a world where this kind of aggression can happen anywhere, any time. That would be far more expensive for the American people," Miller said.
The U.S. has been Ukraine's biggest single military backer, having pledged almost $73 billion in military, humanitarian and financial aid. But the European Union as a whole has also been a strong and reliable supporter, having pledged about $89 billion, according to the Kiel Institute for the World Economy, a German research institute.
Despite the dispute in Washington that could have a huge impact on their country, Ukrainian officials have sounded cautiously optimistic that the U.S. aid will continue to flow.
Foreign Minister Dmytro Kuleba called the weekend's Congress vote "an incident." 
"We don't feel that the U.S. support has been shattered," he said as he greeted Borrell in Kyiv on Monday, adding that they are working with both sides of Congress to "make sure that it does not repeat again under any circumstances."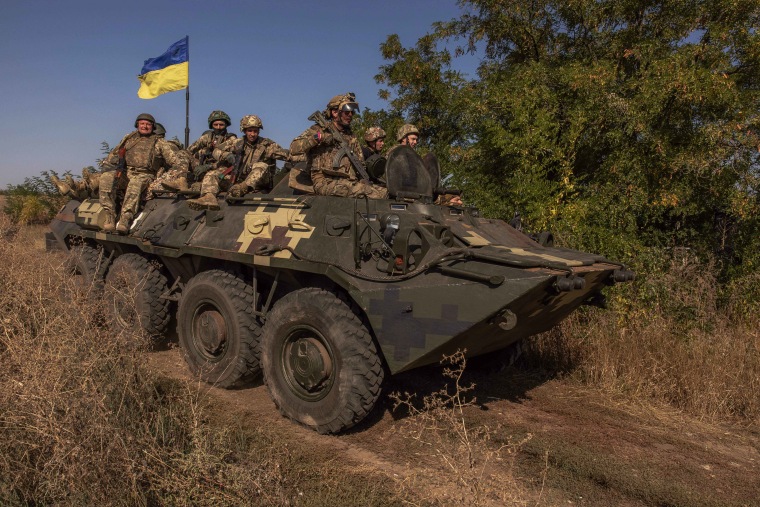 Ukraine's new defense minister, Rustem Umerov, also said late Sunday that he spoke with his American counterpart, Defense Secretary Lloyd Austin, who reassured him that Kyiv's forces will continue to have "strong backup on the battlefield."
A former British military intelligence officer, Frank Ledwidge, a senior lecturer in law and strategy at Portsmouth University in the United Kingdom, said that behind the facade of calm, a growing sense of unease was surely growing in Kyiv. 
"This is a harbinger of major problems to come," he said. "There is absolutely no guarantee anymore, as we see, that the U.S. support will continue at anything like the same rate as it has."
There is also a consideration of the impact on morale, Ledwidge said, and the "slow dawning" of the strategic reality that the U.S. help is not assured and that Ukraine may need to plan to fight with a fraction of the resources it has now.
For the time being, however, Ukrainian forces on the ground will not see an immediate cut in the flow of support, because the counteroffensive is being fought with weapons and supplies already in the country. 
Still, the counteroffensive is not proceeding quickly enough to produce a decisive victory by the end of the year, said Matthew Ford, an associate professor in war studies at the Swedish Defence University in Stockholm. And as the war stretches into the winter, Kyiv's worry will be that 2024 will bring more opportunities for U.S. politicians to debate support for Ukraine, he said.