PARIS — France surrounded its largest soccer stadium with a 7-foot fence and deployed 1,700 security personnel in a bid to prevent repeats of November's ISIS bombing — but all did not go to plan.
The new measures were installed at the Stade de France as a trial run for the Euro 2016 soccer tournament, which kicks off across the country in under three weeks.
However, thousands of fans became trapped by a new two-tier security system that forced supporters to pass through pat-downs and multiple ticket checks on Saturday. Some people in the densely-packed crowds even ignited fireworks.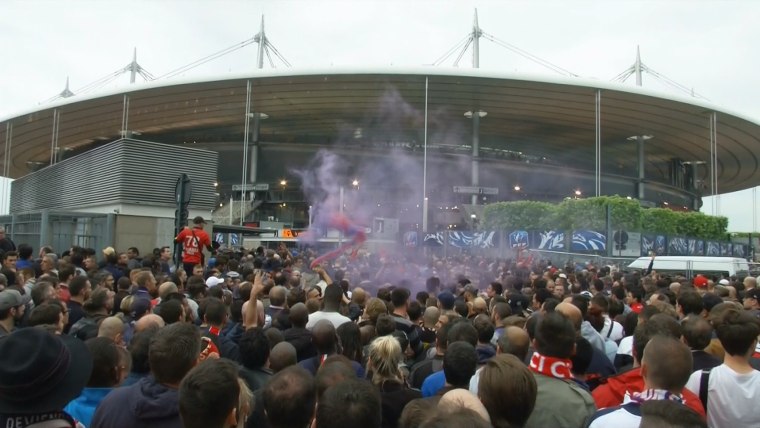 Supporters were "screaming, shoving and tension was high," according to cameraman Alexis Duclos, who was filming the event for NBC News. He said several spectators shouted: "This is a mess! If it's like this when they organize the Euro 2016, this will be terrible!"
Poor signage "left 40,000 fans scattered around" the stadium, Italy's Gazzetta World newspaper reported. It added that some supporters were "led into narrow tunnels" as they tried to enter one of just four entrances into the security perimeter.
Related: Terror-Weary France Won't Let ISIS Disrupt Soccer
The trial run was carried out during France's domestic cup final between Paris Saint-Germain and Olympique de Marseille. The first match of Euro 2016 is scheduled for June 10.
Antoine Mordacq, a security and safety manager for Euro 2016, told NBC News before the test that he was "confident" to test the new measures on the French cup final. "We are prepared, we are ready for the tournament," he said.
But things were were almost as chaotic inside the 80,000-capacity stadium on Saturday.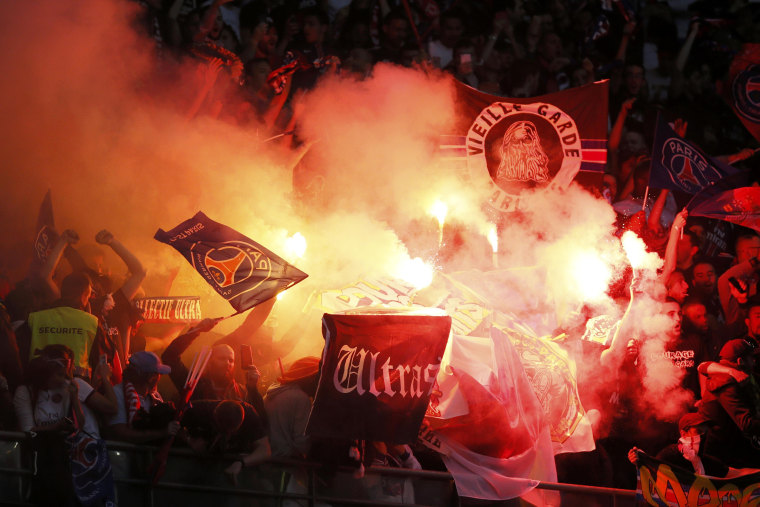 More fireworks and smoke bombs were seen being detonated in the seating areas — and Marseille supporters even appeared to light a bonfire after their team lost the match 4-2.
Local police chief Philippe Gali told French radio Europe1 on Monday that this "proved the searches did not operate as planned … we're going to have to fix what didn't work."
Gali also admitted that "there were a certain number of dysfunctions at the entrances."
Officials will be hoping for tighter security during Euro 2016 to ensure no banned items — in the worst-case scenario, bombs or guns — are brought to games.
The Stade de France was targeted by suicide bombers during the Nov. 13 attacks on Paris that saw 130 people murdered across the city.
The attempts to damage the stadium appeared unsuccessful, however, with three explosions detonating nearby but none inside the venue itself. One bomber was turned away because he did not have a ticket.
The head of security for Euro 2016 told NBC News last week that it was "impossible" make any event 100 percent safe from attacks.
Before Saturday's chaos, officials were hopeful that the 1,200 private security guards, 500 police officers, 7-foot fence and two-tier security system would prove more than formidable.
"We have worked a lot to reinforce security, the safety of the stadium since last November," district police chief Mathieu Lefebvre told NBC News on Saturday.
Speaking before the event, Lefebvre said officials had "greatly improved the safety around the stadium."
Following the test run, French Interior Minister Bernard Cazeneuve summoned Euro 2016 organizers to a meeting Monday.
The Interior Ministry issued a statement following this debrief, which noted that Saturday's match was marred by "malfunctions."
Cazeneuve also "reminded [the organizers] of their obligations" following the less-than-perfect showing.
However, fans who arrived early applauded the new measures.
"There is so much security here that we feel quite comfortable, no problem at all," said Denis Fribourg, a 50-year old Paris Saint-Germain supporter. "I'm with my kid and there is no problem being here."
Maryam El Houti, a 26-year-old fan of the same team, said that while she felt "uncomfortable" at officials having "to touch you everywhere," she said this was a necessary trade-off. "I feel that it is good they prevent attacks," she added.
It was closer to the match that the situation became chaotic, and police chief Gali told Europe1 on Monday that there were "weaknesses," and vowed to "reconfigure the security enforcement."