LONDON — Forests are burning. Major rivers are drying up. And dead fish are washing ashore.
Europe's heat waves and historic drought are threatening new ecological and economic pain for a continent already grappling with the effects of Russia's war in Ukraine.
On Friday, nations across Europe sent teams of firefighters to tackle a "monster" wildfire in France, the crucial Rhine in Germany was threatening to fall so low that it could become difficult to transport vital goods on the river, while Britain was sweltering through its latest "extreme heat" spell.
Temperatures have once again approached 100 degrees Fahrenheit in the United Kingdom and France this week. A drought was officially declared early Friday in several parts of England, leaving millions facing restrictions on the use of water — much of its famously "green and pleasant" countryside has already gone brown.
Some parts of western, central and southern Europe have gone without rainfall for almost two months, leaving almost half the continent facing drought in a cycle of hot weather experts say is a direct result of climate change.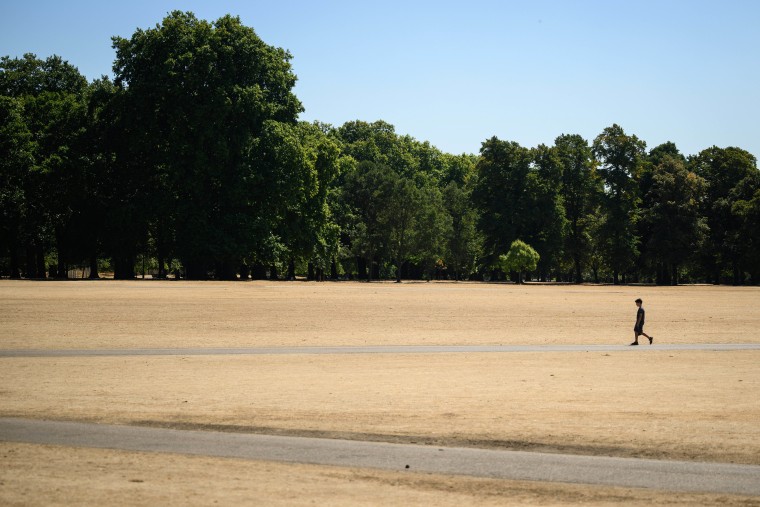 Ed Hawkins, a professor of climate science at Reading University in southeast England, told NBC News: "In the U.K., we've had a nine month period of extremely light rainfall — that's a very long time to go without rain, even in our unpredictable climate.
"We can now expect to see drier summers and lack of rainfall mirroring southern Europe in the U.K., although southern Europe is going to get hotter as well."
Already some 10,000 people have been evacuated from areas near the forest fires still raging in the Gironde region in western France. More than 26 square miles of pine forest have burned since Tuesday, with at least 16 houses destroyed amid the worst French drought in recorded history.
"It's an ogre, a monster," Gregory Allione from the French firefighters body FNSPF said, according to Reuters.
Some problems, such as drought, have been building through months of low rainfall and hot weather — at the height of the summer, water levels of rivers such as the Rhine, Po and Danube are falling to critical levels.
On the Rhine, a major artery for trade and energy supplies, water levels are expected to reach the point this weekend where it's potentially unsafe for boats to sail, threatening to choke off a key point in global shipping.
Authorities predict that levels at Kaub will soon dip below 40 centimeters (16 inches), seen as a benchmark, and keep falling over the weekend.
Many large ships could struggle to safely pass the river at that spot carrying anything like their usual load, leaving German power stations short of coal and other goods struggling for transport.
The Po, Italy's longest river, has also dried up. Authorities declared a state of emergency last month for areas surrounding the Po, which accounts for roughly a third of the country's agricultural production.
The source of the Thames, the river seen in so many postcard images of London, has also dried up, experts said.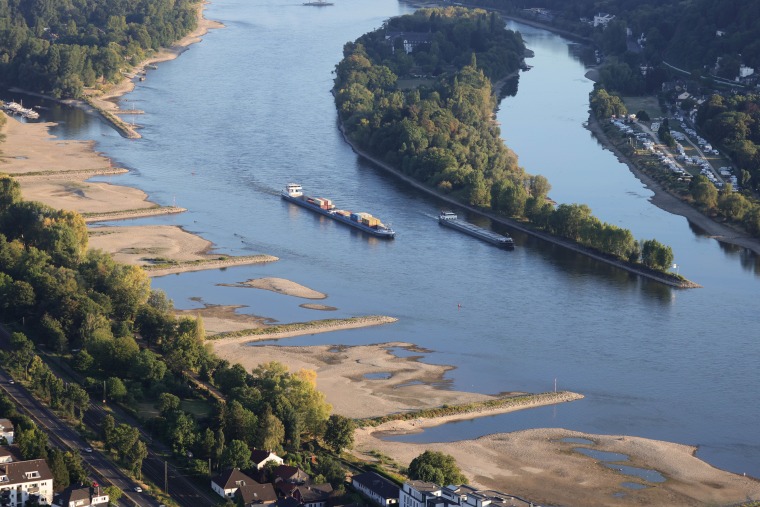 The crisis is being keenly felt in both the human and the animal kingdoms.
A river in Lux, in eastern France near the city of Dijon, normally sees 2,100 gallons flow along it every second but has run dry. Fish cannot survive.
"It's heartbreaking ... They are trapped upstream and downstream, there's no water coming in, so the oxygen level will keep decreasing as the [water] volume will go down," Jean-Philippe Couasné, chief technician at the local Federation for Fishing and Protection of the Aquatic Environment, told The Associated Press.
"These are species that will gradually disappear."
Poland's World Wildlife Fund office has called on the government to declare an emergency and send in the army to help clear away fish and other animals that are washing up dead on the shores of the Oder river near the border with Germany.
The German state of Brandenburg said Friday that the release of a toxic chemical may have been to blame for the fish deaths, exacerbated by low water levels.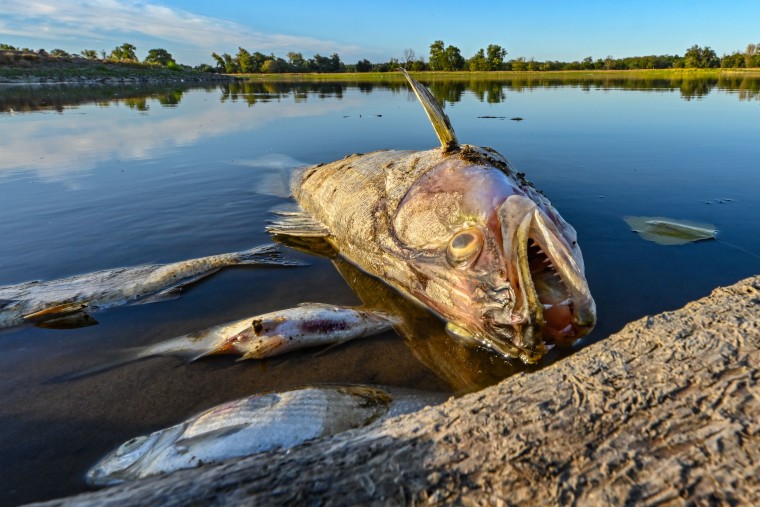 While Spain and Portugal are used to long periods of hot, dry weather, farmers there are suffering: In Andalucia, a large region of southern Spain, avocado farmers have sacrificed hundreds of trees to save others from wilting.
There are long-terms effects too. Corn production across the European Union is expected to be 12.5 million tons below last year and sunflower production is projected to be 1.6 million tons lower, according to a report from S&P Global Commodity Insights.
"In Europe, we see the effect of climate change in the increase of frequency and intensity of heat waves," said Kimberly Nicholas, a professor and climate expert at Lund University in Sweden.
She said that although the long-term causes of drought were less clear, in two-thirds of cases, human-caused climate change increased "the frequency and intensity of droughts."
Nicholas said that nothing can be done now in this current period of extreme temperatures to prevent the mass death of fish and marine wildlife trapped in increasingly shallow waters. "It's much harder to help animals in crisis than to prevent the crisis in the first place."
"Climate crisis and war are bad for life on earth, and they're bad for food production," she said of fears that the drought affecting agricultural land might contribute to a global food crisis already spiraling due to the Russian invasion of Ukraine. "Of course, the combination is especially difficult," she added.