Far-right and Euroskeptic parties made sweeping gains in European Parliament elections Sunday — triggering what one prime minister called a political "earthquake" by those who want to slash the powers of the European Union or abolish it altogether.
Voters in 21 of the EU's 28 nations went to the polls Sunday, choosing lawmakers for the bloc's 751-seat legislature. The other seven countries in the bloc had already voted in a sprawling exercise of democracy that began Thursday in Britain and the Netherlands.
One of the most significant winners was France's far-right National Front party, which was the outright winner in France with 26 percent support— or 4.1 million votes.
"The sovereign people have spoken ... acclaiming they want to take back the reins of their destiny," party leader Marine Le Pen said in a statement. She called the results "the first step in a long march to liberty."
The National Front like other far-right parties across Europe promote anti-immigrant and often anti-Semitic policies.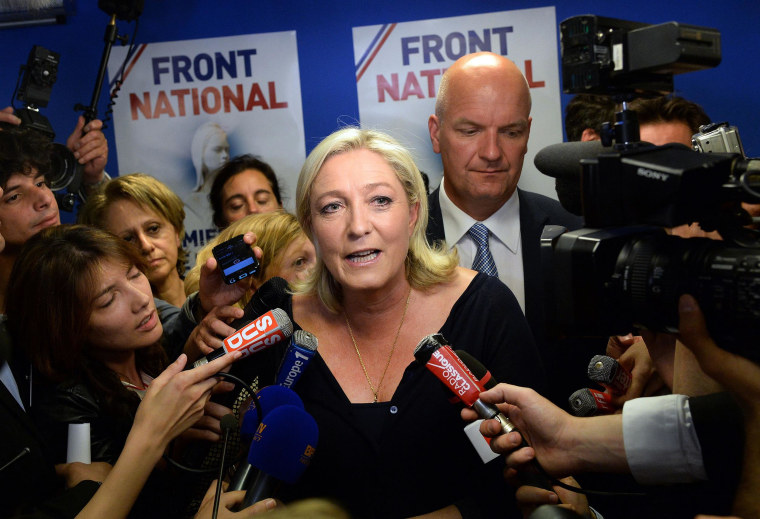 French Prime Minister Manuel Valls, in an impassioned televised speech, called the National Front win "more than a news alert ... it is a shock, an earthquake."
French President Francois Hollande's office announced he would hold urgent talks first thing Monday with top government ministers in what French media called a crisis meeting.
All of Europe will have to deal with the fallout, analysts and politicians said.
Pro-European parties "have to take very seriously what is behind the vote," said Martin Schulz of the Socialist group in parliament.
Guy Verhofstadt, leader of the Liberal caucus in the European Parliament, conceded as much but said even after the vote, two-thirds of the European lawmakers would be "people who are in favor of the European Union."
Despite the Euroskeptic gains, established pro-EU parties were forecast to remain the biggest groups in the parliament. The conservative caucus, known as EPP, was forecast to win 211 seats, down from 274, but enough to remain the parliament's biggest group.
- Associated Press