BERLIN — German prosecutors say they consider a 96-year-old former death camp guard known as the "accountant of Auschwitz" who had been convicted as an accessory to murder fit to go to prison.
Oskar Groening was convicted in July 2015 of being an accessory to the murder of 300,000 Jews and sentenced to four years in prison. In November, a federal court rejected his appeal.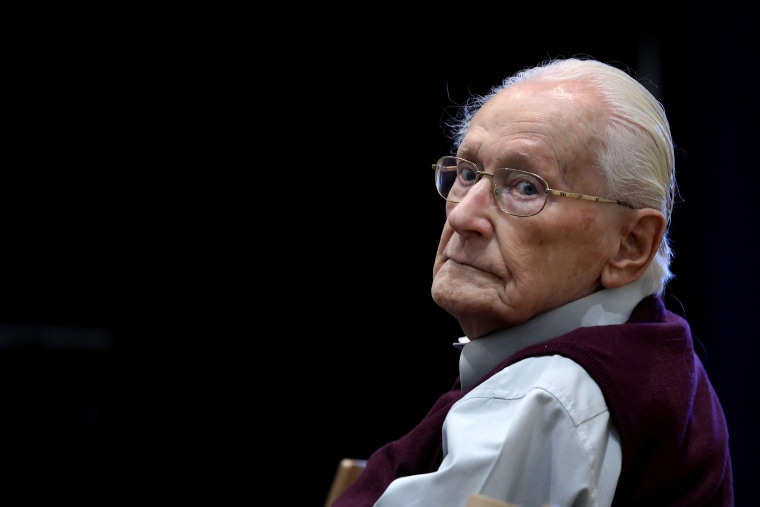 Groening has remained free pending the appeal and a decision on his fitness for prison. On Wednesday, Kathrin Soefker, a spokeswoman for prosecutors in Hannover, told news agency dpa they have rejected a defense application for a reprieve on serving the sentence.
She said a doctor considers Groening fit to go to prison so long as there's appropriate medical care. There's been no formal summons yet for him to start serving his sentence.
The case against Groening related to the period between May and June 1944 — when some 425,000 Hungarian Jews were brought to Auschwitz. At least 300,000 were immediately sent to the gas chambers.
While Groening had spoken about his time as an SS guard at Hitler's infamous death camp, he insisted he only witnessed atrocities and did not commit any crimes.
On his first day in court in April, Groening said he felt morally guilty for his work at Auschwitz but that it was up to the court to determine if he was legally guilty.
His lawyer later said Groening felt he could "only ask" God for forgiveness because the crimes committed at Auschwitz were "on such a scale that he can't expect either the victims or their relatives to even think about the question of forgiveness."
Groening's trial — 70 years after the liberation of Adolf Hitler's concentration camps — was likely to be one of Germany's last Nazi prosecutions. Germany has mounted a last push to bring Nazi criminals to justice, but the suspects and fugitives are aging and many have died.