A court in northern Germany has shelved its case against a 92-year-old former Auschwitz worker, saying she was unfit to stand trial.
The development deals a blow to last-ditch efforts to prosecute accused former Nazis before they die.
Helma M. — identified only by her last initial under German privacy laws — was charged with 260,000 counts of accessory to murder.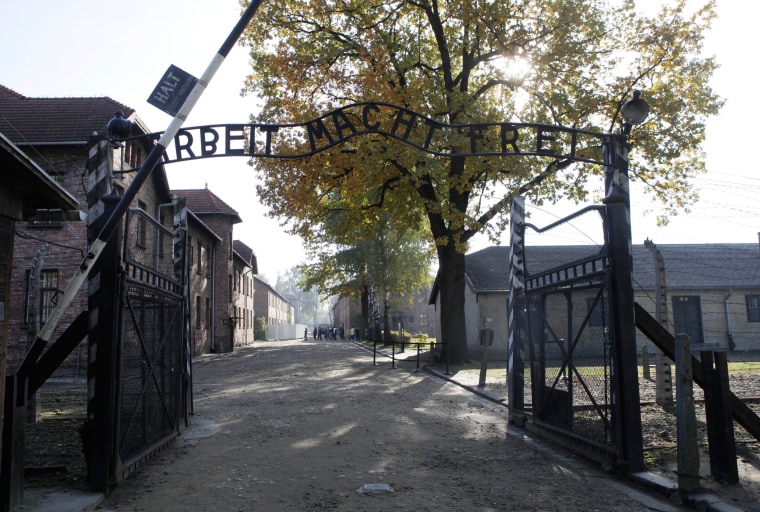 The court in Germany's city of Kiel said in a statement that judges found Helma M. "did not fulfill the basic conditions to take part in an enduring trial."
A court spokeswoman told NBC News on Monday that Helma M. "is almost blind and deaf" and had suffered a "serious illness" earlier this year.
Germany's Welt am Sonntag newspaper reported that Helma M. had worked as a radio operator in the Auschwitz command center from April to July 1944.
When reporters visited the elderly woman in a retirement home in Neumuenster earlier this year, she only said "you will hear nothing from me," according to the newspaper.
News that Helma M.'s case was dropped came as the oft-delayed trial of former SS medic Hubert Zafke — who served at Auschwitz — opened in northeastern Germany's Neubrandenburg state court.
There are questions in that case, too, about whether the 95-year-old is fit enough for the proceedings to continue.
Germany in recent years has put a number of aging suspects on trial for alleged Nazi crimes, following a precedent set by the conviction of former U.S. auto worker John Demjanjuk, who worked as a guard at the Sobibor death camp.
Most recently, a German court sentenced former Auschwitz guard Reinhold Hanning of 170,000 counts of accessory to murder. Whether Hanning is deemed fit to serve his five-year prison sentence has yet to be determined.
Despite the challenges arising from age and health of the suspects, prosecutors in Germany have not stopped their "last chance" quest.
Last month, Nazi hunters in Ludwigsburg said that they are continuing their research into Auschwitz and Majdanek, another concentration camp.
"Following our investigations, we have identified four men and four women," Jens Rommel, the head of the central office for Nazi crime investigations in Ludwigsburg, Germany told NBC News at the time.
After receiving the paperwork from Rommel's team, local prosecutors will need to decide whether there is enough evidence to charge the suspects, who are already in their late 80s and 90s.