The former Canadian radio host whose career was rocked by allegations of sexual assault by multiple women was acquitted Thursday in a trial that could have put him behind bars for life.
Jian Ghomeshi, 48, hugged his family after the not guilty verdict was read in a Toronto courtroom, according to CTV News, closing a chapter to a scandal that cast the ex-Canadian Broadcasting Corp. personality in a harsh light.
Related: Ex-CBC Radio Host Jian Ghomeshi Arrested on Sexual Assault Charges
Ghomeshi had pleaded not guilty to four counts of sexual assault and one count of choking. He faced a maximum of 18 months in prison on the assault charges but a potential life sentence for choking, CTV reported.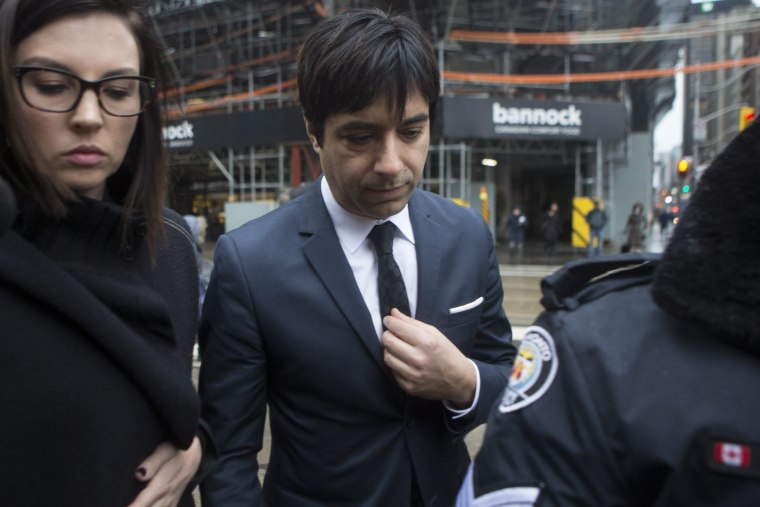 Police launched an investigation in 2014 after nine women contacted various media sources to report incidents of assault and sexual assault involving Ghomeshi.
He said in a Facebook message that he had engaged in consensual "rough sex."
But the allegations tarnished Ghomeshi, the former host of "Q," a popular radio show on culture heard on many public stations in the United States, and a well-respected interviewer who nabbed the likes of Dan Rather and Lena Dunham.
The judge said Thursday, however, that the allegations were not backed up by evidence and "each complainant was less than full and frank about their evidence."
"The court is left with a reasonable doubt," said Justice William Horkins, who had been reviewing the evidence since the trial against Ghomeshi began Feb. 1.
During the trial, one witness testified that Ghomeshi pulled her hair and punched her in the head several times at his home 13 years ago after they kissed. The woman said she wanted no contact with Ghomeshi after that.
But in a cross-examination, Ghomeshi's lawyer produced two emails that showed the woman contacted Ghomeshi twice one year after the alleged assault, including one early-morning email that included a picture of her on the beach in a bikini.
The case against Ghomeshi put the issue of violence against women in the forefront in Canada and has led to protests in support of his accusers.