LONDON -- An outspoken former Guantanamo Bay detainee was arrested by British police Tuesday on suspicion of Syria-related terrorism offences.
Moazzam Begg, a British father-of-four, is suspected of attending a Syria terrorist training camp and facilitating terrorism overseas, police said.
Begg was arrested in Pakistan in 2002 on suspicion of supporting and recruiting for al-Qaeda, and was taken to Guantanamo Bay the following year. He was released without charge in 2005 and went on to campaign on behalf of those detained without trial.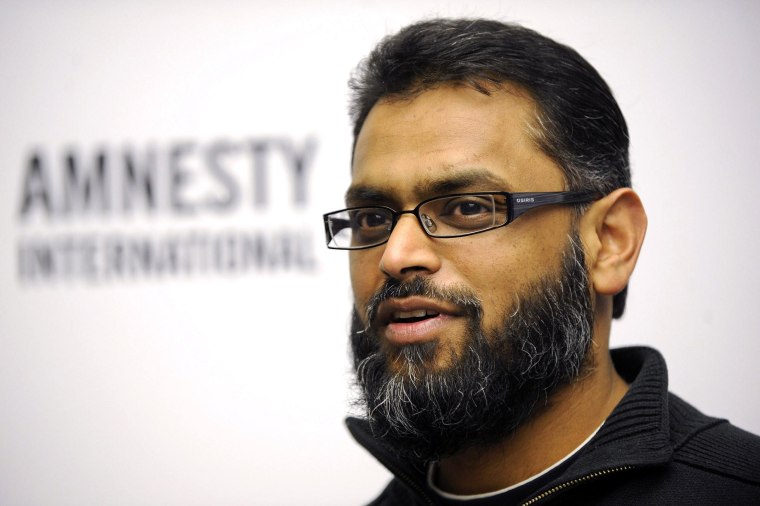 He filed a lawsuit against the British government over his detention - eventually reaching an out-of-court settlement – and went on to write a book about his experiences: "Enemy Combatant: The Terrifying True Story of a Briton in Guantanamo."
He has always denied working for al Qaeda, telling NBC News in 2006: "I never fought with al Qaeda or the Taliban or have been a member of either and I think the Americans clearly know this after being held by them and being interrogated over a hundred times."
However, he recently wrote about his visits to Syria - where the country's civil war has been complicated by the presence of Islamist militant fighters - and had his passport confiscated in December by British authorities.
Begg, 45, was one of four people – three men and a woman – arrested Tuesday in Birmingham, West Midlands Police said in a statement. Three homes were being searched.
British authorities do not normally identify people who have been arrested but not charged.
However, a West Midlands Police spokeswoman told ITV News that it was identifying Begg "as a result of the anticipated high public interest."
She added that naming Begg does "not imply any guilt".