The ex-husband of a British woman whose death is being investigated as a suspected "honor killing" turned himself into Pakistani police for questioning on Thursday, NBC News has learned.
Samia Shahid was visiting her estranged parents near the city of Mangla in northeastern Pakistan when she died on July 20. Her former husband, Chaudhry Shakeel, had been on the run since the afternoon of her death but gave himself up to police in eastern Pakistan, according to Mujahid Akbar, the officer who is leading the investigation.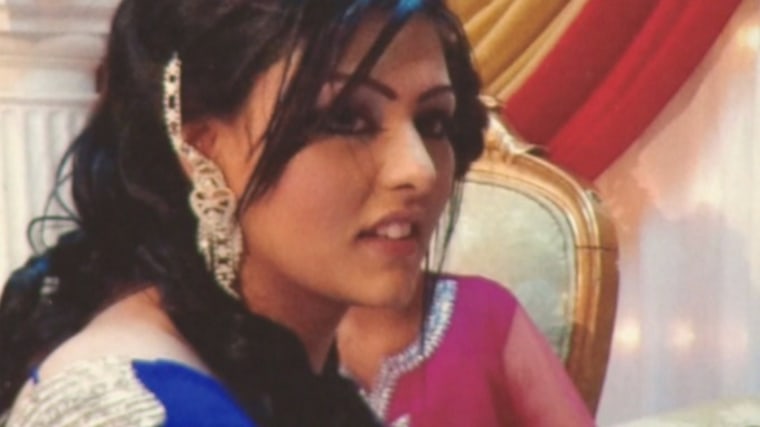 Three days after she died, Shahid 's second husband Syed Mukhtar Kazim alleged that her death was not due to natural causes. He claimed she was murdered due to her marriage to him, which he told police was against her family's wishes.
according to Akbar, Shahid married Kazim in 2014 after divorcing Shakeel, her cousin, two years earlier. Britain's The Guardian newspaper reported the 28-year-old was a beautician and lived with her husband in Dubai. She was originally from Bradford, England.
Shahid's father and another cousin were being investigated in relation to her July 20 death, Akbar said.
According to a post-mortem report obtained by NBC News, when Shahid's body was discovered there were "no marks of violence" except a "reddish brown linear horizontal bruise" on her neck and "blood stained froth" in her her nose and mouth.
"All roads are leading to murder. But we must, must wait for the final forensics report," Akbar said.
Related: Outspoken Model Strangled in 'Honor Killing': Police
"What's got us very interested is that we have contradictory statements by her father and her cousin," he added. "He father initially told us that he knew nothing about her second marriage. But he's changed his story now."
Shahid's father, Mohammad Shahid, had told The Guardian newspaper that Kazim's claims were "lies and allegations."
Naz Shah, a lawmaker who represents Bradford in the British parliament, requested that Shahid's body, which was buried soon after her death, be exhumed, according to NBC News' U.K. partner ITV.
Pakistani officials have been criticized for not addressing the issue of honor killings, which occur when someone is murdered by their own family for doing something that is considered immoral and disgraceful.
The death has become a high-profile investigation in Pakistan. Interior Minister Nisar Ali Khan on Wednesday issued a statement promising a "transparent and swift probe" into the case.