After a pair of gunmen opened fire at Tel Aviv's Sarona Market Wednesday night, an Israeli off-duty policeman and his wife ran back to their apartment, bringing along a young man who asked for help taking cover.
He told them he was from Hebron, a city in the Palestinian West Bank, so they assumed he was a waiter in one of the upscale market's many restaurants, the cop's father-in-law, former Israeli Police Commissioner Assaf Heffetz, told NBC News.
They let him in. The officer grabbed his service weapon and headed back out to the scene, where four people suffered fatal wounds and several others were injured. He left his wife — Heffetz's daughter — with the Palestinian, Heffetz said.
The officer made it to the spot where one of the gunmen, wounded by police gunfire, was being taken into custody. The suspect was wearing a black suit and tie — just like the man in his apartment.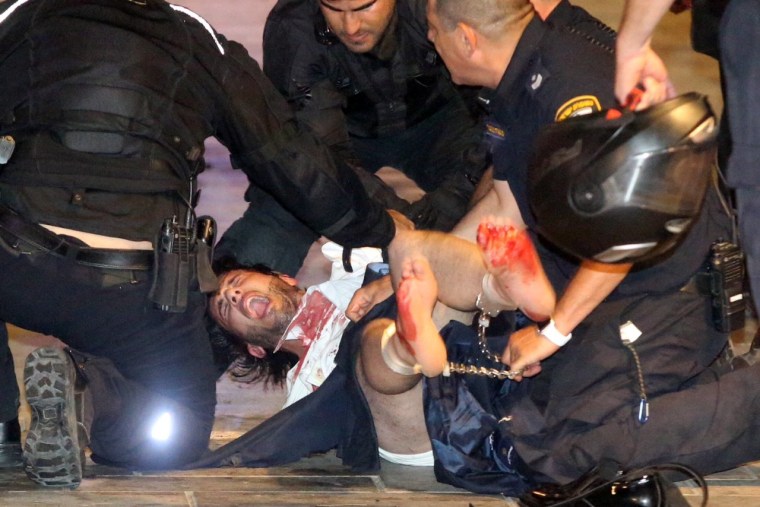 "He noticed right away that they both were wearing the same clothes and understood that the man in his apartment who he was helping out is the second terrorist," Heffetz said. "He ran back to the apartment and pointed his pistol to the terrorist's head and put him to the ground. He asked his wife to call the police and tell them they captured the terrorist."
It wasn't clear which of the suspects, whom police described as cousins in their 20s from the Hebron area, ended up in the officer's apartment. Their names have not been released by authorities.
More police arrived at the apartment, Heffect said. One mistakenly fired his gun, "lightly" wounding the suspect as he was taken into custody.
"I'm proud of how my daughter's husband operated," the ex-chief said. "He was a real pro and was focused."