A former North Korean diplomat has become the first defector from the authoritarian state to be elected to South Korea's Parliament — a development that will likely ruffle feathers north of the demilitarized zone in Pyongyang.
Thae Yong Ho will represent Gangnam, one of the most affluent neighborhoods in the capital, Seoul, and which rose to international fame itself in rapper PSY's 2012 hit song, "Gangnam Style."
"Republic of Korea is my motherland and Gangnam is my hometown," Thae said Thursday, as he shook hands with his cheering supporters when it became clear that he had won his seat in Wednesday's vote.
"When I defected in 2016 to my motherland, the Republic of Korea, I vowed I will spend the rest of my life here-on for the sake of my motherland, the Republic of Korea," he added. "I now can put my resolve into action because you have chosen me today."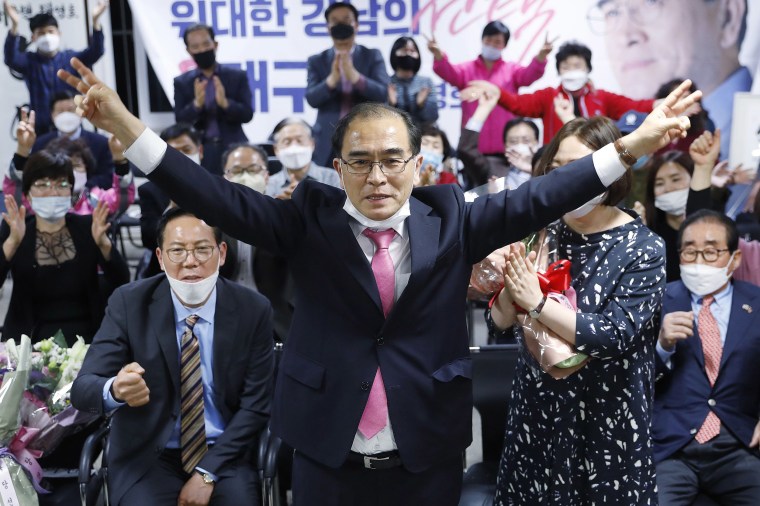 Thae, 57, served as deputy head of the North Korean embassy in London from 2006, before defecting to South Korea with his family in 2016. He is the highest-level North Korean diplomat to defect from the country to date.
In South Korea he ran for the conservative opposition United Future Party in one of the first nationwide elections to be held during the coronavirus pandemic.
A forthright critic not only of North Korean President Kim Jong Un's regime, Thae has also denounced South Korean President Moon Jae-in's attempt to improve ties with his neighbor. Doing so would only prolong the sufferings of ordinary North Koreans, Thae has said, comparing the country to a big prison.
Thae ran for election under his newly adopted South Korean name, Thae Ku Min. Ku Min means "save people."
During his campaign he rapped wearing a pink baseball cap and pink tie, the color of his party.
Thae's win represents a breakthrough for the more than 30,000 North Koreans who have fled to live in South Korea in the past two decades.
Before him, only one other North Korean defector has become a South Korean lawmaker. In 2012 Cho Myung Chol was appointed by his party as a proportional representative lawmaker, unlike Thae who was elected from a district.
The majority of South Korea's 300 National Assembly members are elected by the public using a first past the post system. However, 47 members are selected through a closed-list proportional representation system and chosen by parties rather than the public.
It was also confirmed Thursday that another North Korean defector turned human rights activist, Ji Seong Ho, has also become a South Korean lawmaker, but as a proportional representative of a party, like Cho, rather than being elected from a district.
Moon's ruling party won an a landslide victory in the parliamentary elections on Wednesday, propelled in part by successes in South Korea's battle against the coronavirus outbreak.
The Associated Press and Reuters contributed to this report.