NEW YORK — A former president of the U.N. General Assembly was arrested Tuesday and charged with accepting over $1 million in bribes and a trip to New Orleans for his family from a billionaire Chinese real estate mogul.
John Ashe, the U.N. ambassador from Antigua and Barbuda who served in the largely ceremonial post from September 2013 to September 2014, faces conspiracy- and bribery-related charges along with five others, including Francis Lorenzo, a deputy U.N. ambassador from the Dominican Republic.
Those charged in a criminal complaint unsealed Tuesday in Manhattan federal court included Chinese billionaire Ng Lap Seng, who was arrested two weeks ago along with his chief assistant, Jeff C. Yin, a U.S. citizen whose bail was revoked last week after investigators said he lied to them after his arrest.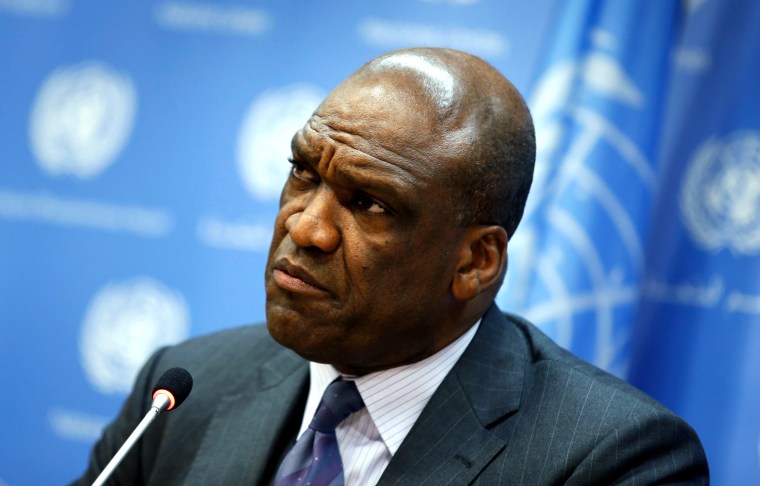 According to court papers, Ashe used his U.N. positions to introduce a document supporting a multibillion-dollar U.N.-sponsored conference center that Ng hoped to build as his legacy in Macau, where he lived. Prosecutors said the conference center would function as a sort of satellite operation for the world body.
The scheme unfolded over the course of nearly three years, from 2011 through 2014, and included Ashe's tenure as General Assembly head, prosecutors said. Authorities said in return for bribes, Ashe used his U.N. authority to promote Ng's interests and helped Ng meet government officials from Antigua who could help him with investments.
Ng and his assistant had previously been held by federal authorities on charges they lied about plans for $4.5 million in cash brought into the U.S. over several years aboard private jets.
Prosecutors say some of the bribe money funded first-class airfare for Ashe, his wife and two children to New Orleans, where they stayed in an $850-a-night hotel room.
Other money, they said, was used to construct a $30,000 basketball court at his home in Dobbs Ferry, New York. He opened two bank accounts to receive the funds and then underreported his income by more than $1.2 million, officials said.
No one answered a phone call to the mission for Antigua; Ashe is no longer listed in the U.N. directory. A message left with a representative for the General Assembly wasn't immediately returned.
Lawyers for Ng, Yin and Lorenzo did not immediately respond to requests for comment. It was not immediately clear who would represent Ashe at an initial court appearance Tuesday. A message for comment left at Lorenzo's mission was also not immediately returned.
Prosecutors said two other arrested individuals were involved with Ng. They were identified as Sheri Yan and Heidi Park, both naturalized U.S. citizens who reside in China and helped facilitate the scheme, prosecutors said. It wasn't clear who was representing them.