DUBLIN, Ireland — The Vatican's former ambassador to the United States has written an explosive letter claiming that Pope Francis knew about sex abuse allegations against disgraced ex-Cardinal Theodore McCarrick for years, but chose to cover up the charges and elevate his position within the church before accepting his resignation last month.
The extraordinary 11-page letter, which came as Francis began the second day of a visit to Ireland that has been dominated by the abuse scandal, was published on Sunday by The National Catholic Register and LifeSiteNews, and is attributed to Archbishop Carlo Maria Viganò.
NBC News could not confirm the letter's authenticity or its claims. The letter offered no evidence but did say documents backing up his version of events were in the Vatican archives.
NBC News was not able to immediately reach Viganò, who has been retired for years.
In it, Viganò said "corruption had reached the very top of the Church's hierarchy" as he called on Francis to resign.
"Pope Francis must be the first to set a good example for cardinals and bishops who covered up McCarrick's abuses and resign along with all of them," he added.
Viganò, who served as ambassador to the United States between 2011 and 2016, claimed that senior Vatican officials knew as early as 2000 that McCarrick regularly invited young seminarians into his bed, but that they still promoted him to cardinal.
Viganò said Pope Benedict XVI eventually imposed sanctions on McCarrick in 2009 or 2010, ordering him to withdraw to a lifetime of prayer and penance, but that Francis chose to rehabilitate him, "cover" for him and elevate him to be a "trusted counselor."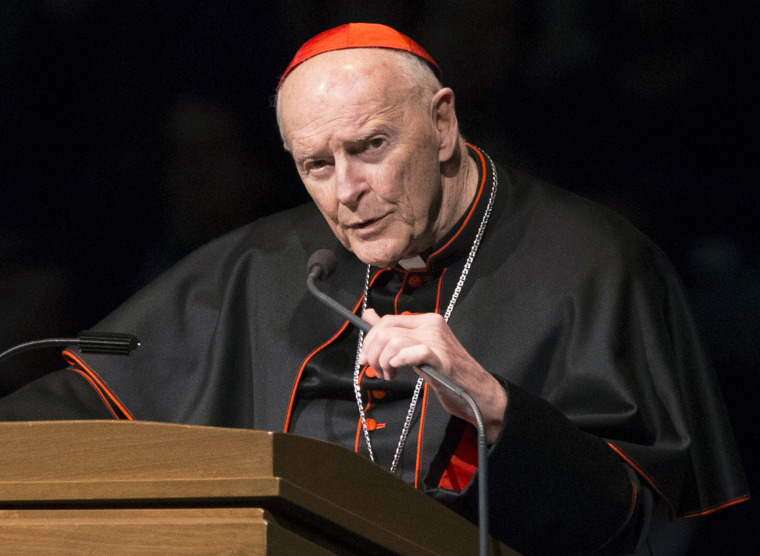 The letter appeared to be the first public claim that senior church officials not only knew of allegations against McCarrick but quietly sanctioned him long before he was stripped of his public ministry in June.
Francis on Sunday declined to confirm or deny whether he was told about the allegations against McCarrick in 2013. He told reporters aboard the papal plane as he was leaving Ireland that he had read the statement but that he wouldn't comment on it, adding that the text "speaks for itself."
The pontiff was also asked whether it was true that Benedict had sanctioned McCarrick and that Francis had rehabilitated him. Francis said he trusted journalists to judge for themselves.
"It's an act of trust," he said. "I won't say a word about it."
In the letter, Viganò wrote that he informed Francis of the allegations against McCarrick soon after he was elected pope in 2013 and alerted him to the sanctions imposed on McCarrick by Benedict.
The former Holy See diplomat added that he was surprised to find that McCarrick, who served as the archbishop of Washington from 2001 to 2006, started travelling on missions on behalf of the church soon after his conversation with Francis.
McCarrick had to retire as archbishop in 2006 when he turned 75, but he became a globe-trotting Vatican emissary after Pope Francis was elected — traveling to international hot spots like Iran and lobbying Washington lawmakers.
Viganò is a conservative compared to the more reformist Pope Francis, and the letter contains a lengthy diatribe about homosexuals and liberals in the Catholic Church. In the past, Viganò has sided with a group of conservative cardinals known as "dubia" who have openly criticized and challenged Francis.
The prelate's relationship with Rome has been tumultuous. Viganò's name first made headlines in 2012 during the first "Vatileaks" scandal, when some of his letters were published.
In the correspondence, which he wrote when Benedict was still pope, he complained about widespread corruption in the Vatican and lamented that he was to be transferred from Rome to serve in Washington.
The allegations came as Francis wrapped-up a highly charged visit to Ireland, where he met with victims of clerical sex abuse as well as other abuses committed by Catholic officials and institutions.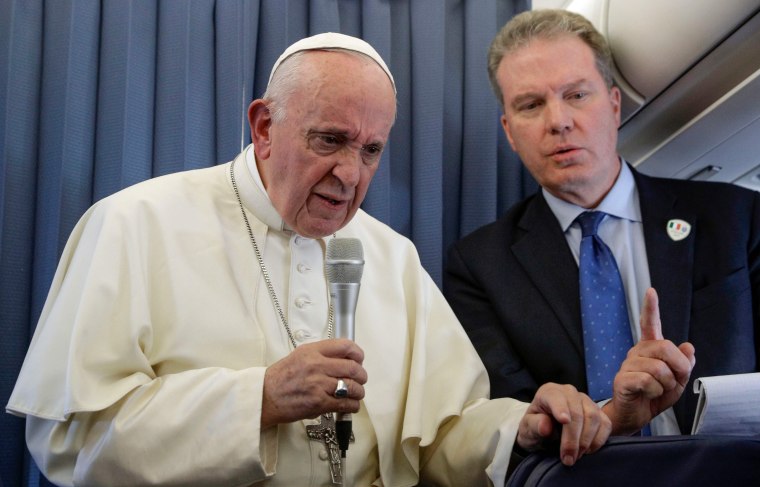 "None of us can fail to be moved by the stories of young people who suffered abuse, were robbed of their innocence," Francis said Sunday during a speech in Knock, in western Ireland.
"This open wound challenges us to be firm and decisive in the pursuit of truth and justice," he added. "I beg the Lord's forgiveness for these sins and for the scandal and betrayal felt by so many others in God's family."
His words came days after he begged forgiveness and said Catholic leaders were to blame following a grand jury report found that more than 1,000 children had been sexually abused by "predator priests" in Pennsylvania for decades.
But neither Francis' words nor a new meeting with abuse victims is likely to calm the outrage among some rank-and-file Catholics following new revelations of sexual misconduct and cover-up in the United States, an ongoing crisis in Chile and prosecutions of top clerics in Australia and France.
McCarrick is one of the highest-ranking Americans to be removed from public ministry because of sex abuse allegations and resigned from the College of Cardinals in the Vatican last month.
Francis accepted his resignation and ordered him to observe a life of prayer and penance in seclusion, sanctions which Viganò said are "similar" to those imposed on him by Benedict years ago.
The Vatican announced in June that McCarrick had been removed from public office after a U.S. church investigation determined that an accusation he had sexually abused a minor was credible. Critics of Viganò's letter point to the fact that McCarrick did not in fact withdraw from public life following Benedict's alleged sanctions several years ago.
McCarrick has denied wrongdoing and said he was "shocked" when he learned of the allegation involving a minor some months ago.
As the move was announced, Roman Catholic Church officials in New Jersey revealed that the 88-year-old cardinal had also been accused of sexual misconduct by adults three times in the past. Two of those accusations resulted in secret settlements, officials said.
The accusations, coupled with the Pennsylvania report, have led to a crisis of confidence in the U.S. church.
In the letter published Sunday, Viganò accused the former Vatican secretaries of state under the previous two popes of having ignored detailed denunciations against McCarrick for years.
"Pope Francis has repeatedly asked for total transparency in the Church," Viganò said.
"He must honestly state when he first learned about the crimes committed by McCarrick, who abused his authority with seminarians and priests."
Claudio Lavanga reported from Knock, and Saphora Smith from London.