LONDON — It is early evening on the edge of London's entertainment district and a crowd is lined up around the block with tickets in hand, waiting patiently to enter a grand Victorian venue.
Inside, two performers avoid each other's eyes while spectators sit in silence and near-total darkness on the other side of a soundproof glass screen.
It looks like experimental theater but this is the global final of one of the world's most popular games: chess. And for the first time since Bobby Fischer in 1972, an American is in contention to become world champion.
Brooklyn-raised grandmaster Fabiano Caruana will bring the prestigious title back to U.S. soil if he can beat Magnus Carlsen, a Norwegian prodigy ranked the world's No. 1 for eight straight years.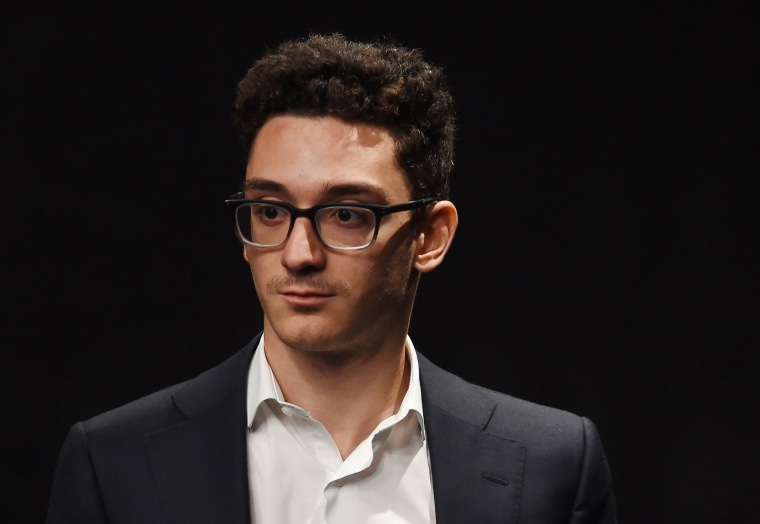 The intensity of their rivalry has cemented the evolution of chess from a old-fashioned game of theory to a pay-per-view spectator sport to rival the likes of boxing.
One-day tickets for the 2018 World Chess Championship final start at $60 — roughly the price of a typical Premier League soccer game in London — but many have paid far more for extras like VIP access to players or expert commentary.
There are no beers, hot dogs or cheerleaders and the pace is slow; the best-of-12 final is scheduled to continue until Nov. 28.
There are long lines to get inside the 200-capacity venue in London's Holborn area. The total cumulative global television and online audience is expected to exceed the 2016 record of 1.5 billion.
The action resumes Wednesday when the players will try to break a deadlock after eight games.
Chess has been boosted in particular by the rise of technology and Silicon Valley. Smartphones allow it to be enjoyed by anyone, anywhere, and the governing Fédération Internationale des Échecs (FIDE), or World Chess Federation, says an estimated 600 million people play chess each year — more than any other game.
"Smart is sexy again," says Ilya Merenzon, the Russian promoter who is World Chess president and runs FIDE's competitions. "It is cool to be clever."
Game of equals
The last time an American became World Chess champion, Richard Nixon was president, Elvis was in concert and it was the height of the Cold War.
Fischer's 1972 clash with Russian Boris Spassky in Reykjavik was an ideological clash of East versus West and his victory ended a 24-year Soviet winning streak. Fischer had publicly decried the Soviet dominance of the game.
This time, it's personal. Italian-American dual citizen Caruana, 26, is the official world No. 2 and is ranked almost the same as Carlsen, 27, on ability and performance.
Both are fashion conscious, have sizable fan followings on Instagram and are far from the stereotype of misfit child geniuses.
In Norway, where chess is so popular that championship games are shown live on TV, Carlsen is a celebrity and part-time model who in 2013 was voted one of Cosmopolitan's Sexiest Men.
"Even his dog is famous," says Merenzon, a softly-spoken doctor of economics with piercing green eyes.
Caruana, who moved to St. Louis in 2014 after growing up in Brooklyn and Italy, enjoys swimming and yoga and listens to Kendrick Lamar and Killah Priest.
"They are equal, very equal indeed, which is relatively rare at a world championship final," says Ukrainian chess grandmaster and author Mikhail Golubev. "It's 50-50, either of them could win, which makes it really interesting."
It also means personal preparation, stamina and style of play will be the deciding factors in the competiton.
"Psychology will play a huge part," Caruana told The Guardian before the showdown began. (Neither player is giving interviews during the final.)
"Part of Carlsen's success is that he has a very stable psychological demeanor. He rarely gets rattled, and when he loses a game he brushes it aside."
The intensity is evident as they face each other in London. Caruana, in a checked dress shirt, jacket and chinos, stares impassively at the chess board while sharp-suited Carlsen shifts irritably back and forth, tugging at his styled hair.
Now and then, each player fills the minutes-long gaps between moves by walking backstage to the green room or taking a drink of water.
Most evident of all is a near-total lack of eye contact except for the briefest of handshakes at the start of each round.
"I think they would like to kill each other," says Merenzon, the promoter. "In a chess sense, I mean."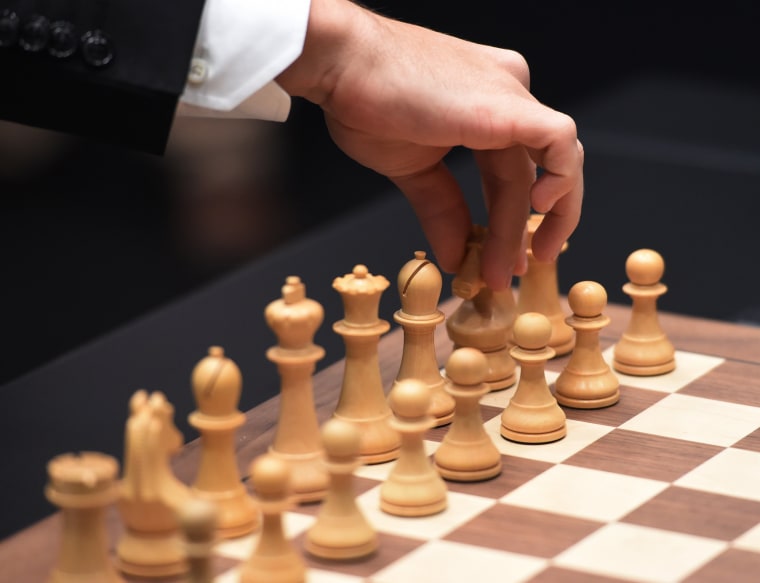 The winner takes home the bulk of a $1.14 million cash jackpot, as well as a share of digital pay-per-view receipts, reflecting the 900-year-old game's transformation into a live spectator event.
The prospect of an American world champion is exciting because "it will reignite interest in the game there," according to Merenzon.
Despite its global reach, chess is less visible than NFL, soccer or baseball.
"You don't see chess on TV but if you get on the subway and look around you will somebody playing it on their phone," he says. "It's all around us."