Facebook spammers are recycling social network scams at such accelerated speed, the flimflammers are now resorting to scams ripped from "Law & Order" plotlines ... apparently.
"The Facebook Killer" scam assaulted social network users over the weekend, tricking the naive and/or morbidly curious into clicking a link that offered, "News гepoгts of a maп they are calling the 'Facebook Killer' have gone ramрant, he has claimed 9 lives in the United States so far that we know."

Given the interminable popularity of the the procedural crime drama franchise, as well as the fact that you totally watched that insufferable Craigslist Killer movie on Lifetime  like, three times, you know what these scammers are thinking.
Click what seems to be a CNN link posted by one of your Facebook friends, and you're sent to a fake YouTube page with the prompt: "Are you older than 13 years of age? Click "Jaa" button 2x and confirm and play video."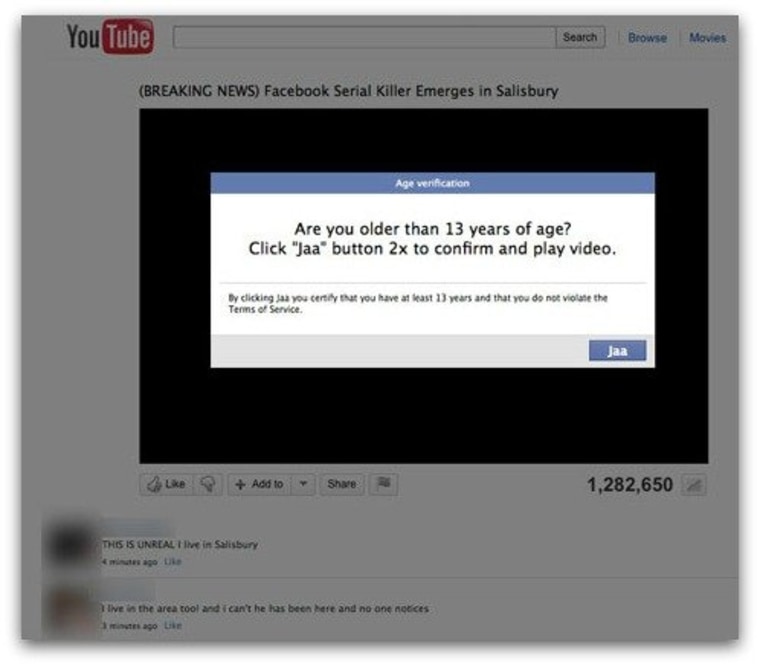 Thing is,  "Jaa" is Finnish for "Share." Click that increasingly-common ruse and you've just spammed all your Facebook friends with that same link to the fake news report about a fake Facebook serial killer — who might be in your area! That's the twist on this particular spam scam, which attempts to work out your location, and add it to the fake comments on the fake story, notes Graham Cluley, senior technology consultant at Sophos:
Through GEO-IP lookup techniques it has attempted to work out where in the world I am - and so is presenting (in my case) a video which claims the serial killer is in the British city of Salisbury.
Furthermore, if you look down the page you'll see supposed comments left by other viewers of the video including one which says:
This is UNREAL! I live in Salisbury
Again, however, this is a trick by the scammers. If you look at the webpage's code you will see that it substitutes the name of the city into the comments as well.
If morbid curiosity compels you to keep clicking, "you'll be taken to what is commonly termed as a survey scam," Sophos reports. These are surveys, or competitions, which trick you into handing over your personal information and either earn the scammers commission or require you to sign-up for an expensive premium rate service."
As we've noted before, these scams morph regularly, so it's best to be careful of any Facebook link to either an outrageous news story or anything that ABUSES CAP LOCK ... especially if it involves murder or Justin Bieber, and super especially murder and Justin Bieber.
If you do get sucked into the scam — and it happens to the best of us — it's easy to remove the application to keep it from accessing your profile.
Here's what to do:
Remove any content the rogue app may have posted on your Facebook wall.
Go to the Account Settings drop-down menu in the upper right side of your screen.
From the Account Settings drop-down menu, choose Privacy Settings.
On the bottom right side of the Privacy Settings Page, click the Apps & websites link "Edit your settings."
On the App page, next to "Apps you use," select edit settings.
There you will see the third-party apps that have access to your Facebook profile. Delete any rogue applications. (It's a good idea to check this setting regularly, anyway.)
Now, send an apology to all your Facebook friends who may have been tagged, and advise them to do the same.
Then join the Sophos Facebook page to get the latest news on the latest scams ... so you can warn your family and friends instead of annoying them with profile spam.
More on the annoying way we live now:
Helen A.S. Popkin always finds a legitimate way to work Justin Bieber into pretty much any story. Tell her to get a real job on Twitter and/or Facebook. Also, Google+.