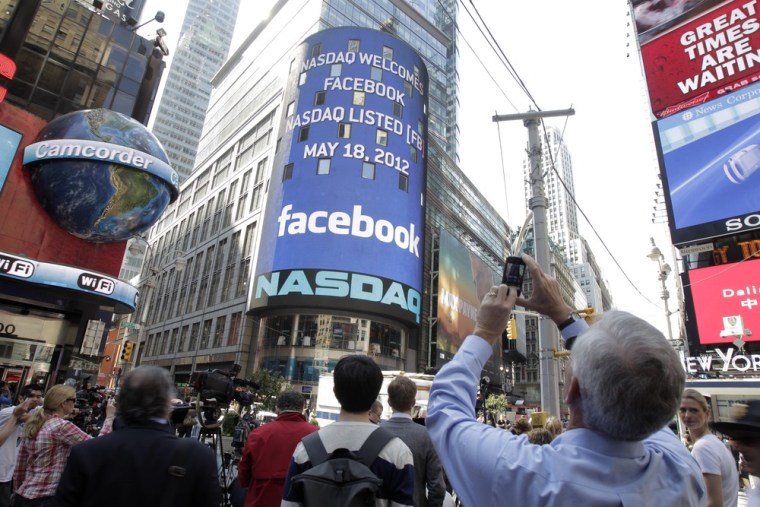 In the end, Facebook's IPO fell flat.
After jumping more than 10 percent at the start of trading, shares of the social network pulled back in their debut Friday to gain a mere 23 cents a share, suggesting a cooler-than-expected reception for one of the most anticipated initial public offerings of stock in years.
Facebook shares, which underwriters had priced at $38 late Thursday, opened on the Nasdaq stock market Friday just below $43, and in their first hour of trading sank to as low as $38. The stock then recovered as IPO underwriters stepped in to support its price, according to reports. Facebook's share price eventually finished the day at $38.23.
(You can track the performance of Facebook's stock price here).
The market, media and investors had expected more fireworks. After all, Facebook is a phenomenon to many.
Conceived in a Harvard dorm room just eight years ago, the company now connects more than 900 million people worldwide, and it was set to pull off one of the most valuable stock offerings in U.S. history, making its founder and CEO Mark Zuckerberg one of the world's richest men with a fortune of nearly $20 billion.
So the stock's rather muted performance was unusual. Other recent big Internet IPOs have seen strong starts, including LinkedIn, which went public almost exactly a year ago at $45 a share and closed at $94 on a volatile first day of trading that saw its shares top $122 at one point. Groupon, another recent Internet IPO, leaped 27 percent on its opening day.
Related: Facebook IPO volume = headaches for Nasdaq
Facebook's low-key first-day performance wasn't what most observers were expecting, but it doesn't necessarily mean it was a flop, said Steve Quirk, senior vice president of the trader group at TD Ameritrade -- one of the retail brokerages allocated shares in the IPO.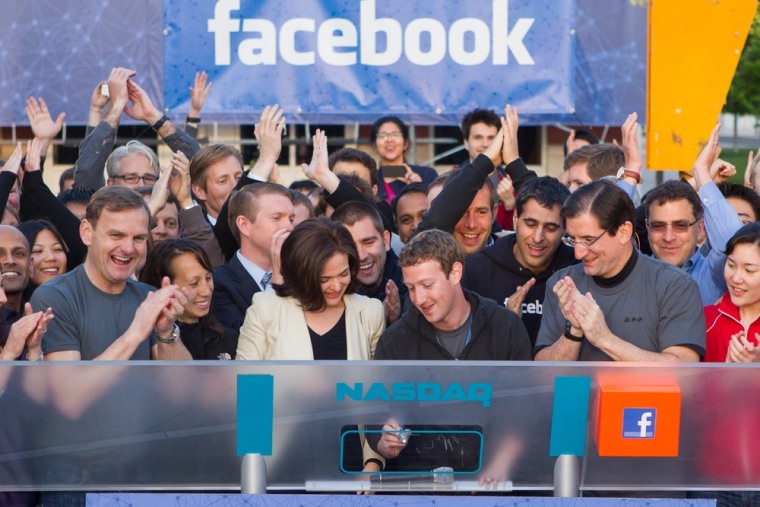 Quirk said the fact that investment banks organizing the offering for Facebook had increased the price range on its IPO to as much as $38 a share from a previous estimate of no more than $35 a share likely was a factor.
"Anecdotally, our client base was saying today that they expected more price action in the stock on its first day, but I think they are using history as guide," he said, noting that recent social media IPOs have seen strong price jumps on their debuts.
Quirk said it's likely that Facebook's stock was accurately priced by underwriters, and therefore didn't see a first-day "pop."
"A the end of the day you're talking about the largest IPO ever in terms of volume here," Quirk added. "So this is not a common IPO; we've never seen something like this before."
Russ Koesterich, global chief investment strategist at iShares, a unit of BlackRock, which is the world's largest asset manager, noted that the broader market's ongoing concerns about Europe's sovereign debt crisis likely dampened Facebook's market debut.
"Right now, a lot of people are just reluctant to own stocks no matter how sexy and glamorous they might be," he told CNBC Friday. "Right now, I just don't see a lot of risk appetite in stocks until the Greek situation is solved."
Related: Who is getting rich on the Facebook IPO
The Facebook IPO was certainly a hit with stock buyers, who purchased shares in massive quantities.
Despite an initial delay to begin trading on the Nasdaq stock market, which reports attributed to traders experiencing problems with changing and canceling orders they had submitted to the Nasdaq, retail demand for the Facebook offering was very strong. Trading volume exceeded 100 million shares in the first three minutes of the stock's trading, according to The Wall Street Journal. In total, about 579 million shares traded hands by the market's close.
TD Ameritrade's Quirk said that, in terms of the percentage of all trades going to a single stock in one day, Facebook showed the largest number of traders the brokerage had ever seen, with about 25 percent of all trades made during the day involving Facebook stock. By comparison, General Motors, the nearest IPO in size to Facebook in terms of volume, constituted just 7 percent of all trades on its market debut.
GM's 2010 IPO was considered the nation's biggest ever, raising $23.1 billion. Facebook's IPO raised $16.1 billion, although that number could rise if underwriters exercise the right to sell "overallotment" shares.
"Normally Apple is a very popular name for us on a daily basis, and we do anywhere from 3 to 5 percent of our trades in that stock in a single day," he said. "Apple has been everyone's darling, so you get an idea of the magnitude of the Facebook IPO."