VELES, Macedonia — Dimitri points to a picture on his Instagram showing a bar table decked with expensive champagne and sparklers.
It's from his 18th birthday just four months ago — a lavish party in his east European hometown that he says wouldn't have been possible without President-elect Donald Trump.
Dimitri — who asked NBC News not to use his real name — is one of dozens of teenagers in the Macedonian town of Veles who got rich during the U.S. presidential election producing fake news for millions on social media.
The articles, sensationalist and often baseless, were posted to Facebook, drawing in armies of readers and earning fake-news writers money from penny-per-click advertising.
Dimitri says he's earned at least $60,000 in the past six months — far outstripping his parents' income and transforming his prospects in a town where the average annual wage is $4,800. He is one of the more successful fake news pushers in the area.
His main source of cash? Supporters of America's president-elect.
"Nothing can beat Trump's supporters when it comes to social media engagement," he says. "So that's why we stick with Trump."
Even with the presidential contest over and Google and Facebook's plans to crack down on fake news makers, money continues to pour in.
Posts about Hillary Clinton are also a hit — but only negative ones.
"I have mostly written about her emails, what is contained in her emails, the Benghazi tragedy, maybe her illness that she had," Dimitri adds, but now he's moved on to headlines like: "Trey Gowdy Revealed His EPIC Plan To Imprison Hillary Now That Election's Over, SHE IS DONE!"
Dimitri's sole aim is to make his stories go viral.
His most popular headlines during the election included: "JUST IN: Obama Illegally Transferred DOJ Money To Clinton Campaign!" and "BREAKING: Obama Confirms Refusal To Leave White House, He Will Stay In Power!"
The teenager is unrepentant about any influence his stories may have had on swaying public opinion.
"I didn't force anyone to give me money," he says. "People sell cigarettes, they sell alcohol. That's not illegal, why is my business illegal? If you sell cigarettes, cigarettes kill people. I didn't kill anyone."
The same weekend that NBC spent with Dimitri, a gunman opened fire in a Washington, D.C., pizzeria. The shooter told police he was motivated by a fake news story. The pizzeria, Comet Ping Pong, was accused online of hosting a pedophile ring run by Democratic leaders.
Asked about the incident this week, Dimitri claimed he wasn't familiar with the story nor the people who had spread it online.
A Modern Gold Rush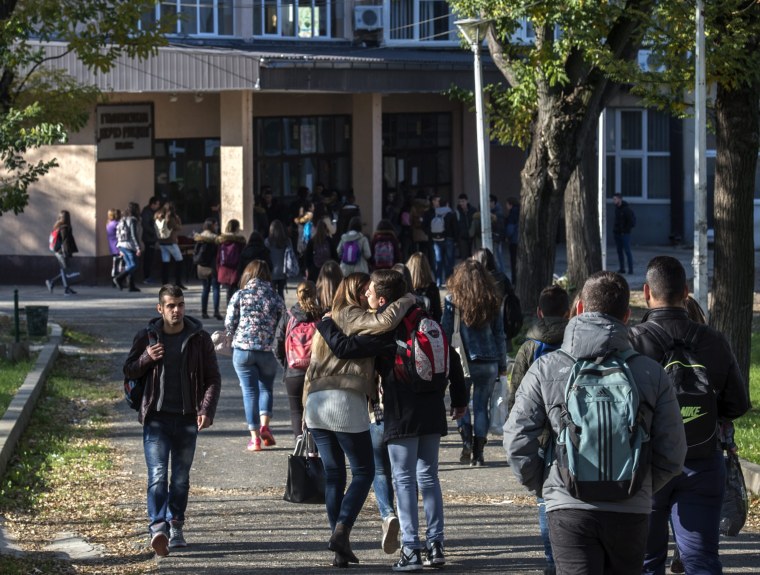 The small, rust-belt town of Veles has found itself in the international spotlight after investigations by BuzzFeed and the Guardian traced more than 100 fake news domain names here.
The fake news bonanza couldn't have come against a more jarring backdrop.
Once part of communist Yugoslavia, the Republic of Macedonia has a population of 2.1 million in a landlocked area about the size Vermont. Blanketed by rugged mountains, parts of the country have enjoyed a tourism surge in recent years.
But vacationers won't find Veles in many travel guides. The town of 50,000 is almost an hour's drive down a lonely, crumbling highway from the capital, Skopje.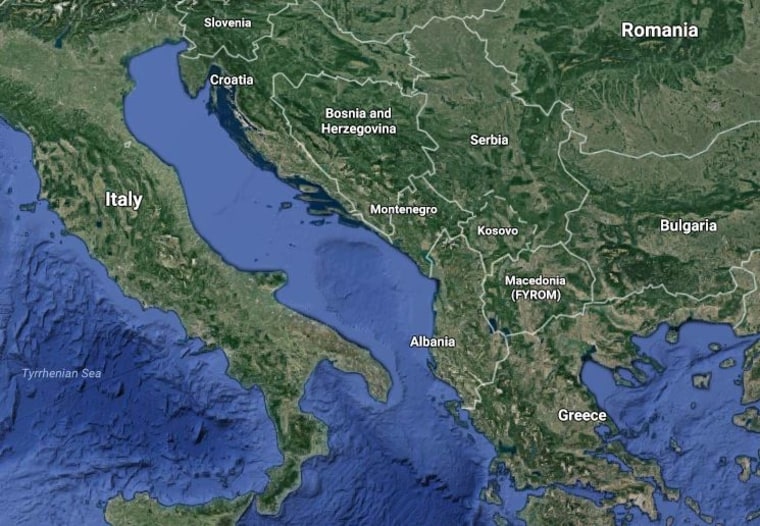 Visitors are greeted by a distressed mosaic of red-roofed buildings, densely stacked onto a steep mountainside. Industrial smokestacks add to a wintry fog settling over the valley — though even their output has diminished after several recent factory closures.
Almost a quarter of Macedonians are currently unemployed — a rate around five times higher than in the U.S.
But the burdens that weigh on Veles might also explain why it's become a global hotbed for fake news.
High unemployment and a close-knit community meant that when Dimitri and others started making money, word quickly spread and everyone wanted a piece of the action.
Most teens here speak fluent English, allowing them to quickly navigate through reams of Western news sites and pinpoint potentially viral content.
Dimitri estimates there are now 300 locals dabbling in fake news, with at least 50 making "decent money," and around a dozen making "a lot." He says he's not quite at the top of the pecking order, but not far off.
But he is no scrappy teenager. Dimitri is bright, with an obvious aptitude for business.
He won't show NBC News his profile on Google AdSense, an online advertising service that allows websites to make money, to protect five other teenagers who asked him not to reveal aspects of their shared interests. He's also wary of revealing his full income, worried it will make him a target for thieves, or worse.
However, he does show NBC News a digital receipt from Google showing he earned more than $8,000 from the web giant in September. He says this was just one of several advertising accounts, and claims his most successful streak — in the run-up to the election — saw him rake in $27,000 in just one month.
When asked for comment about the persistence of fake news even after the election, Facebook directed NBC News to a post from CEO Mark Zuckerberg last month in which he laid out the company's plan to tackle the phenomenon.
In an interview with TODAY on Thursday, Facebook Chief Operating Officer Sheryl Sandberg acknowledged "there's a lot more to do."
Google outlined steps last month that it said would restrict advertising on websites that "misrepresent, misstate, or conceal information." The company did not respond to NBC News' requests for comment on this apparently still-flourishing industry.
Dimitri says even after the election, while business is less brisk, his fake news is still highly profitable. Like any business, he's aware of the need to adapt.
"This business updates every hour, every ten minutes, every minute," he says. "There are always news ideas, new types of generating new visitors and that's the thing we all want."
So while newspapers across the globe are losing advertising revenue, Dimitri's empire of lies is thriving.
He says he now employs three 15-year-olds, paying them the equivalent of $10 per day. As well as buying new laptops and paying cash to boost his posts on social media, he has also invested some of his earnings into real estate — a joint venture with his parents, who are more than happy with his success.
The Anatomy of a Lie
As with many regular journalists, Dimitri starts his day by trawling the web looking for trending topics that he can harness to drive traffic to his websites.
He copies his posts from other fake news websites, including many in the U.S., or takes content from mainstream media organizations before peppering them with invented details. He also posts provocative online polls such as: "Should Trump Deport All Refugees?" and: "Do you consider Donald Trump, the Jesus of America?"
Most of this content is published on websites Dimitri has built to look like NBC News, Fox News, the Huffington Post and others.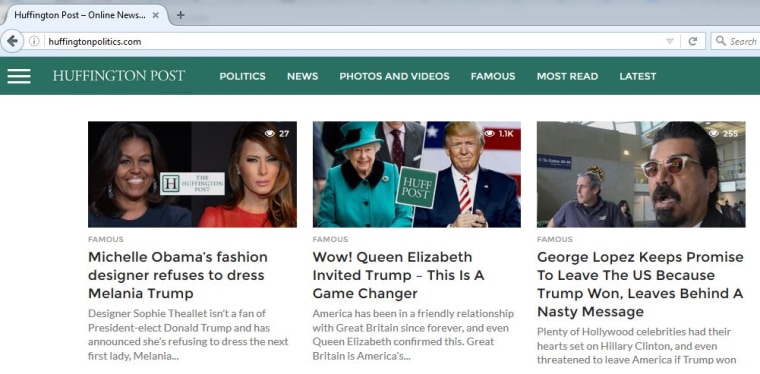 To the untrained eye, fake headlines such as: "BREAKING: Obama Confirms Refusal To Leave White House, He Will Stay In Power!" look genuine. The only giveaway is the imitation URL.
From then on, it's a case of throwing as much mud at the wall and seeing what sticks.
"The most-read news articles are usually the ones containing the click-bait words," Dimitri says. "The click bait words, as you know, are, 'Oh my god, breaking news, wow,' and usually something that has never been aired before. Because if the title just says, 'Today this happened, today that happened,' no one will open that."
He and his collaborators post these stories to their Facebook pages dozens of times a day. Again, he would only show NBC News a Facebook page that he runs on his own, which has an impressive 86,000 likes. But he said the six pages run by his collective have amassed more than 3 million likes between them.
"Say you produce ten lies a day, [the audience] is not going to believe ten lies, they are going to believe probably one or maximum two," he says. "Usually the lies about [Clinton's] emails and the lies about Hillary. The anti-Hillary posts were really good."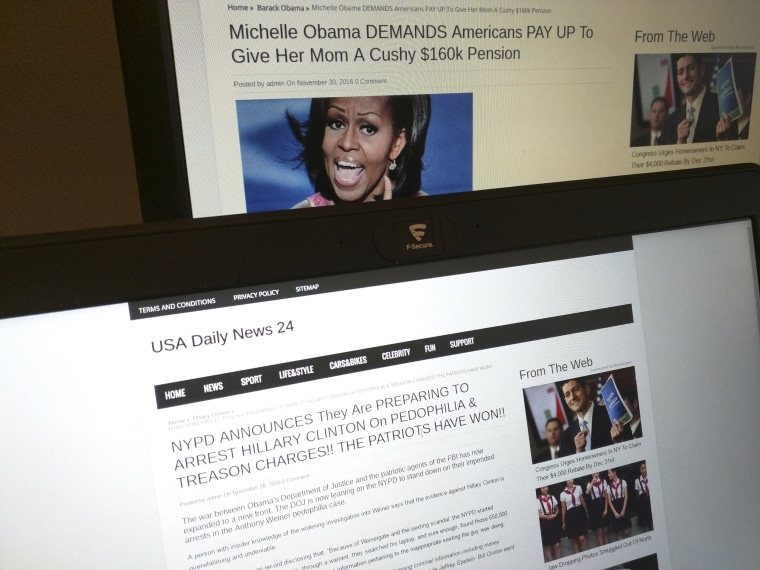 Dimitri says he has set up more than 50 domain names in six months, all in a bid to please Facebook's algorithm and get the maximum number of eyeballs on his posts. He claims in that time his posts have achieved some 40 million page views.
"We stay up late and we don't sleep that much — I haven't slept good for a couple of months now," he says. "I have to go to school and then at night I have to work."
He and his colleagues see the process as an art. At first they worked on a basis of trial-and-error. Now it comes naturally.
"You see what people like and you just give it to them," he explains. "You see they like water, you give water, they like wine, you give wine. It's really simple."
The challenge of engaging readers on social media is one familiar to most journalists. They have a formidable opponent in Dimitri and his peers; analysis by BuzzFeed after the election showed that fake news websites actually performed better than conventional press and television.
Dimitri is unequivocal about why the mainstream couldn't compete: "They're not allowed to lie."
Partying to the Tune of Fake News
The influx of money has created a thriving party culture in Veles.
On Saturday, one local nightclub was barely keeping up with demand, as dozens of teens and young adults ordered ice buckets filled with large $35 bottles of vodka.
In this new era, the purveyors of fake news are the coolest kids in the schoolyard.
"Since fake news started, girls are more interested in geeks than macho guys," says one 17-year-old girl standing at the bar.
The most successful fake-news publishers have "bought themselves houses, apartments, maybe invested in some real estate or in some businesses," according to Dimitri. "They have bought themselves cars, they have bought ... their girlfriends better cars, better places to live," he says.
Keen to feed off this gold rush, the nightclub even plans to organize a club night on the same day that Google pays out its advertising money.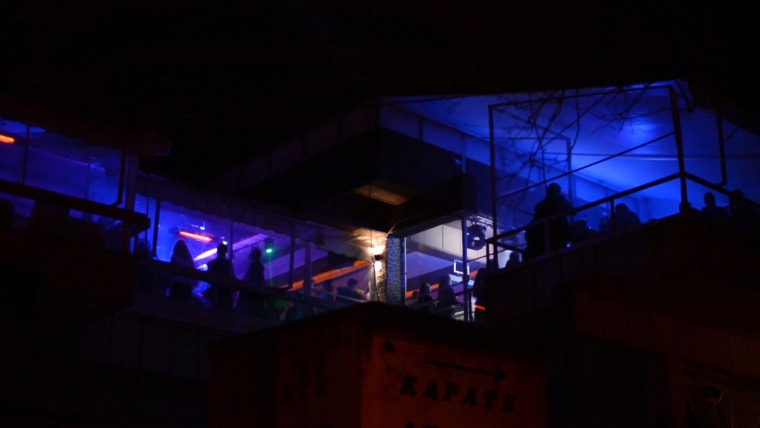 Following Google and Facebook's vow to clamp down on fake news, Dimitri says he knows people have lost tens of thousands after their accounts were shuttered.
"When they started to shut down webpages, business went down," says 20-year-old Kiko, a bartender at the nightclub.
The impact appears to have been short lived, however, judging by the healthy flow of local currency, the Macedonian denar, being shoved into the club's cash registers.
Most people are cagey about admitting any direct involvement in fake news. But Tony, a 40-year-old taxi driver, says that every young person he knows — including his own son — is in on the act.
"I've been doing this job for 18 years and I know everyone in the city," he says. "I know kids who are minors, 16 or 17 years old, and they bought BMWs after running these websites."
Is he worried about his son making money from selling hoaxes online? "It's better to do this job than to go into the drug business," he says.
Also unperturbed is Veles' mayor, Slavcho Chadiev.
"Is it criminal activity? Not according to the law of Macedonia," he says during an interview in his office. "All that money went through the state system and everyone paid their taxes."
He isn't bothered by accusations that Veles' teens swayed the U.S. election. In fact, he welcomes the idea.
"Not as a mayor, but as a man and as a citizen, I'm glad if Veles contributed to the Republicans' victory and Trump's victory," he says.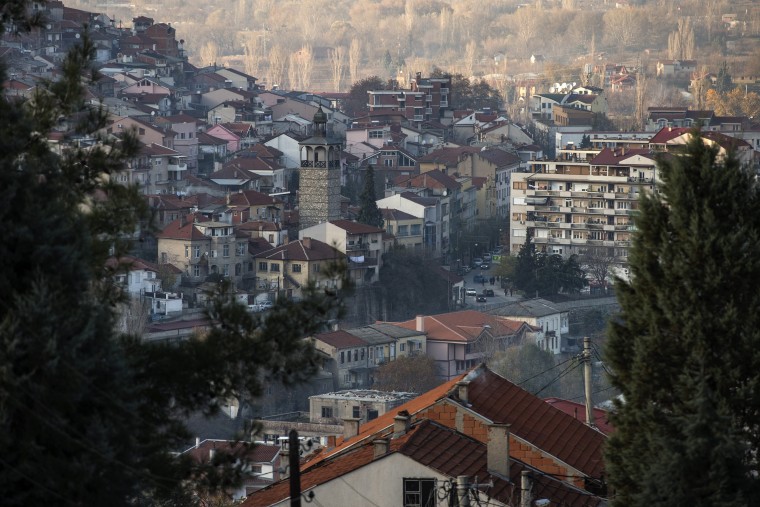 Like many Macedonians, he blames recent Democratic administrations in Washington for not doing more to help their country's attempts to join the European Union and NATO. (Greece has blocked these efforts in a dispute over Macedonia's name — the country's official title at the United Nations is the cumbersome Former Yugoslav Republic of Macedonia.)
On the flip side, the mayor still remembers fondly when Republican President George W. Bush recognized his country's new title in 2004.
What would he do if he encountered one of these fake news tycoons?
"I would ask him, 'Are you looking for a job?' Because I have a lack of IT guys," he says, before admitting that the salary of less than $400 might not be attractive.
Dimitri says his goal is to earn $1 million, and it's no surprise the young entrepreneur sees Trump as "a small role model."
There's only one question that sees doubt creep into Dimitri's cocksure demeanor. When he copies posts from other fake news websites, does he worry he's being used as a pawn to spread propaganda?
"When you buy a certain product, you don't know who created it," he says. "You don't know who creates your shoes, and there are rumors that small children in Africa create them."
He adds: "Maybe I don't want to find out, because if I find out maybe I'm going to feel bad. Right now I'm feeling OK."