ISTANBUL — With her eye patch and gravelly voice Marie Colvin was, for decades, one of the world's most recognizable and respected foreign correspondents.
She covered wars from Sri Lanka, where she lost an eye, to Egypt and Libya. Then, four years ago, in a makeshift media center in Syria, where she was killed by a shell. Now her family is taking the unprecedented step of suing the Syrian government for war crimes.
The family believes that it has proof that Colvin and the other journalists staying at that building were deliberately targeted, silenced forever by a brutal regime.
"They cannot get away with it without some repercussion," Colvin's mother, Rosmarie, said in an interview with NBC News.
According to the Colvin family's lawyer Scott Gilmore the lawsuit, which he filed on Saturday, is the first case in which the Syrian regime is implicated in war crimes.
The 33-page complaint is based on a four-year investigation by the Center for Justice and Accountability, a non-profit organization that specializes in human rights abuses.
The suit names nine Syrian officials and agents, including Syrian President Assad's brother Maher, who were allegedly involved in the plotting and authorization of the bombing that killed Colvin and French reporter Remi Ochlik.
According to the suit, the Assad regime began tracking Colvin from the moment she entered Syria and eventually zeroed in on her location though communication intercepts and a tip from a female government informant.
That tip was matched with the location of Colvin's intercepted satellite broadcast signal and then the officials, according to documents, "prepared to conduct a premeditated artillery attack."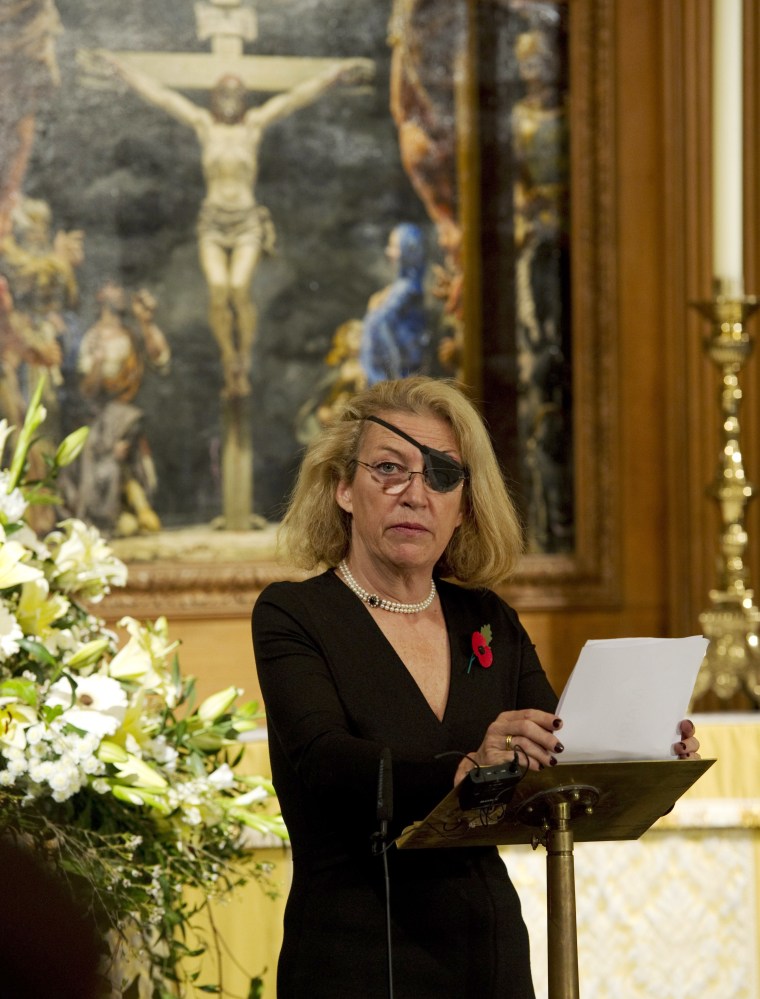 In 2012 Homs was a center of what was then a relatively new uprising against President Bashar al-Assad. Colvin arrived in Homs while the city was under an intense attack by Syrian government forces. The bombings were designed to crush the revolt.
Colvin, who was working for the Sunday Times, arrived with her photographer Paul Conroy and stayed with some other reporters in an apartment that had been turned into a media center by Syrian opposition activists.
There was space on the floor for mattresses and a small satellite dish for the reporters to use to send their reports to newspapers and TV stations around the world. Early in the morning of February 22, 2012, shells and rockets started to land near the media center. When Colvin ran for a door, an exploding shell killed her and Ochlik.
Conroy and other journalists who stayed in a living room further away from the door were injured but survived.
"As it turns out they had been trying for quite some time to track us down and kill us," Conroy says today. "There was a systematic policy in place."
Colvin, who grew up in the small town of Oyster Bay, N.Y., went into journalism soon after she graduated from Yale university.
Her mother, Rosmarie, still lives there and was going through pictures from her daughter's many reporting adventures. She recounted the life of a fearless, dedicated and compassionate reporter.
"She'd do anything she had to get the story out to the people," she said. "That was what she loved doing and that's how she wanted to help the world be a better place."
In the small and intimate community of international reporters, Colvin was known to be the first to chase a story right to the front lines, no matter how risky they were.
"Marie would go as far as she could to get the truth." Conroy said. "She would do it no matter if it was dangerous or not."
Reporting on the siege of Homs was one of those instances.
A confidential Syrian regime document filed with the Colvin complaint reveals the organized crackdown on foreign journalists by the Syrian regime already since 2011. In it the Syrian regime calls for the apprehension of all "those who tarnish the image of Syria in foreign media and international organizations."
"The attack on the media center was not an isolated incident," said Gilmore. The hope is that this first case against the regime would help clear the path for many others to pursue justice for atrocities in Syria.
In an interview with the Washington Post the Syrian minister of information, Mohammed Ramez Turgeman denied the allegation. "I can assure you that this is false by all standards and is certainly not true," he said.
The Syrian government has been surviving international pressure and sanctions for years. This lawsuit is not likely to cause a shift in its position. Still, it is a public exercise in accountability for specific officials from a government that has been willing to kill anyone who dared stand up to it. And in that sense the case filed on Saturday already stands as a fitting tribute to Colvin, a brave reporter who dedicated her life to holding the powerful accountable.
"That will make her life and death mean something," her mother Rosemarie told NBC News.