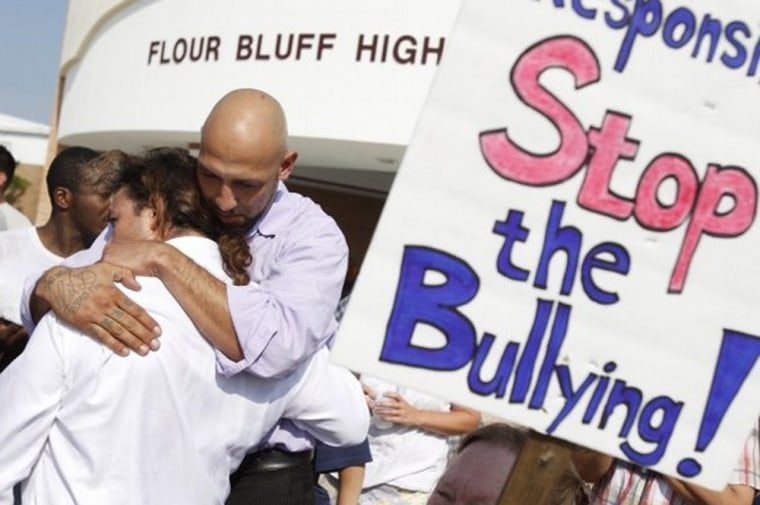 Bullies had been hounding high school freshman Teddy Molina for years, making fun of him for being mixed race and threatening to hurt or even kill him, his family says.
The teasing from a group known as the "wolf pack" grew so bad that Molina wound up leaving his Corpus Christi, Texas, school last month. Then he took his life last week with a hunting rifle.
Molina's death has triggered outrage and tumult in his South Texas community: an anti-bullying rally erupted into violence, a rumored gun threat online led to a stepped up police presence at Flour Bluff High School and a number of parents have come forward claiming that the district is not doing enough to combat bullying.
"We need to come together and we need to stop this, and we need to do it peacefully," his sister, 18-year-old senior Misa Molina, told msnbc.com.
Bullying has become one of the hottest issues facing schools, with a newly released documentary focusing on the issue, and sites like Facebook and Twitter allowing rumors and taunts to spread like wildfire.
While there are no hard and fast statistics linking bullying to suicide, Dr. Melissa Reeves, a school psychologist and expert on bullying, says harassment by peers can be a "big factor" in youth suicide but that it's usually one among many causes.
"When they really get to a sense of hopelessness and helplessness, you know, where they see no other way out of this particular situation, then, unfortunately that is when we do see completed suicides," said Reeves, chair of a National Association of School Psychologists' Prepare Working Group on Crisis Prevention and Intervention.
Suicide is the third-leading cause of death among people between the ages of 10 and 24, with males making up 84 percent of the approximate 4,400 victims reported a year, according to the Centers for Disease Control and Prevention. Hispanic and Native American teens and young adults have the highest rates of suicide-related fatalities.
MPAA changes 'Bully' rating to PG-13
The trouble for Molina, who was part Korean and part Hispanic, beganat Flour Bluff Intermediate School in Corpus Christi, a port city of 300,000 along the Gulf of Mexico.
The problems escalated in junior high school, when Molina joined the football team, where, his sister said, the players picked on him and the coaches allowed it. She said her brother told her that some of the bullies repeatedly said they were going to kill him and that she had helped come to his rescue when some teens cornered him at a taco stand and appeared ready to jump him.
"It got really worse this year, and that's when my mom pulled him out of school" in March, she said, adding that Teddy had expressed a desire to commit suicide a few times over the bullying.
A close family friend, Annette Westerkom, 41, said Teddy Molina endured the harassment quietly.
"He kept a lot of it to himself because he did not want the family to know that they were being derogatory toward his family," she said, noting that Molina was a fun-loving kid who enjoyed hunting, fishing and being around his family. "He internalized a lot of his pain -- he did confide in some of his friends."
His mother Judy had filed complaints about the bullying, said Westerkom, a junior high school teacher in another district.
"I'm a school teacher, I see it daily," she said. "We deal with bullying and we take care of it."
When asked last week by a local NBC station if the Flour Bluff School District – one of six in Corpus Christi -- had trouble with bullying, spokeswoman Lynn Kaylor said: "No, ma'am, we don't."
But Rita McKenzie, a parent, told the TV station that she removed her two children from the district's junior high school in February due to bullying.
"They know about this problem. They ignore it and do nothing to try to fix it," she said, adding that she told school officials: "I don't feel like my kids are safe here. I just don't."
When rumor, the Internet and school violence fears collide
Superintendent Dr. Julie Carbajal disputed that characterization, saying the district starts anti-bully efforts early, with kindergartners going through some awareness programs. She said it also has a strong code of conduct, has implemented the character education program "Heart of a Champion," uses Crime Stoppers for anonymous reporting and has security staff on hand.
"We have strong policies and procedures for bullying and we have followed" those, she said.
In 10 years as superintendent of the 5,600-student district, Carbajal said she had not seen any similar incidents, adding that the loss of Molina has been devastating.
"We want to be able to mourn Teddy ourselves and we want to do something for him in his memory. We'd love to have a memoriam," she said. "But we've just not been able to bridge that kind of discussion with the family at this point, and we're respecting their privacy until they're ready to talk to us."
The school district will be increasing security at all of its campuses, she said, after an altercation at an anti-bullying rally organized by Molina's family in front of the school last Wednesday, the day of Teddy's funeral.
Local media reports say the man charged by police in that incident – Tommy Martin, 38 -- was a parent of a student. Efforts to reach Martin for comment by msnbc.com were not successful.
Police said a witness told them an object was thrown from the crowd at Martin's car. He allegedly then got out of the vehicle and attacked those he believed responsible. He was charged with assault and public intoxication. 
After the violence, which several television stations caught on camera, a number of students came forward to say they had been bullied by the same youths who targeted Molina – a group some referred to as the "wolf pack."
Not much is known about the group, but a law firm representing the Molina family -- Hilliard Muñoz Gonzales L.L.P. -- said the "wolf pack" was formed by a handful of athletes a few years ago.
The local NBC station spoke with a friend of Misa Molina, Andrew Gonzalez, who said members of the group had bothered him too but that not everyone was involved -- just a few bad apples.
Referring tothe group, Superintendent Carbajal said: "Any issues that have been brought forward about the 'wolf pack' … the school has investigated that and has addressed any issue that involved them, but I can't comment on it as it is related to Teddy at this point."
Adding to the tumult, parents were warned Thursday that the high school had received "secondhand reports" on social media "of a possible threat of someone bringing a gun" to school. Extra police were present on campus that day, Carbajal said, and there were no reports of any trouble.
Julea Chel Bendis, a woman who said her daughter – a freshman at the high school -- was friends with Molina, kept her daughter and son home for few days last week because she "knew this was going to escalate. All of the Facebook pages for the in-town news, everybody is up in arms about it."
"He (Molina) was friends with almost everybody in the freshman class besides the people bullying him, and I think that's where most of the anger is coming from right now is just the loss and the anger and the grief," Bendis said.
Though parents and students had to sign a "no bullying tolerance" form at the beginning of the school year, Bendis feels that educators "preach it, but they don't enforce it."
The Molina family's lawyer, Bob Hilliard, is looking into possible legal causes of action, which his firm said may include breaches of his rights under the 14th Amendment and possible Title IX violations.
"I've got to find out what the school district knew and what they did not do once they knew about it," he said.
Molina's parents made more than a dozen complaints about their son being bullied – either verbally or in writing, according to Hilliard's law firm.
Carbajal, the superintendent, said school officials had talked to Molina's mom about her son, though she declined to specify if those discussions included bullying.
Not everyone agrees about the depth of the problem in the Flour Bluff schools.
Pam Kasperitis, a mother of five who has two children at the high school, said her children had never heard of the "wolf pack" and was concerned about hysteria fueling the news reports on Molina's death.
"I don't want to disparage this child and this family, but as a parent, you know, when something like this happens, I think they are looking for someone to blame," she said.
Kasperitis noted that her son was bullied in the 5th grade, but school officials handled it right away. She said she had found the district responsive to the various issues she had brought to their attention.
Bullying is serious, she added, "so let's focus on what the issue is, how to fix it, how to move on, how to help these kids, how to put a stop to it. Let's stop hurling accusations and threats, and having fights."
In the meantime, Misa Molina is continuing to hold anti-bullying rallies in front of the school.
"We don't need any more people dying because kids can't stop being mean to each other," she said. "Hopefully, this will teach them a lesson that a life is very precious and we should hold onto that, we should keep that in our hearts to make … each and every one of us a better person."