A security guard at the Airbnb complex where missing Florida woman Carla Stefaniak was staying has been arrested, authorities said Tuesday.
The announcement of the arrest came as Stefaniak's brother and father were in Costa Rica to identify whether a body that was found about 300 yards away from the Airbnb is hers.
Bismarck Espinosa Martinez, 32, was arrested at around 11 p.m. Monday (1 a.m. ET Tuesday) after investigators said his story "demonstrated a lot of inconsistency" and did not match up with security video, details of which Martinez did not describe.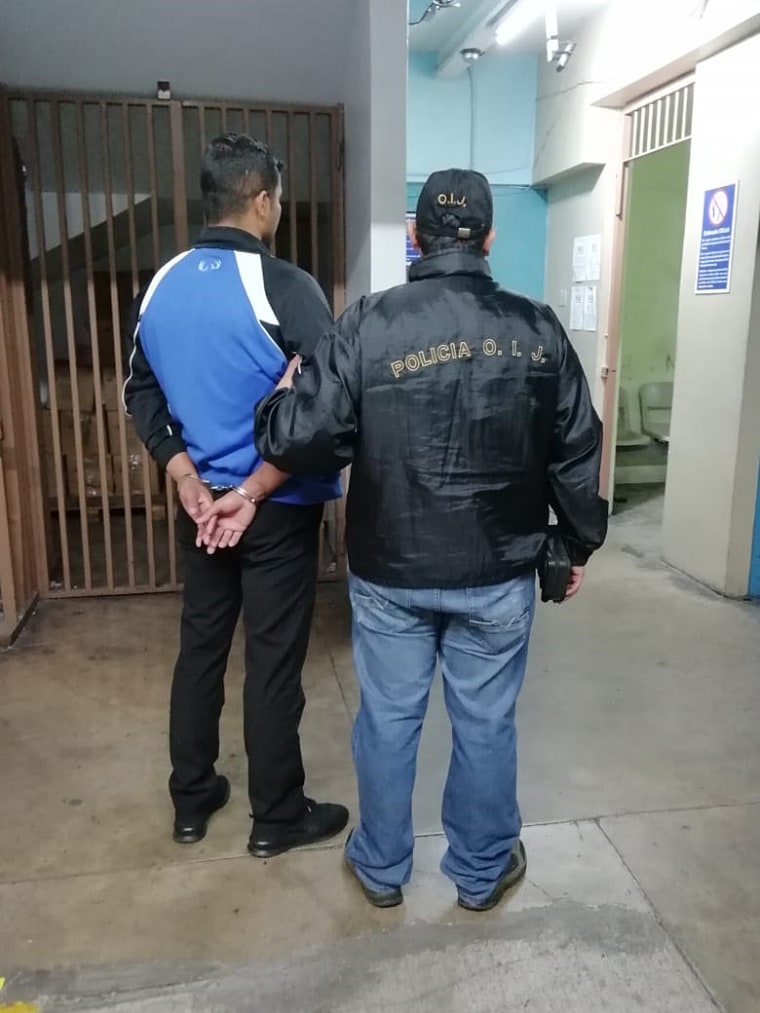 Walter Espinoza, director general of the Organismo de Investigación Judicial, the investigative agency in the case, said in a recorded statement Tuesday that the suspect was a Nicaraguan immigrant who entered Costa Rica in June.
SIGN UP FOR BREAKING ALERTS FROM NBC NEWS
Espinoza said the man had been staying in Apartment 7 at the complex, where he was working as a security guard. Stefaniak had been staying in Apartment 8, and when investigators searched her room, they found blood, he said.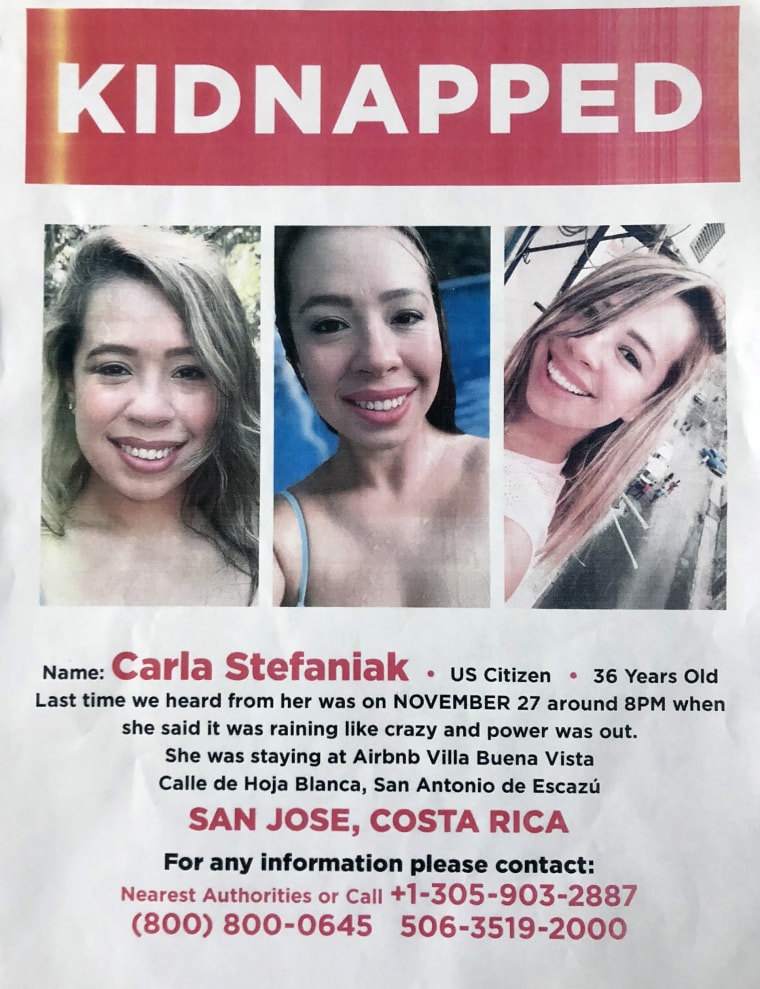 Stefaniak, of Hallandale Beach in Broward County, has not been heard from since Nov. 27, the day before she was to have returned home after celebrating her 36th birthday on the trip with her sister-in-law to the rental facility at Villa le Mas in San Antonio de Escazú, west of San José, the capital.
Federico Jenkins, an attorney for the facility, on Monday said, "We are deeply saddened and devastated by the tragic events" and that Villa le Mas is cooperating with authorities and it temporarily closed while the investigation is ongoing."
Investigators using cadaver dogs found a body partly buried in plastic bags near the Airbnb on Monday.
Espinoza said Tuesday that it appeared to be Stefaniak's body but that authorities still had to compare fingerprints, which was being coordinated with the FBI.
An autopsy found that the body had stab wounds in the neck and other areas, as well as injuries consistent with having been hit in the head, Espinoza said.
A brother of Stefaniak, Mario Caicedo, told NBC News that everything the Costa Rican government has learned so far suggests that the body is his sister's, but dental records as well as fingerprints are being checked before the family can enter the morgue to see the body.
Stefaniak was due to return to Florida on Nov. 28. The day before, she had dropped off her sister-in-law at an airport in San José earlier in the day on and then toured the city with an Uber driver. She returned to her rental unit and texted a friend via WhatsApp, saying that it was raining and that the power in the Airbnb had gone out.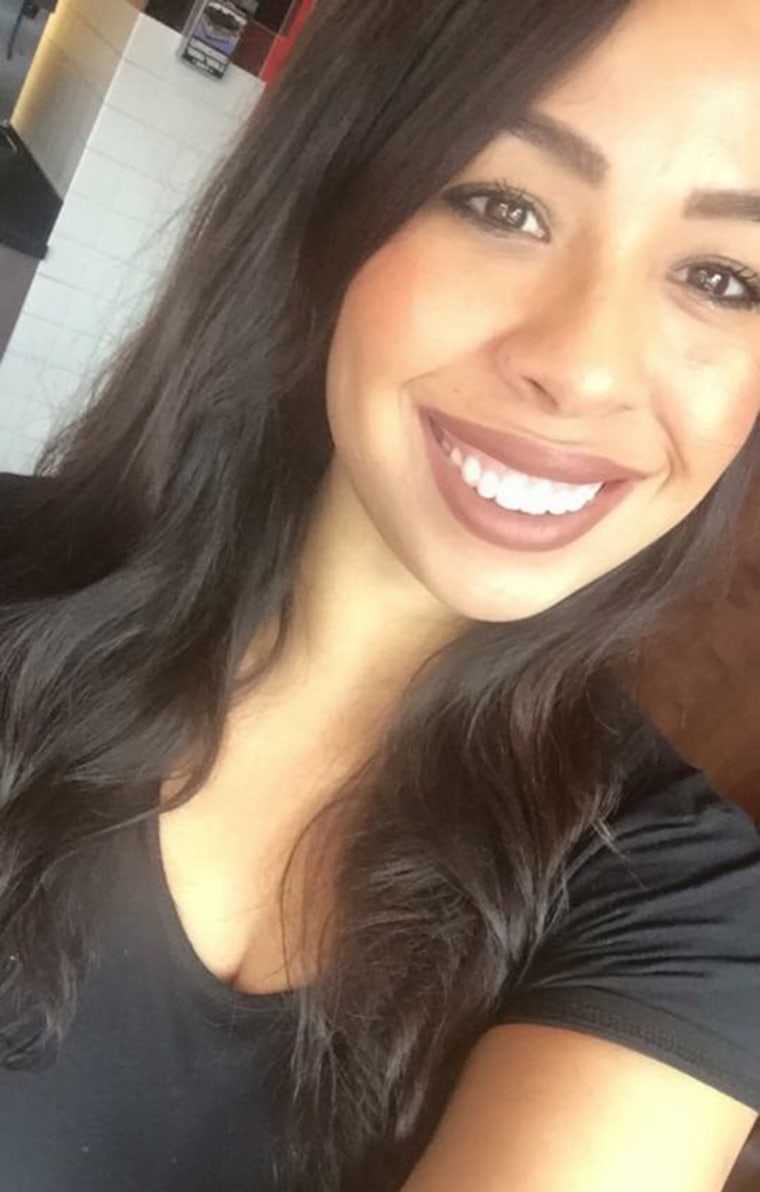 "Super sketchy," she wrote in the message.
In a FaceTime call with a friend a little later, Stefaniak said that she was thirsty and that she was thinking about asking security guards at the Airbnb to buy her some water because it was still storming. Stefaniak last used her phone at around 9 p.m., when it died.
Her brother said in an interview Sunday that he thought "somebody kidnapped or abducted" his sister.
Bugra Demirel, a friend who is serving as a spokesman for the family, told NBC News on Tuesday that the family were upset with Costa Rican authorities, feeling that they "really dropped the ball on this." The family asked investigators days ago whether they had searched the Airbnb property, but "they did not take it serious," Demirel said.
The Organismo de Investigación Judicial responded to a request for comment by sending an email with a link to the video of its director's recorded statement.