JERUSALEM – It was in August 2011 when the Goldstein family decided it was time to give up what America had to offer and move their life more than 5,500 miles away to Israel.
Aviva and Seth Goldstein left their families and a fantastic life in the Bronx for what is perceived by many as a country torn by war and conflict.
One year after their move you couldn't find a happier and more enthusiastic family in Jerusalem. Aviva's huge and warm smile doesn't vanish from her face as she juggles a move to a new apartment and raising three girls: Aliana, 7, Tahila, 5, and Liba, 3.
For Aviva and Seth coming to Israel wasn't about finding a greener pasture somewhere else  –  but as Jews they felt like not coming to the Holy Land was like standing on the sidelines of history. It was always a place that just called to them, where they dreamed of living.
As the Goldstein family lay down a nice picnic spread near the old Jerusalem railway tracks, an area dubbed as the Israeli version of New York City's High Line, I asked Aviva and Seth what America represents for them and what role America has in the world today.
"The first thing that would come to mind when you think of America is liberty and freedom," Seth said. "I don't think the U.S. has retreated from that identity and I don't think it lost a piece of that identity. I think it stands for freedom and democracy [now] as much as ever."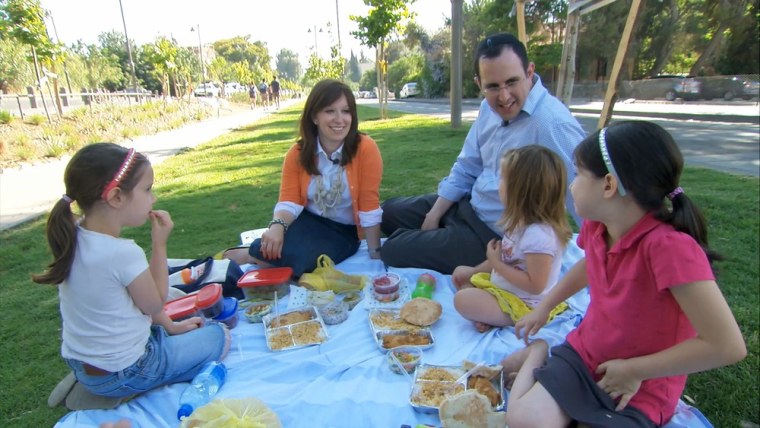 "For me," Aviva said, "America is also freedom and liberty. But I think that there is a big piece of America that's comfort, with liberty and security, and that there is mobility within that."
'Economic opportunity'
Both Aviva and Seth have had careers in education, but at this point Aviva described herself as a "full time mom," while Seth works at the Shalem Center, a research institute in Jerusalem.  
"I think America stands for economic opportunity as well," Seth said. "Also for all sorts of religious opportunities, that go hand-in- hand with freedom. It really is a place that you can grow in all sorts of uninhibited ways and be successful in all sorts of remarkable ways."
How did they think the wars in Iraq and Afghanistan changed America?
"I think it stretched America's finances and it reminded the world that America stands for something more than just isolating itself in a bubble, but that it has a responsibility to the rest of the world," Seth said. "The extent that America was involved in it is a reflection of its sense of responsibility to other nations, to other people, to humanity."
Aviva also believed the U.S. involvement in Iraq and Afghanistan was a positive thing.  "I think that as Jews, who always had an interest in Israeli world politics, I think it was easier for us to see the evil," said Aviva.  "I think we're used to being stuck with really bad neighbors,  so on some level it was good that America was involved."
As for their three girls, Aviva said the move has just caused them all to flourish,  even though they miss their grandparents. "Thank God for iPads," Aviva said. She was referring to the fact they can see and talk to their family back in the U.S. almost for free using the device and the Internet.
"Coming here is the fulfillment of a dream," Aviva explained. "I remember when we were dating 10 years ago, walking the streets of Manhattan fantasying about raising our unborn children in Jerusalem and now it's our reality. It's nothing short of a miracle."
This story is part of a series by msnbc.com and NBC News "What the World Thinks of US". The series aims to check the pulse on current perceptions of America's global stature during the election year and ahead of our annual Independence Day.
Share your thoughts about this story and our series on Twitter using #AmericaMeans 
Stories in the series: 
How I see America, from a former Gitmo prisoner
Bye, bye, GI: Deep impact for many Germans as US troops downsize
Post-revolution Egypt to US: Stay out 
Iran's dentist to the stars offers views on US
For many Pakistanis, 'USA' means 'drones' 
One man's mission: Promote Chinese patriotism in the face of Western onslaught
In South Africa: 'My head says China is number one, my heart says America'
Not all Thais are Gaga about America
Family moves from the Bronx to Jerusalem, but US remains land of 'liberty and freedom'
Palestinian: US supports 'an apartheid system that is suffocating us '