SÖLVESBORG, Sweden — Around 4,000 far-right supporters gathered on the grounds of a ruined castle last weekend to plot the downfall of the socialist ideas that have come to define their progressive country.
Their views — anti-immigration, anti-establishment and often anti-Muslim — are not new amid the populist tsunami that's crashed into much of the West.
But this is Sweden, where socialists have dominated every election for the past 101 years, making the Nordic nation something of a lodestar for leftists around the world.
Some polls predict that the supporters' favored party, the Sweden Democrats, with roots in neo-Nazism and white nationalism, will win as much as 25 percent of the vote in an election scheduled for Sept. 9. Such a result would likely earn the Sweden Democrats more seats in Parliament than any other single party.
At the party's annual summer festival here, speeches were interspersed with heavy metal music as supporters gathered at Sölvesborg Castle for the headline act: an address by Jimmie Åkesson, the 39-year-old leader of the Sweden Democrats.
"He's the only politician I can trust," a retiree named Jan shouted above the din. "We need him for our country. I don't have so many years left, but for my children and for my grandchildren."
"Why should we care about Islam? Sweden is not an Islamic country. Why should we be influenced by one of the worst ideologies in the world?"
Like many people here, Jan, 71, spoke on the condition that only his first name be used, so as not to be stigmatized for expressing his political views.
"Jimmie is the only one who can save Sweden," he added.
Sweden might not seem like it needs saving. Its economy is growing, its people are among the happiest and most trusting on the planet, and they enjoy some of its highest living standards.
But according to the Sweden Democrats, it is imperiled by one thing: immigration.
With a population of 10 million, Sweden took in around 165,000 migrants during the 2015 European border crisis — the most per capita in the world.
The Sweden Democrats believe that immigration has strained the country's generous public services, and that Muslim newcomers are diluting their culture to the point of near extinction.
In 2010, a TV channel refused to air a Sweden Democrats advertisement featuring an elderly white woman trying to claim her welfare payments, before being overtaken by a group of women wearing niqab headscarves and pushing strollers.
"Why should we change into a Middle Eastern country?" Richard Jomshof, a Sweden Democrat lawmaker, said while rock music blared from the tent behind him. "Why should we care about Islam? Sweden is not an Islamic country. Why should we be influenced by one of the worst ideologies in the world? I don't understand it."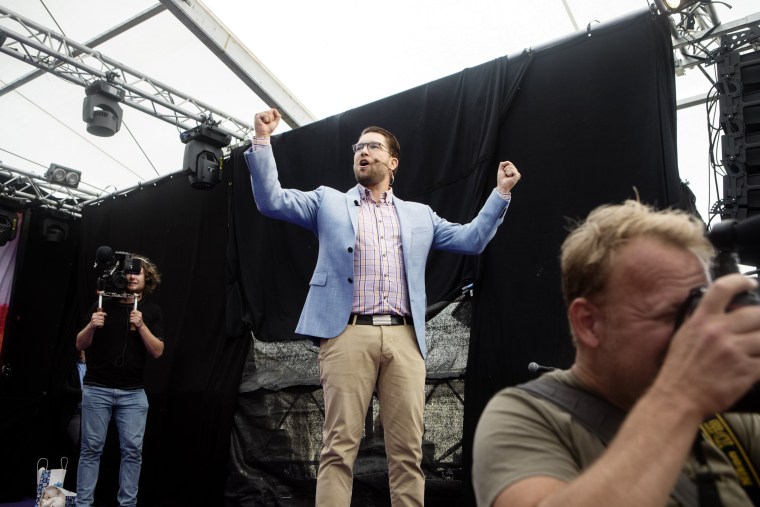 The party claims that gangs of young immigrant men are responsible for spikes in violent crime and sexual assault, turning multicultural neighborhoods into so-called no-go zones. This characterization is disputed as a crass oversimplification by police and political opponents.
President Donald Trump promoted this theme last year at a Florida rally, saying: "Who would believe this? Sweden! They took in large numbers, they're having problems like they never thought possible."
Trump's former adviser, Steve Bannon, has spoken favorably about the Sweden Democrats and met with one of their lawmakers.
Sweden has indeed suffered Islamist terrorism, most recently a deadly ISIS-claimed truck attack last year. But Scandinavia's deadliest mass killer remains Anders Behring Breivik, a white nationalist who murdered 77 people in Norway in 2011.
Another Sweden Democrat lawmaker, Mattias Karlsson, insists he's not racist or anti-Muslim. Rather than accept migrants into the country, the party wants to triple Sweden's foreign aid budget to try to help people closer to their home countries.
Whether that would work, the message clearly has a wide appeal.
Almost all the festivalgoers appeared to be white. Many didn't look like supporters of what Sweden's prime minister has called a "Nazi party." Jan, for example, in a pink polo shirt and black baseball cap, could have stepped off any cruise ship in the world.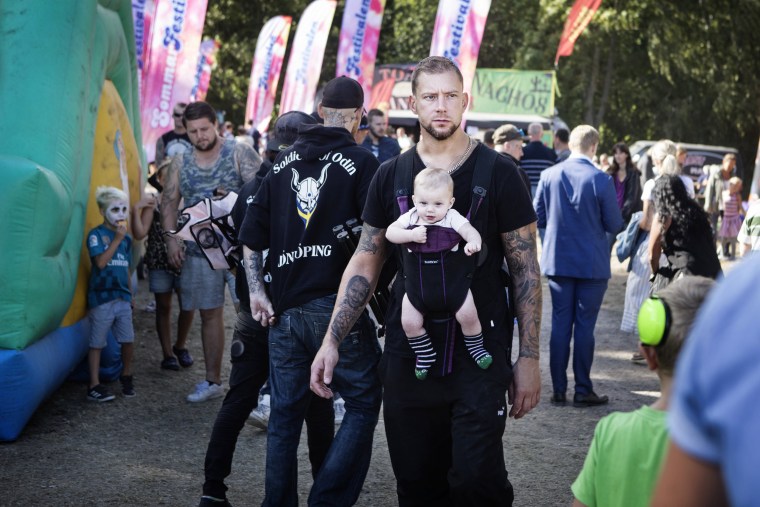 But these politics also attract a significant fringe element. Dozens of bikers motor onto the site, some whose opinions are as extreme as their tattoos.
"My biker club is very right-wing," said Martin, 44, who works in security on an offshore oil rig. "We are hoping for some fun today: some beer and a good speech from Jimmie, our upcoming prime minister."
Why does he support the Sweden Democrats? "I think that's pretty obvious," Martin said, who also declined to give his full name. "They will stop the Muslim invasion. The whole of Islam is wrong. I'm pro-Swedish."
A few feet away was Marina Coffa, 50, a school worker wearing a leather jacket with a "Lady Biker" patch. "The politicians are so naive because they tell us we're not allowed to say we love Sweden," she said.
Nachos and knyppling
With his neat stubble, trendy glasses and light-blue blazer, Åkesson is the face of a party trying to clean up its image. One of its founding members in 1988 was a veteran of the Nazi SS. Its rallies in the 1990s were dominated by skinhead thugs.
Åkesson's tenure since 2005 has seen a litany of representatives ousted for making racist statements. The party declined NBC News' requests to interview him.
"Yeah, we have an image problem and we are constantly working on that," said Karlsson, who earlier this year was accused of using language with anti-Semitic overtones when defending a colleague who suggested Jews and the country's ethnic Sami people were not true Swedes.
Karlsson was also pilloried in 2010 after he said Los Angeles Galaxy soccer star Zlatan Ibrahimovic, perhaps the most famous Swede on the planet, didn't have Swedish "body language."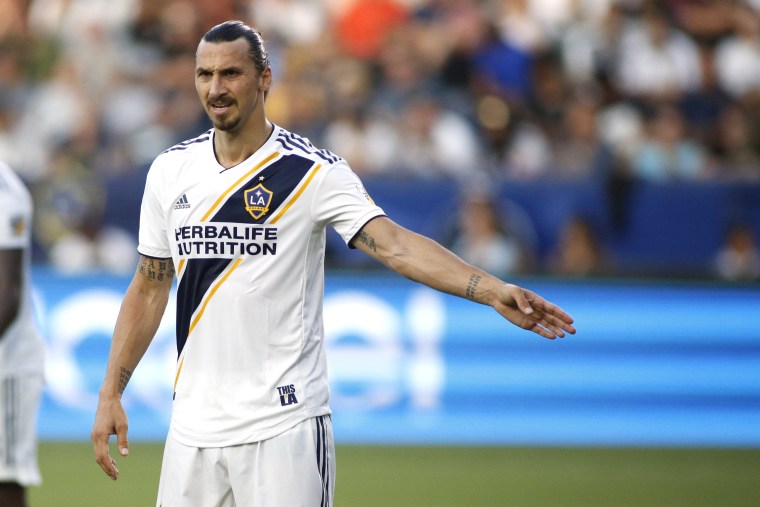 Ibrahimovic was born in Sweden, the son of a Muslim who relocated from Yugoslavia.
Asked whether Ibrahimovic is Swedish, lawmaker Jomshof told NBC News, "I don't answer this question."
Jomshof's parents emigrated from Finland in the 1960s, but he insists he's no hypocrite. Today's immigrants are different, he claimed, because "they are telling us how to live our lives."
Tobias Andersson agrees. At 22, the leader of the party's youth wing will likely become a lawmaker next month. Andersson joined the Sweden Democrats at 16, attracted by its tough stance on criminal justice.
But he becomes most animated when discussing immigration, which he said is "bad in every way possible."
Immigration aside, the party wants to limit abortion and increase defense spending. It opposes Sweden's membership in the European Union and has expressed skepticism about man-made climate change.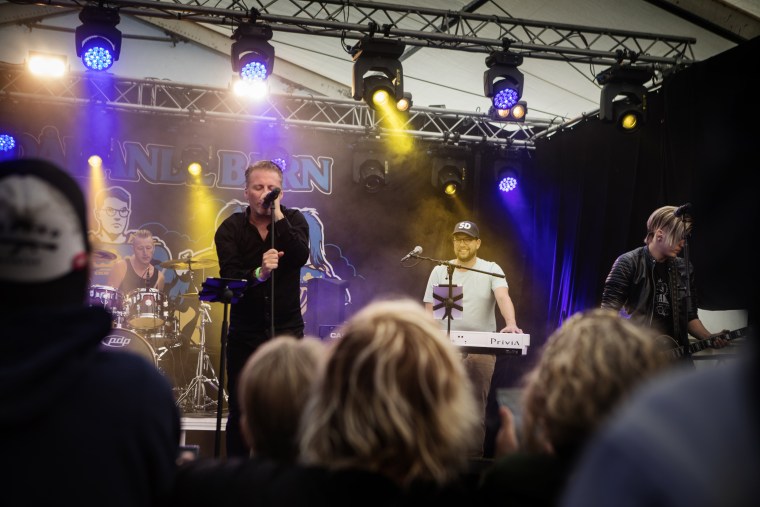 Even sympathetic voices accept that Sweden was unprepared for the immigrant incomers of 2015. Tightened borders slowed that to a trickle. Now the debate centers around integration.
The Sweden Democrats promoted their vision of national culture by hosting traditional activities including lessons in schottis, a 19th-century dance.
"It's taken us perhaps 1,000 years to become what we are today," Jomshof said.
This viewpoint has been criticized by Swedish anthropologists, who say culture is never a constant and has always evolved throughout history. The festival raised other questions.
On one table, an artist from Stockholm named Maud Hemberg was teaching people a type of medieval lace-making called knyppling. But she seemed uncertain when asked about its historical significance, and why the Sweden Democrats are so determined to preserve skills like it.
"I think it's from Germany," said Hemberg, 52, who wore a traditional dress. "It's quite old but I'm not sure. I haven't actually looked into it."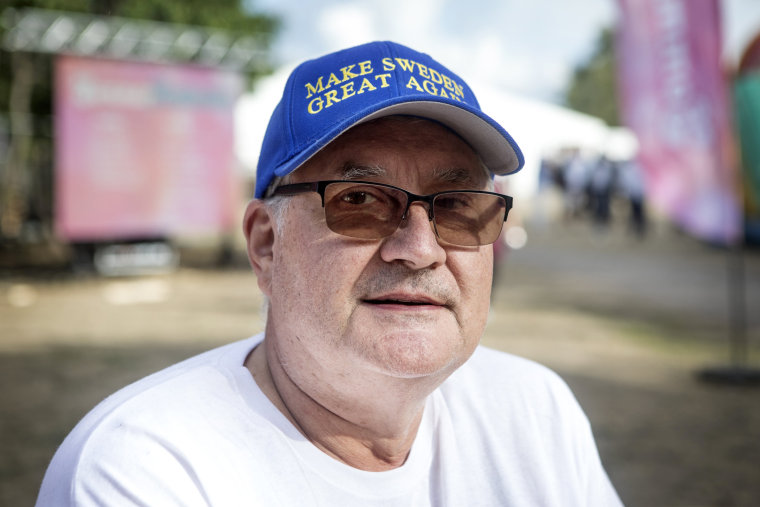 With his blue baseball cap reading "Make Sweden Great Again," Ilvars Hansson, 72, added that "everything has gone bananas" because of immigration. Hansson is an immigrant who arrived from Germany in 1951.
Elsewhere, the main food stall at this celebration of Swedishness was a Mexican-themed nachos stand.
'Don't forget to try the falafel'
Police say there is scant evidence that immigration alone leads to crime.
Jomshof floated a familiar Sweden Democrat theory that before immigration "we have never had problems with gang rapes" and "men from the Middle East raping Swedish women."
The number of reported sexual assaults has increased in recent years, but authorities attribute the rise to victims being increasingly willing to come forward.
What the Sweden Democrats have focused on are the "no-go areas," such as Rosengård, a suburb of Malmö featuring imposing house blocks but also tree-lined cycle routes and pedestrian walkways. Around 80 percent of Rosengård residents either were born abroad or are the second generation of their family in Sweden.
"To be honest I actually laugh when I read the news reports," Malmö police spokesman Nils Norling said. "It's one of the most quiet, boring areas you can find. It's like any city. It's a place where people live."
His advice before visiting? "Don't forget to try the falafel — it's great!"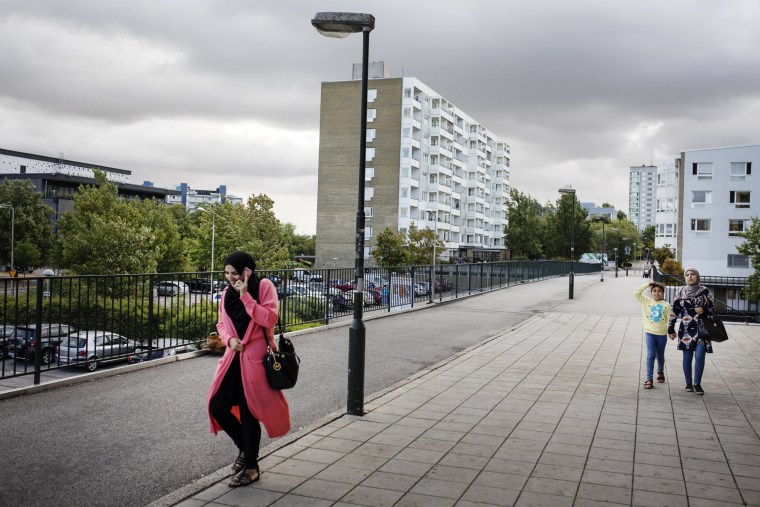 "It's a very nice area," added Fatma Elzein, 52, who left Lebanon in the 1980s and now works at a women's collective dedicated to helping female immigrants find work. "We live together, we support each other and everyone is like a family."
But there has been a failure to integrate some newcomers. Around half of the people NBC News tried to interview during a visit to Rosengård last week could not speak Swedish.
Riots in Rosengård a decade ago linger in memory — "it was a small war," police Superintendent Glen Sjögren recalled — and just this week, gangs were blamed for setting 80 cars on fire in similar neighborhoods across Sweden.
Analysts say this refocused the election debate on immigration and helped the Sweden Democrats.
But even if they win most seats next month, they may not gain power. Governments here rule by coalition; the other parties have suggested that they would not ally with their far-right colleagues.
Nevertheless, like supporters of Trump and Britain's Brexit before them, many Swedish populists see this as their moment.
"It's the election of our destiny, if that's the right word?" said Penila Johansson, 46, a forklift truck driver from Gothenburg at the festival. "Yes, it's going to decide our destiny."
CORRECTION (Aug. 17, 2018, 10 a.m. ET): A previous version of a caption with this article misspelled the first name of a festivalgoer in a blue "Make Sweden Great Again" cap. He is Ilvars Hansson, not Ivars.
CORRECTION (Aug. 17, 2018, 12:05 p.m. ET): A previous version of this article misstated a potential result of the Sept. 9 election. If the Sweden Democrats win as much as 25 percent of the vote, as polls indicate, they would likely earn more seats in Parliament than any other single party, not a majority of seats.