Updated at 6:45 p.m. ET : The father of a young woman who was shot along with her girlfriend last week in a South Texas park is mourning the loss of his "guardian angel," telling a local television station that "justice will be served" in the case.
Mario Olgin's daughter, Mollie, 19, and her girlfriend, Mary Kristene Chapa, were found in a grassy area of the park by a couple Saturday morning with gunshot wounds to the head, Portland, Texas, Police Chief Randy Wright has said. Olgin, originally from nearby Ingleside but recently living in Corpus Christi, died; Chapa, of Sinton, was rushed to an area hospital where she is making an "amazing" recovery in the intensive care unit, her brother told NBC Latino.
The couple had planned to spend some time in the park before going to see a movie, Olgin told kiiitv.com on Tuesday. When his daughter, a first-year college student who wanted to become a psychologist, didn't show up for work on Saturday, Olgin said he knew something was wrong.
"It was not like Mollie. … If she had some place to be she was going to be there," he said. "I immediately had bad feelings (about) it."
Wright said police had recovered a bullet casing from a large-caliber gun at the scene, leading investigators to believe the shootings occurred where the pair was found, but they haven't found the weapon. Two witnesses said they heard what could have been gunshots or firecrackers just before midnight last Friday but did not report it at the time, he said.
A motive had not been established, he said in the statement.
"Information from family and friends indicates that Mollie and Mary were engaged in a same-sex relationship. However, there is no current evidence to indicate the attacks were motivated by that relationship," he said.
Wright told msnbc.com on Monday that: "It appears as if … this was not just a random attack but that's something that we really have to develop over time."
Because of her medical condition, Chapa has not been formally interviewed about what happened, he said.
Chapa's brother, Hilario, said that his sister was making physical progress on the right side of her body but doctors were awaiting a response from the left. She was able to communicate via sign language.
"The doctors say it's too early, no one is using the word 'paralyzed,'" he told NBC Latino. "They say we should be so happy with her progress after three or four days. She's very strong. She survived a very tough ordeal but her recovery is coming in strides and  impressing everybody."
He was hesitant to share many details about the search for a suspect.
"We don't know who did this to her, she hasn't given us a name," he said. "We're under the impression she doesn't know who did it. We don't know if it's a hate crime."
Teen lesbian couple found shot in Texas park
Friends reel from shooting of teen lesbian couple in Texas
The Texas Rangers have joined the investigation, which is being led by the Portland Police.
"We offered our assistance and they accepted and we have been actively involved in the investigation since Sunday," Tom Vinger, spokesman for Texas Department of Public Safety, wrote to msnbc.com in an email.
The park, a nature area with some parts overgrown and no lights, was often frequented by visitors during the day, but not at night. It is located along a bluff overlooking a bay, Wright said, with some homes situated nearby.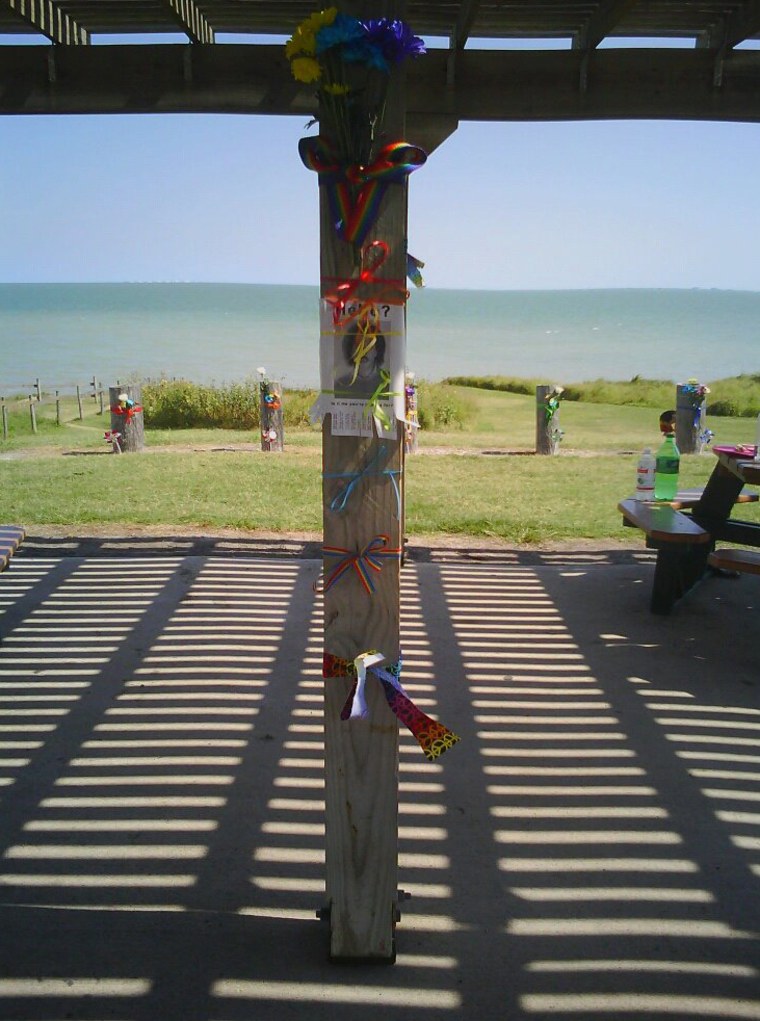 "We're not really sure how they got to the point that they were found," he said. "It is a scenic overlook with a wooden deck and there is a place at the edge of the deck where you can actually go down a very steep incline into a grassy area that leads down to the shoreline, and that's where they were found."
The crime rate is low in Portland, north of Corpus Christi on the Gulf of Mexico, Wright said. The last homicide occurred two years ago.
The couple's friends and well-wishers placed rainbow ribbons, goodbye messages, flowers and cut-out hearts on Sunday around the site where Olgin and Chapa were found. On Friday, a candlelight vigil and walk will be held for them.
Frank Reyna, a 19-year-old university student, said he grew up with Chapa and met Olgin his sophomore year of high school. He described Chapa as an athlete who played softball, and said Olgin, a student at a nearby university, was focused on academics but also was a big joker. He last saw them together at a local coffee shop in May, which was the first time he saw them out as a couple.
"It's something that I think all of us are going to carry with us for a while," Reyna told msnbc.com. "It's going to take a while to get past this, the idea that there is somebody still out there that did this to these two amazing, beautiful people, and that they're walking free right now."
Friends said the pair had been together since mid-February.
The couple's relationship "was a readily accepted thing," Reyna added, and was not what their friends focused on.
"We focused on their personalities and how they got along with everybody else … their kindheartedness and their ability to just make other people smile and make each other smile," he said. "We didn't care … what they were, it's who they were."
Jillian Manuel, 20, who used to work with Olgin, said it was hard to return to the park on the weekend knowing what had happened there. She went to help create the makeshift memorial, where friends shared stories and tears, and to check the scene, where she recalled the difficulty of watching Olgin's car get towed.
"We're … hoping to kind of just remember Molly, remember her and just share our memories," Manuel said of their planned vigil. "And then … send off prayers for Christine and just celebrate them."
The family will hold a memorial on Friday before the candlelight vigil and walk. Olgin welcomed the outpouring of support in the wake of his daughter's death.
"She was happy," he told kiiitv.com. "She didn't need for her life to end the way it did. Justice will be served."
More content from msnbc.com and NBC News: