The mayor of New Jersey's capital cityhas denied any wrongdoing after the FBI raided his home early Wednesday.
About a dozen agents arrived at Trenton Mayor Tony Mack's home at 1 a.m., the Times of Trenton reported. Camera flashes from investigators could be seen throughout the home from the outside.
Roughly 45 minutes later, they were seen taking equipment from two SUVs into the home.
At about 4 a.m., another seven agents arrived and joined the search.
By 6 a.m. agents could be seen carrying bags and boxes out from inside the home. The search concluded by about 6:15 a.m.
When Mack, 46, emerged from his home Wednesday, he denied any wrongdoing and told reporters, "We have not violated the public trust in any way."
FBI agents also searched the homes of Mack's brother and head football coach at Trenton Central High School, Ralphiel Mack, and Joseph "JoJo" Giorgianni, a convicted sex offender who gave thousands of dollars in to Mack's 2010 mayoral election campaign, according to the Times of Trenton.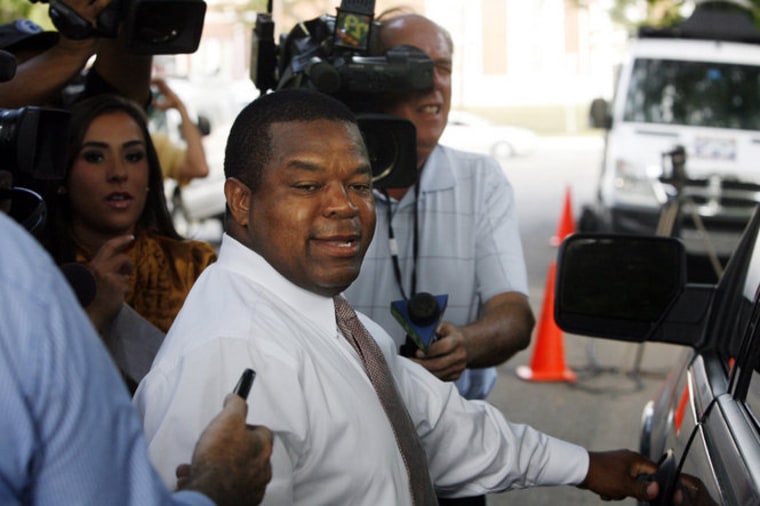 No arrests have been made and no charges filed. A spokeswoman for the U.S. Attorney's Office in New Jersey would not say what was under investigation, or whether the office was involved, NBCNewYork.com reported.
Mack's children were home at the time of the raid and the mayor answered the door in his pajamas, the Trentonian reported. It is believed he remained in the home throughout the entire search.
The Times of Trenton photo gallery: FBI search Trenton Mayor Tony Mack's house
The New Jersey Democrat has drawn criticism since he was elected in 2010. A citizens group failed to get enough signatures last year to force a recall election when they accused Mack of reckless spending, nepotism and unstable leadership at the cabinet level when he laid off 105 city police officers.
Under an agreement reached last year, Mack can only hire department heads from a pool of applicants the state offers or he risks losing $6 million in state aid.
Mack was sworn into office in July 2010, following a runoff victory over Manuel "Manny" Segura.
More content from NBCNews.com: