Gaziantep, an ancient Turkish city badly damaged by the massive 7.8 magnitude earthquake that killed more than 2,600 people in the country and in neighboring Syria, was paralyzed Monday by widespread destruction — and by panic, survivors told NBC News.
While rescue teams were pulling the living and the dead from the wreckage, government tourism official Resat Taman was trying to beat back unfounded and rapidly spreading rumors that yet another quake was about to strike, as the city continued to be rocked by some 130 aftershocks.
"Everybody says next earthquake is coming and it will be so bad," Taman said. "And this is really horrifying. Because it is not safe information and everybody is in a panic now because of this stupid information."
Taman said this fear is escalating to an overall feeling of terror among those on the still-shaky ground in this city of 2 million, as rescue and recovery operations continue and people have limited access to housing, goods and services.
"I can say thousands of people (are) under buildings and waiting to be rescued," Taman said. "Now, in the cities, people cannot find gasoline, they cannot take money from the banks. They cannot find anything from the shops. Everybody is trying to find warm places to spend the night."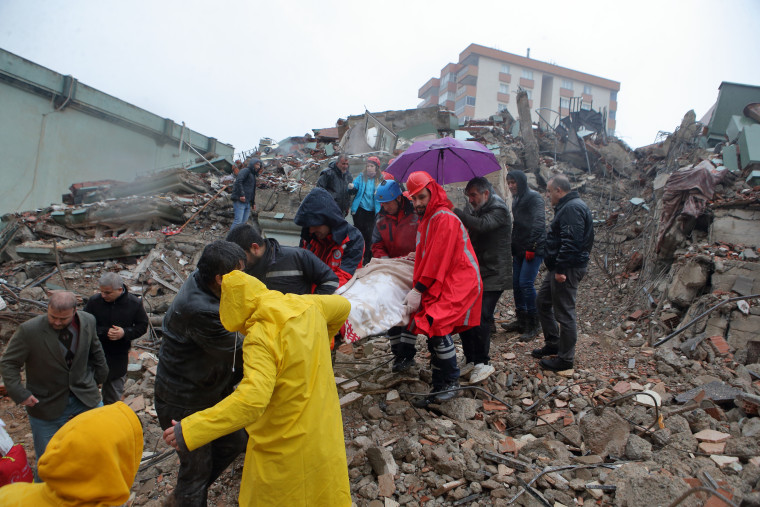 Taman, 35, is one of them. He and his wife and their 5-year-old daughter had to flee their home because it was too dangerous to stay put and found shelter overnight in a government facility. He said some hotels and private businesses are also taking in quake refugees.
"It's not enough because millions live in this area," he said.
Taman said growing up in Turkey, he's lived through several small earthquakes "but this one was really different." He said he is also rattled by the aftershocks, which seem to happen every five minutes or so.
"We're really afraid," he said. "Pray for Turkey. We really need your support."
Ibrahim Furkan, a foreign trade expert who lives in Istanbul, was in Gaziantep with his mother to see the sights, including the famous castle that bears the city's name and which was badly damaged by the quake. He said they were at their hotel when it struck and suddenly everybody was racing to get out.
"We were sleeping, then we collapsed on the ground, and when it stopped we left the building," he said.
Within minutes, Furkan said, they and everybody else in their hotel had fled the building. And now, he said, they are trapped in a wrecked city with no way to get back home because all the flights to Istanbul have been canceled.
Istanbul is over 500 miles northwest of where the quake struck and 25-year-old Sezer cem Tamer, who lives there, said he didn't even feel it.
But from the moment it hit, Tamer said he has been on the phone and social media desperately trying to track down friends and family who live in and around the small city of Hatay, which is about 70 miles southwest of Gaziantep.
"I'm fine, just worried about my friends," Tamer said.
In particular, Tamer said he's worried about his friend's father-in-law, Ömer Çokbilgi, who lives in a development where one of the buildings collapsed.
"G block was demolished on the site where they lived, he was living in F block, still no contact," Tamer said. "We are trying to support our friend by tweeting in the hope that someone out there will see it and reach us."
Tugay Khamran, a 25-year-old university student who lives in Izmir, which is about 500 miles west of Gaziantep, was just one of the thousands of young Turks who flooded into the worst-hit areas Monday to help with the rescues.
Speaking from Kahramanmaraş, about 50 miles north of the quake's epicenter, Khamran said survivors have been using social media to post the names and addresses of missing loved ones in the hopes that someone will look for them, or find them.
"I get more than 100 messages per hour," Khamran said. "People are trying to find a way to make their voices heard on Twitter."
Khamran said he was still en route when a second quake struck a few miles north of Kahramanmaraş. When it was over, a city of 1.6 million inhabitants was in ruins, he said.
"All in shock, unfortunately, everyone is looking for people they know," he said. "Imagine a flat city with the whole city ruined."
Khamran, who said he was part of a contingent of 500 volunteers searching for survivors, said they don't fear being trapped by falling rubble.
"There is no risk because there are no buildings to be demolished anymore," he said. "We just pray for the citizens under the rubble."
Mithil Aggarwal reported from London, Corky Siemaszko from New York City.