Some good news for democracy in Florida.  
A federal judge says he'll issue a permanent injunction against provisions in the state's new election law that restricted third-party voter registration drives.
U.S. District Judge Robert Hinkle said today he intends to permanently block the law, pending the case's dismissal from a Court of Appeals. 
Hinkle ordered a temporary injunction on May 31, declaring that it put "harsh and impractical" restrictions on civic groups focused on registering new voters.
"This order is a decisive victory for Florida voters," said Lee Rowland of the Brennan Center's Democracy Program, one of the attorneys who argued the case for the plaintiffs. "The Florida legislature has tried repeatedly to stifle access to voter registration opportunities, and once again a federal court has stopped them in their tracks. We are thrilled that voter registration groups can now get back to what they do best -- expanding our democracy."
As we told you last night, a new analysis by the Florida Times-Union shows that since a new set of state voting laws went into effect last year (July 1, 2011), the number of new Democrats registering in Florida has all but disappeared.

During the 13 months beginning July 1 the year before elections in 2004 and 2008, registered Democrats increased by an average of 209,425 voters.
From 2011 to this year, that number was 11,365.
Over that same time, the number of registered Republicans increased by 128,039, topping the average of 103,555 during the past two presidential cycles."
Here's the stunning chart: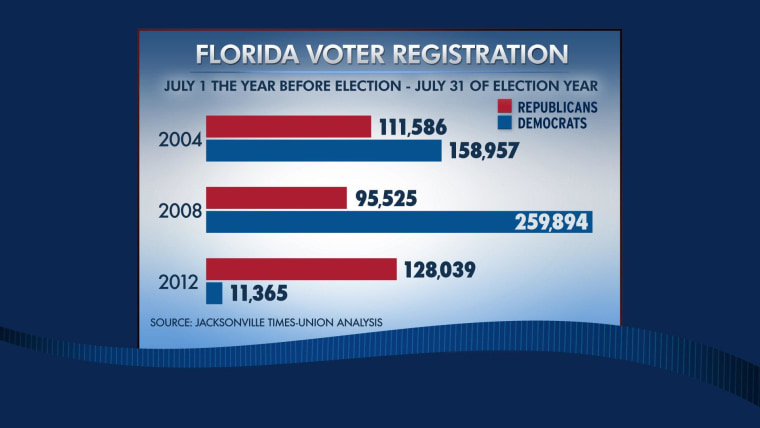 "It has without a doubt hurt registration numbers," said Deirdre Macnab, president of the nonpartisan League of Women Voters of Florida. "It really gummed up the works and made it harder for Floridians to get registered."