NOWSHERA, Pakistan — Explosions and the rat-tat-tat of automatic weapons ring out as commandos clutching rifles dash across the field.
It could be any military training ground in the world — but the fluttering black niqabs covering the fighters' faces are out of place, especially in this ultra-conservative corner of northwest Pakistan.
The volatile province of Khyber Pakhtunkwha has been wracked by violence — and the recruitment of elite female commandos is the latest push to combat extremism, even if it flies squarely in the face of local tradition.
The idea of women working outside the home — let alone wielding heavy weapons — may seem like a sacrilege to many in the region, but commando trainee Gul Nisa thinks it is all part of God's plan.
"It is an obligation of every Muslim to protect other Muslims," the 22-year-old from the restive Tank district told NBC News. "The situation in our country is very bad, that's why we should all play a role in improving it."
She and the 34 other women in the program were chosen from local police forces — and when they talk about "protecting" they aren't messing around.
During their six-month training at the academy located in the isolated district of Nowshera district, the women will learn how to use weapons such as anti-tank and anti-aircraft launchers. They rise at 5 a.m. and train until 11 p.m. — often in temperatures as high as 122 degrees Fahrenheit all while nearly fully covered.
The harsh regimen suits Gul.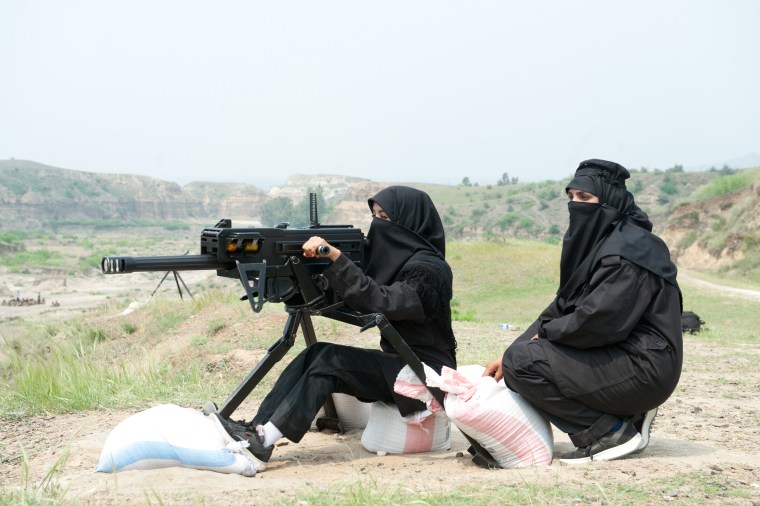 "Commando means working at any moment in any environment and in any situation ... After getting this training I can face any type of situation anywhere at any time," she said.
The situation she and her peers face in Khyber Pakhtunkhwa reflects a nationwide battle against terrorism. More than 50,000 people have died in terror-related violence in Pakistan since 2002.
With 1,100 police killed in Khyber Pakhtunkhwa alone over that period, the local government decided to mirror moves taken in other provinces and draft in elite female commandos.
"We are really amazed to see their performance and motivation level"
The same cultural codes of behavior which have confined women and girls to the home in the area and barred the majority from even going to school are precisely why the need for female commandos runs deep.
Female fighters are vital in order to search suspected militant compounds and inspect women. They do not risk offending a family's honor by conducting home searches, whereas a man can easily make tense and dangerous situations worse by entering the compound of a family unrelated to him.
The women, who are also learning how to guard gatherings and master other basic policing duties, have already outperformed some of their toughest critics.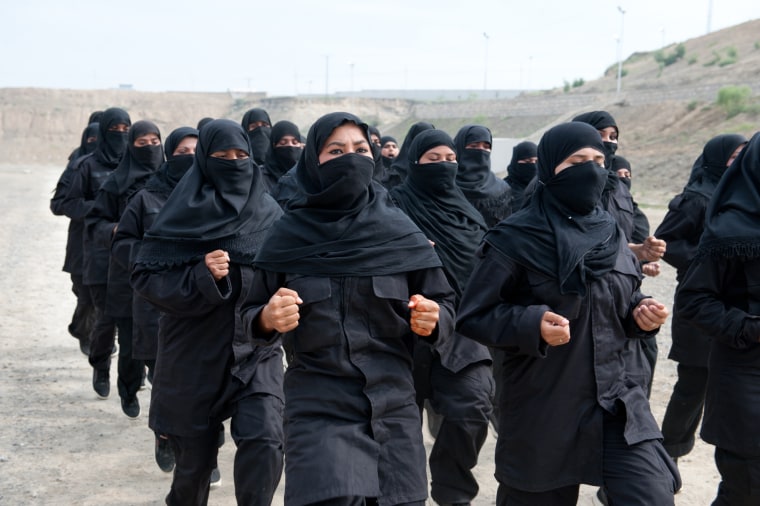 "Like many other officers, even I didn't expect they would get this difficult training," Syed Fida Hasan, deputy inspector general of the elite police force, told NBC News.
"But the way they delivered and performed at the academy changed my perception. We are really amazed to see their performance and motivation level," he said, adding that unlike many of the male recruits, women have not shied away from learning how to use heavy weaponry.
Some of the female recruits admitted they had doubts about how they'd fare in the camp.
"We had heard from people about commando training and that's why we were nervous when we arrived here at the academy," 23-year old Mehreen said. "But ... we realized that nothing is impossible or difficult in this world if there is a commitment."
Mehreen takes that commitment so seriously that she returned to training right after her wedding, instead of quitting to stay at home like many of her peers.
"I didn't want to waste this precious opportunity and that's why I returned to the academy after five days of my marriage," explained Mehreen, who goes by one name.
Still, the program has had to make some concessions to local customs. Women are trained and housed separately from the male recruits, and there is absolutely no fraternization between the two groups of trainees. They are always modestly dressed and keep their faces almost completely covered, even during the most arduous training.
Not everybody's a fan, however.
"Nobody cares about the male commandos," one of the 300 or so male trainees told NBC News on condition of anonymity. "We are given few rounds to fire during the training but there is no restriction on females. They are treated like guests and treated well."
While its unclear if the women will be treated with the same respect as their male counterparts once everybody returns to their home villages, for those involved something fundamental already has shifted.
"After this training, I don't see any difference between male and female," Mehreen the newlywed said. "It gave us extra courage and bravery."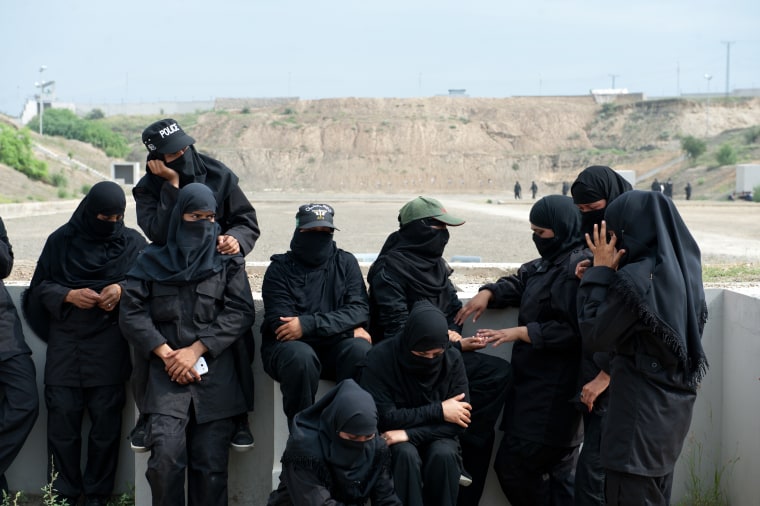 F. Brinley Bruton contributed to this report.