MAINZ, Germany — A feminist activist who shocked Christmas Day churchgoers with a half-naked protest has been fined $1,500 for "disturbance of religious practice."
Josephine Witt, 21, interrupted the Mass at Cologne's historic cathedral last year by standing topless on the altar with the words "I AM GOD" written in black letters across her torso. The protest made the headlines across Germany and left "a significant number of children and adolescents traumatized," according to church officials.
"This was a particularly serious disturbance of a church service and we very much appreciate that the court sent a clear signal," Norbert Feldhoff, the cathedral's provost, told NBC News following the district court ruling. "Altar boys and children in our choir were traumatized. Many visiting parents complained about the psychological effects on their children. One of the altar boys stayed away from church service for two to three weeks."
The shock boiled over to anger in the case of one worshipper, who slapped Witt after she was tackled by cathedral staff. That case was later settled in court for a fine of approximately $700. According to German media at the time, Witt said she "did not want to harass anyone" and pointed out that "Jesus is hanging half naked on the cross."
Witt is a member of the European feminist network FEMEN. The group responded to the ruling with a statement Thursday encouraging activists, whom it calls "sextremists," to support Witt by sending in their own topless pictures in front of religious institutions.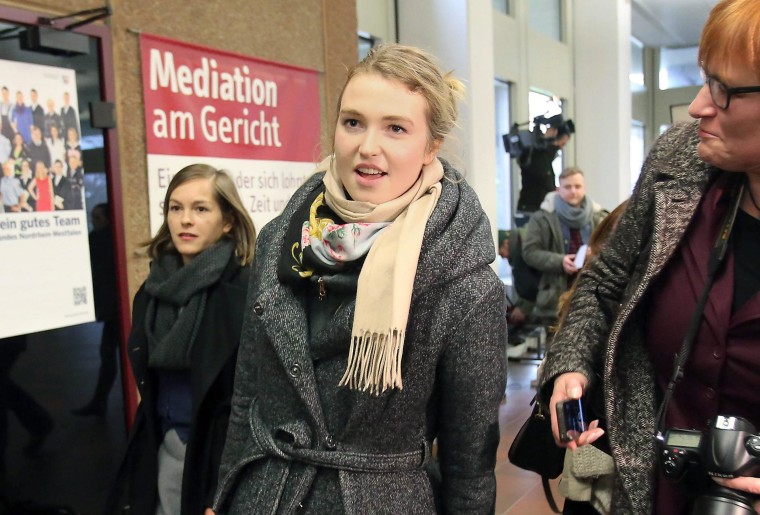 IN-DEPTH
- Andy Eckardt and Alexander Smith